Salespage Snapshot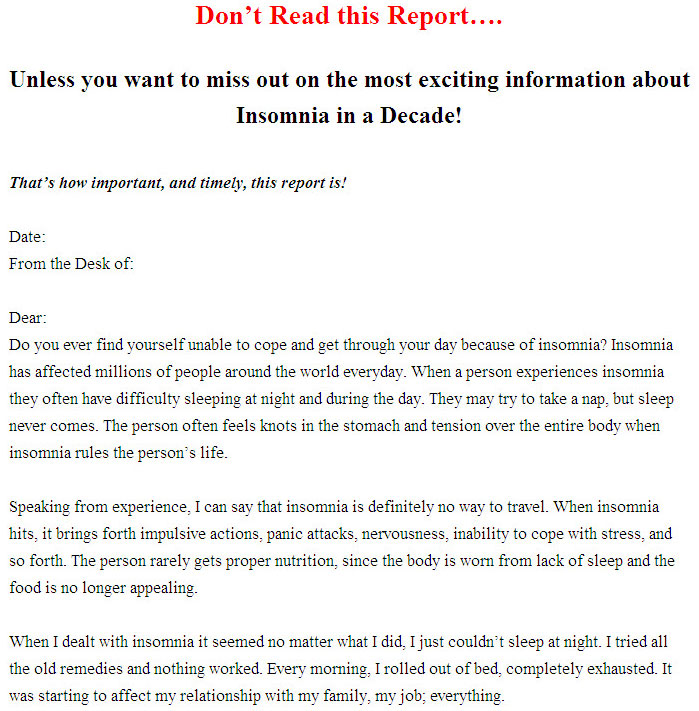 >> Click Here To View Sales Page...
Ebook Sample Content Preview
Acute Insomnia
Acute insomnia differs from chronic insomnia, in that acute insomnia only comes around occasionally. Acute insomnia often comes with mild symptoms during an attack. The person may suffer anxiety, panic attacks, sleepless nights, and so forth. The attacks are rarely prolonged like that of chronic insomnia. Acute insomnia may occur after a death in the family, during a change in job positions, newborn arrivals, changing in medications and so forth. The insomnia attacks may last a week and then disappear. Thus, if you are suffering acute insomnia you may want to learn stress reducer tactics to help you cope with the short illness. However, if the insomnia symptoms and attack continue, it is possible you need medical care.
Chronic insomnia can last for weeks, months, and even years. When a person is often, feeling frustrated during day hours and easily upset the person is showing signs of chronic insomnia. Other symptoms such as fatigue, lasting anxiety attacks, panic attacks, and so forth are additional signs of chronic insomnia. If you are experiencing chronic insomnia, you will need to visit your doctor first to make sure no medical problems are causing the insomnia. If after you visit your doctor and no medical ailment are creating insomnia then you may need mental health assistance. Once you visit a mental health, office in your area an Intake worker will evaluate your case by asking a series of questions and setup two different diagnoses to get you a visit to a counselor. Do not be alarmed of the diagnoses since it is necessary for insurance purposes.
At the counselors visit you will be similar questions, which the counselor will assess your case and most likely setup an appointment to visit the psychologist or psychiatrist on staff. This visit will last about 20 minutes to 45 minutes and then you will be prescribed medications. Be sure to follow the doctor's advice to the fullest and let the doctor know how you are responding to the medications. If the medication fails to work it is possible you do not have the right dosage or else medications may be dismissed and new medicines provided. Remember it takes a few days for the medicines to get in your system and begin working. Make sure you understand all the side affects of the medications to avoid panic. You may want to add a few stress reducers in your schedule to assist the medications.
For acute insomnia, adding stress reducers can go a long way. Acute insomnia may occur as a result of environmental changes, thus if the lighting in your room has changed, then you may want to adjust the lights. Environmental changes such as noise pollution can also trigger acute insomnia. If you recently moved to a noisy area, you may want to find a solution, such as shutting your windows and running a fan.
Acute insomnia may occur when a new baby arrives. Few mothers suffer the baby blues when a child is born. The blues will cause insomnia temporary and medications may be needed. If you recently had a baby and suffering insomnia, nervousness, panic attacks, anxiety and so forth, be sure to tell your doctor so the right medications can be giving to minimize the problem. Your baby is a welcoming challenge, thus your baby needs your undivided attention and insomnia and suffering is only getting in the way.
Other Details* Sales Page:
Included, HTML, MS Word Doc
* File Format:
MS Word Doc, PDF
* Number of Pages:
65
* Included Graphics:
Ecovers
* Download File Size:
635 KB