Salespage Snapshot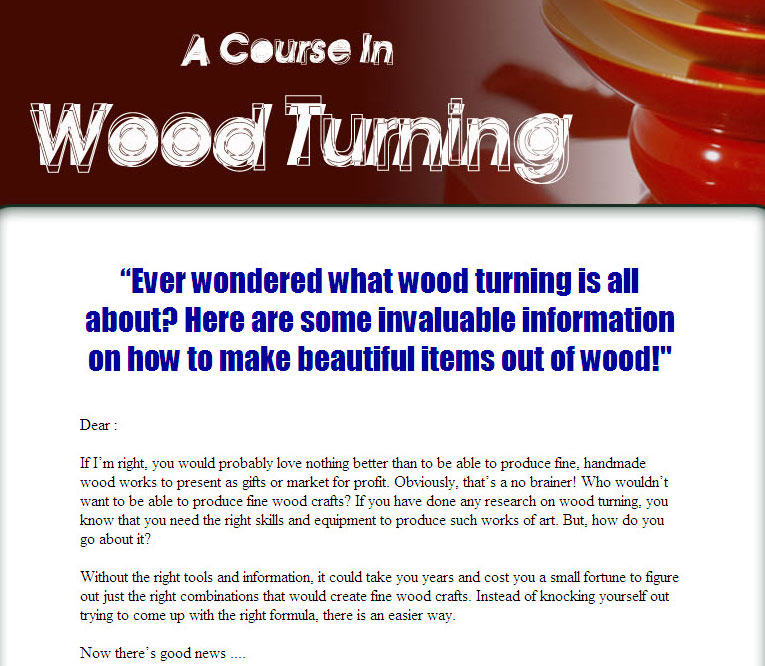 >> Click Here To View Sales Page...
Ebook Table Of Contents
CHAPTER I
9-10
Introductory
–Commercial and Educational Values of Wood Turning
–Elements of Success
CHAPTER II
11-14
The Lathe
–Care of the Lathe
–Speed of the Lathe
–Method of Figuring the Diameter of Pulleys
–Rules for Finding the Speeds and Sizes of Pulleys
–Points on Setting Up the Lathe and Shafting
CHAPTER III
15-18
Wood Turning Tools
–Grinding and Whetting Turning Tools
–The Gouge
–The Parting Tool
–Scraping Tools
CHAPTER IV
19-21
Spindle Turning
–Centering Stock
–Clamping Stock in the Lathe
–Adjusting the Tool Rest
–Position of the Operator at the Lathe
–Holding the Tools
–Use of the Tools in Spindle Turning
22-32
CHAPTER V
Tool Processes in Spindle Turning
–The Roughing Cut
–The Sizing Cut
–The Smoothing Cut
–Testing for Smoothness
–Measuring for Length
–Squaring Ends
–Cutting Off
–Shoulder Cuts
–Taper Cuts
–V Cuts-Concave Cuts
–Convex Cuts
–Combination Cuts
–Chisel Handles
–Mallets and Handles
–Vise Handles
CHAPTER VI
33-34
Oval Turning
–Tool Operations
CHAPTER VII
35
Duplicate Turning
–Use of Measuring Stick
–Use of Templets
CHAPTER VIII
36-38
Finishing and Polishing
–Ordinary Cabinet Finishing
–French Polishing
–Method of Applying French Polish
CHAPTER IX
39-40
Face-Plate and Chuck Turning
–Methods of Fastening Stock
–Small Single Screw Face-Plate
–Large Surface Screw Face-Plate
–Gluing to Waste Stock
–Lathe Adjustments
–Position of Tool Rest
41-48
CHAPTER X
Tool Processes in Face-Plate and Chuck Turning
–Straight Cuts
–Roughing Off Corners
–Calipering for Diameter
–Smoothing Cut
–Roughing Cut on the Face
–Smoothing the Face
–Laying Off Measurements
–External Shoulders
–Internal Shoulders
–Taper Cuts
–V Cuts
–Concave Cuts
–Convex Cuts
–Combination Cuts
–Use of Scraping Tools
–Internal Boring
–Turning a Sphere
CHAPTER XI
49-55
Spiral Turning
–Single Spiral, Straight Shaft
–Tapered Shaft
–Double Spiral, Tapered Shaft
–Double Spiral, Straight Shaft
–Double Groove Spiral, Straight Shaft
PLR Ebook Sample Content Preview
CHAPTER I
INTRODUCTORY
Wood turning has had a definite place in the commercial world for a great many years. It is used in various forms in making furniture and furniture parts, building
trim, tool parts, toys, athletic paraphernalia and many other useful and beautiful articles in common use.
When properly taught in the schools it is one of the most valuable types of instruction. It appeals to pupils more than any other type of manual work, as it
embodies both the play and work elements. It is very interesting and fascinating and, in the hands of a skilled instructor, is readily correlated with other work.
Wood turning gives a pupil preliminary experience necessary in pattern making and machine shop work. It brings into play the scientific element by demonstrating the
laws governing revolving bodies. In bringing the chisel into contact with the revolving surface, the mathematical principle of the "point of tangency" is illustrated. Excellent tool technique is developed in wood turning as on the exactness of every movement depends the success of the operator, and any slight variation will spoil a piece of work. This brings in a very close correlation of the mental and motor activities and also gives the student an opportunity for observing and thinking while at work. When his tool makes a "run" he must determine the reason and figure out why a certain result is obtained when the chisel is held in a given position. Certain cuts must be fully mastered, and it takes a good deal of experience and absolute confidence in one's self in manipulating the tools before it is possible to attempt skilful work. If scraping is allowed the educational value of the work is lost.
In wood turning a vast field for design and modeling is opened, and art and architecture can be correlated. The pupil will see for himself the need of variety in
curves and must use his judgment in determining curves that are so harmonious and pleasing that they will blend together. If properly taught the beauty in the orders of architecture can be brought out in the making of the bead, fillet, scotia, cove, etc.
Other Details* File Format:
MS Word Doc, PDF
* Number of Pages:
49
* Included Graphics:
Ecovers, PSD
* Extras:
Keywords
* Download File Size:
11,618 KB