Salespage Snapshot: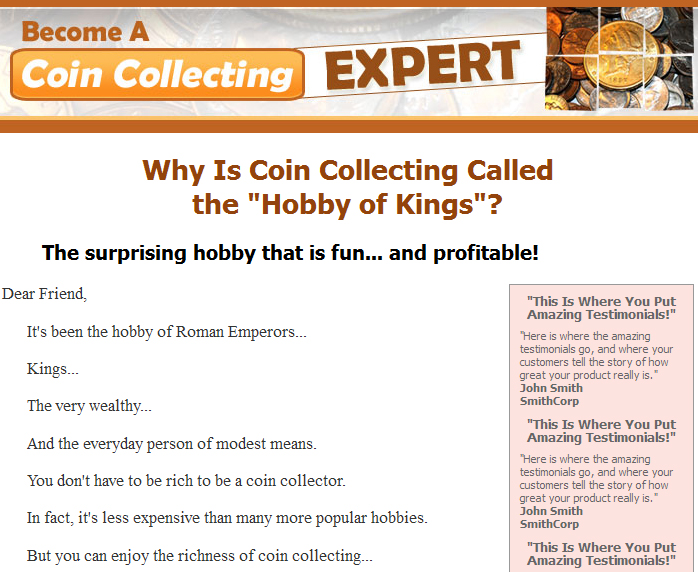 >>> Click Here To View Full Sales Page…
Table of Contents
Forward .6
A little side note 7
Introduction 9
Before you get started 11
Getting started 14
Where you can get your coins .14
Your piggy bank .15
Loose change .15
Bank rolls .16
Coin dealers 17
Mail order 18
Flea markets .18
Auctions .18
Classified ads .20
Online dealers, traders and auctions 20
Financial Planners 21
Coin shows 22
Reference aids 22
Coin Clubs .24
Make a wish list .25
Buying and selling .27
What to look out for 28
Wear and Blemishes: Is the coin in good condition? 28
Purity: Is it a known fake or forgery? 29
Are you getting your money's worth? .30
Is the agent right for you? 31
Is the dealer or source a reputable one? 32
Unbelievable bargains 32
Buying guide summary .32
Price vs. Value .33
Coins for investment purposes 34
Coin buying odds and ends .35
Buy low, sell high .35
Find a pull for your coins .36
Upgrade your coins .36
Finding the right dealer for you 38
What you should ask 39
Is the dealer experienced? 39
What's their area of specialty? .39
Become A Coin Collecting EXPERT 3
Become A Coin Collecting EXPERT
Is the dealer registered with PNG? .40
Is the dealer respected by their peers? .41
Has the dealer changed jobs very frequently? 41
Do they regularly go to auctions and attend coin shows? .41
Are they brokers or dealers? .42
Will they buy back coins from you? 43
What about after-sales service? .43
Are they able to recompense you? 44
Is the dealer interested in your custom? .45
Do you trust your dealer? 46
Caring for your coins .47
What Not to Do .47
Don't clean your coins 47
Don't polish your coins 48
Don't handle your coins excessively 49
Avoid talking over your coins .49
Avoid damp or humid places for storage 49
What to do .50
Store them properly 50
Keep the original holders intact .50
Use a soft cloth over the hard surface of the table .51
Storage and Display 52
Cloth bags .53
Albums 54
Plastic flips 54
Tubes .55
2" x 2" Holders 56
Mintmarks .57
Where you'll find mintmarks 58
US Mints and Mintmarks .60
Coin Grading 61
Learn to grade coins 63
Grading Services .64
Which type are you? 65
The Hobbyist 65
The Investor .66
The Collector .66
Collection types .67
By country – coins of the world 67
By country – your own country 67
By date .67
By mintmark .67
By type .68
4 Become A Coin Collecting EXPERT
Become A Coin Collecting EXPERT
By error .68
Gold Sovereigns 69
US Gold Coins .69
Don't Speak "Coin"? .71
The path to speaking Coin 72
A .72
B .74
C .76
D .78
E 79
F 80
G .81
H .82
I .82
J .83
K .83
L .83
M .84
N .85
O .85
P .86
Q .87
R .87
S .88
T .89
U .90
V .90
W 90
X .91
Y .91
Z .91
Trivia 92
End 96
Sample Content Preview
However, it is indisputable that I've come full circle in my coin collecting ways and have now gone back to pawing – or rather sorting – through my day's cache of coins. Which, is why, I've got three stacks of coins piled around me even though I'm currently being attacked by dust motes. Collecting coins isn't for everyone though. Especially in the beginning when there's still a lot for you to learn, and you need to do the mundane instead of going for the spectacular starburst of finding a particularly rare coin. You might have something better you can do with your life, but that doesn't mean that coin collecting is a worthless hobby. Coin collecting spans the generational gap and spans the millennia as well.
It doesn't only to need to be for monetary value, coin collecting can be something infinitely more rewarding than that for the person who perseveres
The collection of coins as an art form and as a hobby is a well established one. It is the Hobby of Kings as many a coin collector will tell you, and is pursued by many people all over the world.
A little side note
I was three years old when I got my chubby little hands on my first coin and I haven't looked back since. It's now longer than I care to admit since the day when Fate threw the round and the shiny across my path, and waited with bated breath to see if I would pick up her lure.
As is evidenced from this book, pick it up I did, and the rest, as they say, is history. Well, not quite. There's a little more to this story that needs telling. The fact of the matter was that since I was only three, and wouldn't part with my shiny new friend for all the tea in China, I was given my first piggy bank in the form of a plastic jar and allowed to place my precious coin inside it.
On my part, I allowed the coin to be parted from me only on the understanding that the jar be placed next to my bed. A standoff, but a good one, and one that worked through the succeeding years when I collected as many of my shiny round friends as I could.
And then came that one day that every piggy bank must face: eventual annihilation by a hammer, a large rock, or just by dropping on the floor
from a good height. The time had come to unveil all the riches I had accumulated and to add up all of my meager wealth into a tidy little pile. By this time my plastic jar had progressed to a ceramic replica of the quintessential piggy bank, and my aesthetic appreciation of my shiny round friends had turned to a monetary appreciation.
Other Details
- 30 Articles (TXT)
- 2 Ebook (PDF, RTF), 96 Pages
- 7 Part Autoresponder Email Messages (TXT)
- 1 Salespage (HTML, RTF)
- 3 Ecovers (JPG)
- File Size: 18,761 KB