Salespage Snapshot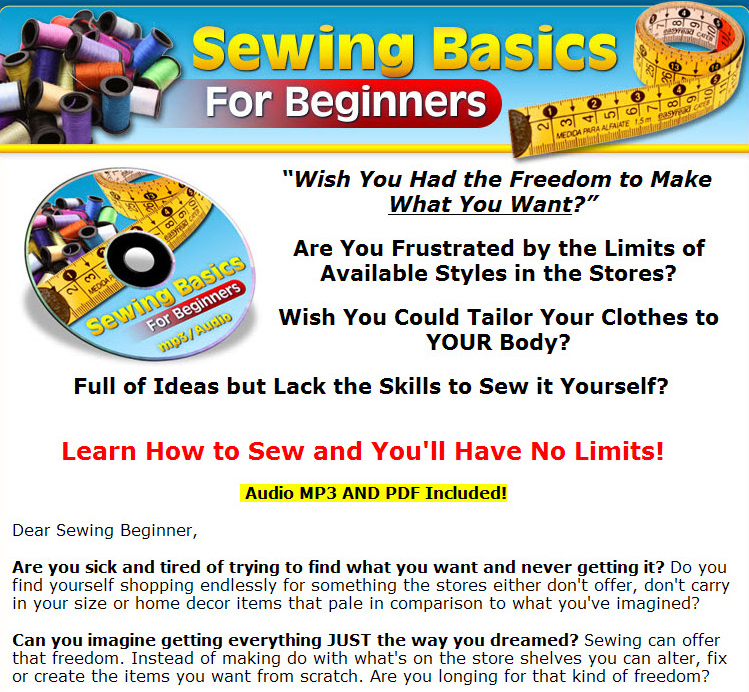 >> Click Here To View Sales Page...
PLR Ebook With Audio Table Of Contents
What You Need in Your Sewing Kit 4
How to Use Your Patterns 6
How to Select Fabrics 8
What Type of Thread You'll Need 10
Other Odds and Ends: Notions 12
Setting Up the Sewing Machine 14
How to Practice Sewing a Straight Line 16
How to Sew Seams 18
How to Make a Hem 20
How to Work With Buttons and Buttonholes 22
How to Sew Zippers 24
Easy Sewing Projects for Beginners 26
Understanding Measuring and Sizing Charts on Patterns 28
How to Make Alterations 30
Common Mistakes and How to Avoid Them 32
PLR Ebook With Audio Sample Content Preview
What You Need in Your Sewing Kit
A good sewing kit will contain many basic tools. First of all you need a good sewing machine, because you won't get much sewing done by hand. Of course you'll want an assortment of needles for those times when you do decide to hand stitch a hem. You'll also need some spare sewing machine needles, small brushes for cleaning the dust out of your machine and oil to oil it with. Most of these tools should come with your machine.
You may also like to have an overlocker. Although you can overlock a seam with the zigzag stitch of your normal machine, an overlocker will give a more professional finish. It will also save you time as it trims the seam automatically as it overlocks.
Scissors are a tool that is necessary for your sewing kit. You might like to have two pairs, one for cutting material and the other, smaller pair for cutting thread. A tape measure will also be needed – and some pins.
A large space for cutting out is very handy to have as part of your sewing kit. If you are going to be making clothes from bought patterns or drafting your own, you will need a good clear space to work on. For pattern making, a dressmaking square will be essential. Somewhere to stow your patterns is also necessary.
A wooden top table is best, as the material tends to slip off those smooth, laminated surfaces. Some people use their beds as a cutting out surface and this may be all right if you don't have a bad back. But much bending over a bed will not do you any good. Use blunt ended scissors so you don't cut your doona or quilt.
A cupboard especially for sewing patterns and material would also be handy. This way you can keep everything neat and tidy without too much trouble. If you don't have a spare cupboard, then several plastic baskets or boxes stacked up may do as well.
You will end up with lots of spare spools of cotton after you've done much sewing, so keeping them in a box, tin or tub will enable you to find the color you need easily.
A sewing table and comfortable chair are also necessary for the person who does sewing. You can use an ordinary small table if you have one, or buy a special sewing desk with drawers and cupboard space attached. An adjustable chair on wheels is the easiest way to get comfortable when sewing.
And finally you may need an extra lamp. Although sewing machines do have lights attached, there will be times that you need extra, especially when sewing dark fabrics…
Other Details* Sales Page:
Included, HTML
* File Format:
MS Word Doc, PDF
* Number of Pages:
33
* Included Graphics:
Ecovers, PSD, JPG
* Download File Size:
36,214 KB