Salespage Snapshot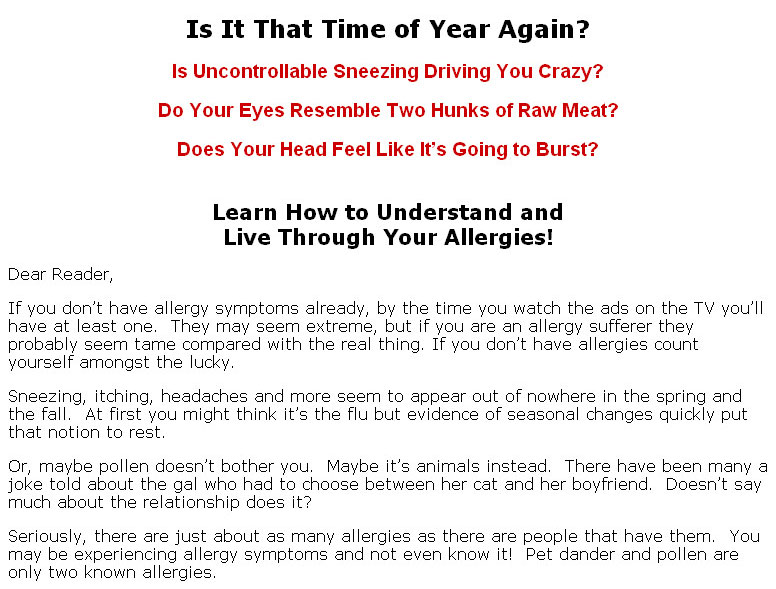 >> Click Here To View Sales Page...
Ebook Table Of Contents
What are Allergies?
Antihistamines – How They Work
Food Allergies in General
Peanut Butter – Is it a Big Deal
Airborne Sneezing and Allergies
Pet Allergies
Allergy Treatments
Is it Allergies or Flu?
Allergies in Children
Smoking and Allergies
Allergies to Mold
Allergy or Sinusitis
Allergy or COPD
Do Inhalers Work
Home Air Purifiers
Ebook Sample Content Preview
What are Allergies?
With how allergies are affecting us and the people whom we care about, we need to know more about these and how to manage them. Issues on allergies are getting more diverse, there are all sorts of allergies now that would affect all kinds of people at any given time. So to increase our awareness and possess good knowledge on allergies, here are some important details each of us must know about allergies.
What Exactly Is An Allergy?
An allergy is a disorder of the immune system that brings about an exaggerated reaction when our body gets in contact with foreign substances that are seemingly harmless. The foreign object that causes the body to react in an unlikely manner would only do so to people who are also allergic to that certain substance and not people who are not allergic to it.
The foreign substances that would cause allergies are called allergens and the most common types of these include food, molds, dust and other airborne substances. As a responsible individual, it is very important that you know what substances you are allergic to and are aware of what it can cause you.
Other Details* Sales Page:
Included, HTML, MS Word Doc
* File Format:
MS Word Doc, PDF
* Number of Pages:
67
* Included Graphics:
Ecovers, PSD
* Download File Size:
1,250 KB