Salespage Snapshot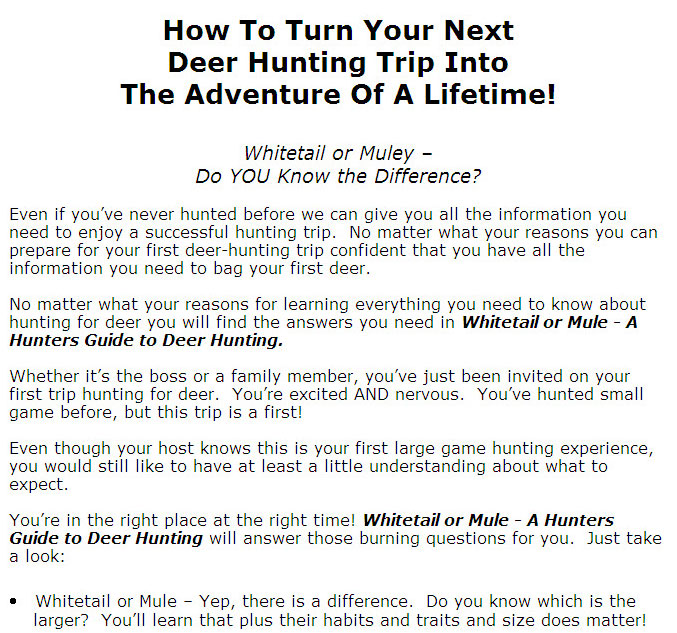 >> Click Here To View Sales Page...
PLR Ebook Table Of Contents
Whitetail or Mule
Weapons
Bow Hunting
Clothing
Licenses
Setting Up Camp
Building a Stand
Where to Hunt
Scents, Tracking and Calls
Field Dressing
Processing
Taxidermy
In a Nutshell
Venison Recipes
PLR Ebook Sample Content Preview
Whitetail or Mule
White-Tail Or Mule? Know The Difference Between These Two Cousins
The cousins White-Tailed Deer, or otherwise known as the Virginia Deer, and the Mule, or Mule Deer, are two of the well known species that lives in America. Though somewhat similar in physical attributes for those who aren't acquainted with the species, there are some minute differences that allow you to separate the two.
During the hunting season, it is beneficial for the hunter to know the physical differences between the two cousins. Aside from separating the Mule and the White-Tail deer, they can also proceed to the location of each since they have different habitats.
The physical difference says it all
One notable difference between the White-Tails and the Mules are the color of their tails and their antlers; the tail of the Mule Deer is black-tipped unlike its white-tipped cousin (hence the name White-Tail).
The antler of the White-Tailed deer has two probable formations: the first one is the typical antlers where the points group straight up from the main beam and are symmetrical on both sides. The non-typical antlers are asymmetrical and the points branch off in different directions from the main beam. The Mule Deer's antlers tend to fork rather than branch off from a single beam. Both species shed their antlers during winter, in the months of December, January and February.
One noticeable difference of the two cousins are their coats during the summer and spring seasons. The Mules coat has a light orange-brown color unlike the White-Tails reddish brown. Upon the onset of fall and winter, the coat of the White-Tail turns to a grayish-brown and the Mule changes into a darker version of their White-Tailed cousins.
Other Details* Sales Page:
Included, HTML, MS Word Doc
* File Format:
MS Word Doc, PDF
* Number of Pages:
51
* Included Graphics:
Ecovers, PSD
* Download File Size:
4,006 KB