Squeeze Page Preview: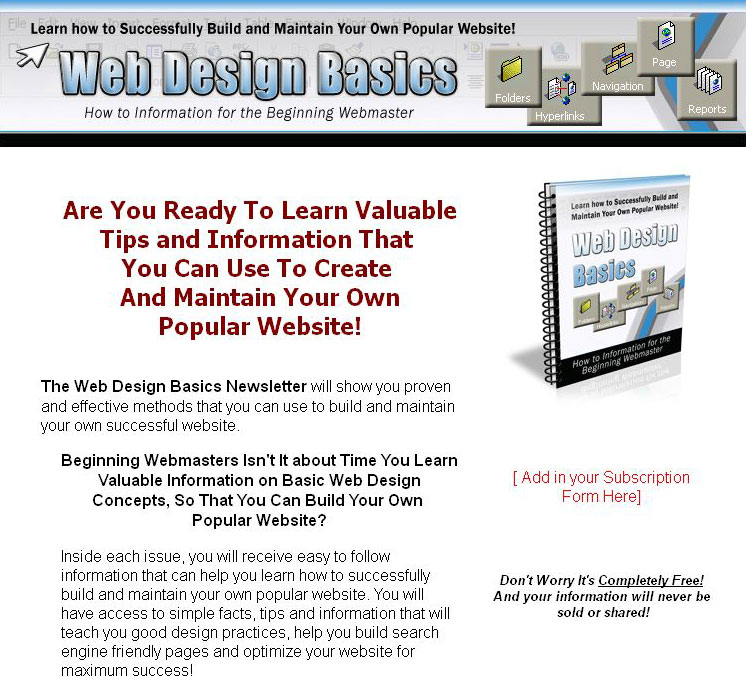 >>> Click Here To View Full Squeeze Page…
Features:
* 12 Issues Full Of Great Content
– Just add in your contact info and plug it in to your favorite auto responder. Each issue contains 500 words or more!
* One Ready To Go Squeeze Page
– Just add in your opt in form, upload to your server and your done!
* One Ready To Go Thank You Page
All ready to remind your subscribers to check their email and confirm their subscription. It even has built in revenue!
* 4 Researched Click Bank Products
These are top selling products on Click Bank that I've personally researched and chosen for each series.
* Extra Copy And Paste Article Content
You will get:
– Extra titles
– Extra opening paragraphs
– Extra closing paragraphs
– Extra fill in paragraphs
(these would make great tips that you add in to your follow ups system for more frequent contact with your readers)
Sample Content Preview
Message # 1
Subject line: Your First Web Design Basics Issue
Hello "autoresponder code here",
Welcome to the first issue of Web Design Basics .
In each issue of Web Design Basics you will learn valuable
information on how you can successfully build and maintain your
own popular website.
It's pretty common knowledge that websites have become a
necessity to almost everyone. Companies, businesses,
individuals, even teenagers and young children are creating their
own personal websites, all with different purposes in mind.
Whether it be it for fun profit, or entertainment the number of
websites hitting the Internet is growing on a massive scale every
day.
In this first issue of Web Design Basics we are going to briefly go
over some of the things that you should consider before creating
your own website. When it comes to creating your website there
are several factors to consider such as the cost, maintenance,
purpose, web hosting and so forth.
First, let's discuss the cost. Generally the cost of your domain
name will be under $20, and the same goes for your monthly
hosting fees depending on how much space and bandwidth your
website will need to function properly. The cost of your domain
name is usually a yearly fee and hosting is most often set up on a
monthly fee. Most of the time, the company from which you
purchase your domain name will offer hosting as well.
When you begin your search you will want to consider the
efficiency and reliability of the company. Take your time and do
some checking. Find out how long the company has been in
business. Look for reviews and find out what their other customers
have to say about their service and reliability. There are literally
thousands of companies, you can choose from. Some of the most
popular are: Godaddy.com, Hostgator.com and Greengeek.com
if you're looking for an environmentally friendly host. There are also
several sites available that will give you reviews and
recommendations for hosting companies for instance
webhostingchoice.com, where they provide you with a list of the
top 10 hosting companies on the Internet.
The next decision you will have to make is whether or not, you will
be hiring a professional web design or building the website
yourself. This will depend largely on your own preferences and
whether or not you have the time and skills to build the website
yourself or the funds to hire someone to do it for you.
For simple websites it may be easy enough for you to perform the
tasks needed yourself. However, when it comes to more complex
coding, and when you want it to provide more than basic
information, hiring a professional may be the best solution for you.
Not only in terms of design, but security is also a key factor in
assuring the quality of your website. If the website also acts as
a portal for businesses, security would definitely be an issue that
you have to consider.
It is also important to consider what purpose your website will
serve and to have a good idea of who your general audience will
be when you are in the planning stages of your website. Keep your
target market in mind and design your site to meet their needs.
Of course you will also have to consider creating the content and
the graphic's for your website. These two aspects are vital to your
website success, because without good content and eye pleasing
graphic design your visitors won't find your website appealing,
and chances are they won't return.
Websites have changed the way businesses are run and the way
people communicate with each other. So when you are in the
planning stages of your own website keep these considerations in
mind, and it will make building your site much easier.
Make sure you look for your next issue soon. We will be talking
more about good website design practices.
Thank you again for joining,
"your name here"
"your email address"
"your URL here"
Other Details
- 12 Part Autoresponder Email Messages (TXT, DOC)
- Squeeze Page (HTML, PSD)
- Ecover (PSD, JPG)
- Extra Bonus Tips
- Affiliate Programs List
- File Size: 12,124 KB