Squeeze Page Preview: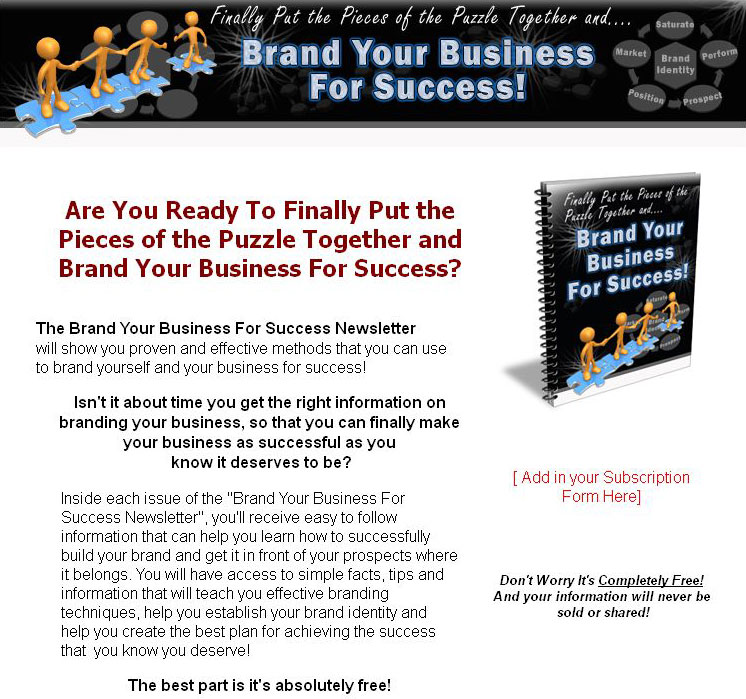 >>> Click Here To View Full Squeeze Page…
Features:
* 12 Issues Full Of Great Content
– Just add in your contact info and plug it in to your favorite auto responder. Each issue contains 500 words or more!
* One Ready To Go Squeeze Page
– Just add in your opt in form, upload to your server and your done!
* One Ready To Go Thank You Page
All ready to remind your subscribers to check their email and confirm their subscription. It even has built in revenue!
* 4 Researched Click Bank Products
These are top selling products on Click Bank that I've personally researched and chosen for each series.
* Extra Copy And Paste Article Content
You will get:
– Extra titles
– Extra opening paragraphs
– Extra closing paragraphs
– Extra fill in paragraphs
(these would make great tips that you add in to your follow ups system for more frequent contact with your readers)
Sample Content Preview
Message # 1
Subject line: Branding Your Business For Success
Hello "autoresponder code here",
Welcome to the first issue of Branding Your Business For
Success.
In each issue of Branding Your Business For Success you will
learn valuable information on how you can successfully brand
yourself and your business for maximum success.
In this first issue we are going to talk about what branding is and
what it can do for your business.
Branding is all about the image of your business. The concept
doesn't only include style, emblems and logos, but also the image
of perceived quality. The perceived image may be of total quality,
reliability, and more.
Branding is also about your business and how it's different from
your competitors. The purpose of a brand is to distinguish yourself
from your competitors. Once you make a distinguishing impact
then your promotion and advertising campaigns will be much
more effective.
The success of your business can often be determined by your
brand. Branding includes many factors that will help you make your
business more successful. These factors may include a website,
marketing efforts, and anything that gives your company an
identity. Consumers trust a corporate image wholeheartedly
because there is psychology in motivating their purchasing
decisions.
All companies big or small should practice branding. Both brick
and mortar business and online companies benefit through
branding methods. It is common for smaller companies and
online businesses to fail due to a lack of understanding about the
importance and factors of developing a good brand.
Branding ensures professionalism with any company. It seals the
deal on the entire package. Even a small company with a brand
looks just as good as a large corporation when they practice the
right techniques. Building a brand will enhance your confidence
as a business owner and it will do the same thing in the
consumers eyes as well. It will prove to them that you really can
deliver what you promise.
Branding also offers consistency for your business. It gives
direction to both you and customers, so you know what to expect.
Consistency can be performed through the use of things like
business cards, t-shirts, and more. Consistency includes visibility
techniques that are professional and will remain in the memory of
a consumer.
One concept that consumers often attach to a brand is called
brand equity. A brand is often considered to be an asset also.
For example, if you have developed a very good brand that is well
known as being a top distributor of leather furniture and you have
a competitor with a brand known to provide defective products,
your brand will be worth more.
If you can successfully develop a brand for yourself and your
business, using the right ideas to motivate and excite consumers
then whenever people want what you have to offer they'll think of
your business first!
Make sure you look for your next issue soon. We will be talking
about basic branding techniques that you can use to make your
business more successful.
Thank you again for joining,
"your name here"
"your email address"
"your URL here"
Other Details
- 12 Part Autoresponder Email Messages (TXT, DOC)
- Squeeze Page (HTML, PSD)
- Ecover (PSD, JPG)
- Affiliate Programs List
- File Size: 3,026 KB