Squeeze Page Preview: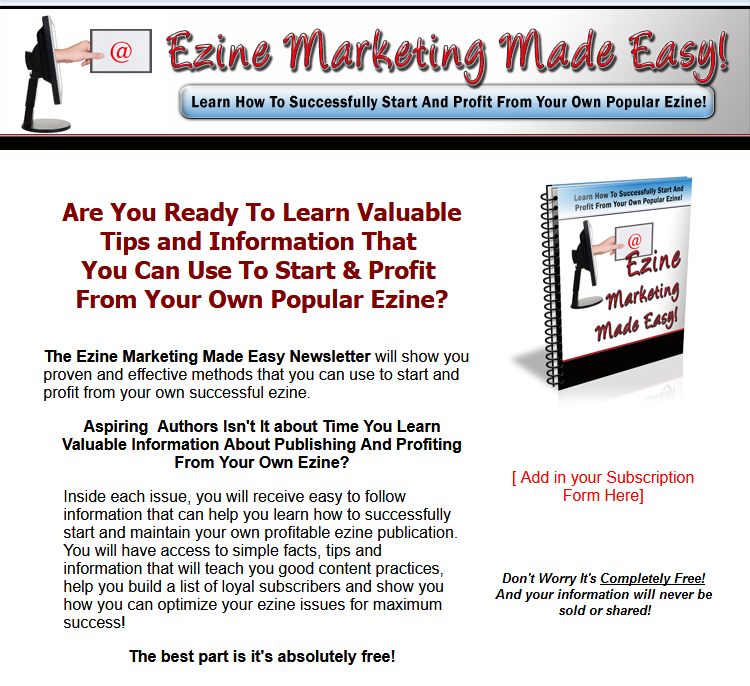 >>> Click Here To View Full Squeeze Page…
Features:
* 12 Issues Full Of Great Content
– Just add in your contact info and plug it in to your favorite auto responder. Each issue contains 500 words or more!
* One Ready To Go Squeeze Page
– Just add in your opt in form, upload to your server and your done!
* One Ready To Go Thank You Page
All ready to remind your subscribers to check their email and confirm their subscription. It even has built in revenue!
* 4 Researched Click Bank Products
These are top selling products on Click Bank that I've personally researched and chosen for each series.
* Extra Copy And Paste Article Content
You will get:
– Extra titles
– Extra opening paragraphs
– Extra closing paragraphs
– Extra fill in paragraphs
(these would make great tips that you add in to your follow ups system for more frequent contact with your readers)
Sample Content Preview
Hello "autoresponder code here",
In the last issue we talked about providing good content for your
readers. In this issue we are going to go over some of the ways
that you can get your ezine opened and read every time.
You may not realize this, but just because you're publishing an
ezine doesn't mean that everybody on your list is going to open up
your email and read it.
You will still have to use some basic marketing methods to get
your message opened and read, and it's important that you entice
as many people on your list as possible to open up your email and
read the whole thing every time you send out a new issue!
Did you know that the first line in your email can make or break the
whole thing? Most publishers don't realize the importance of this
and they miss out on a lot of opportunities.
The first line in your email is just like a headline on a sales letter. If
it stinks, then it doesn't really matter how well the rest of the email
is written because the people on your list will not be reading it.
That is why it is very important that you start off your email with
your best (attention getting) headline.
One of the easiest and best ways to grab the attention of your
reader and to keep them reading your email is to ask them
a question. This gets them involved them in the email.
When you first learned to talk, you were basically trained to answer
a question when you were asked one. It is, more or less, hard-
wired into your brain to come up with an answer as soon as you
are asked a question. So when you start off an email with a
question, it immediately gets your reader involved in your email.
What kind of questions do you asks? "Yes!" questions. What I
mean is, questions where the reader would enthusiastically
respond with a "YES!".
Here are a few examples:
– Wouldn't it be great to lose weight without dieting?
– Would you like to join the rare few making a fortune online?
– Do you want to be debt free fast?
You don't have to ask a "Yes" question to get this to work. I
mention them because they are one of the easier styles of
questions that have proven to be very effective when it comes to
engaging readers.
I've had whole email ads be nothing but a bunch of questions and
then a call to action to get them to click on my link, and have been
very successful with them.
If you don't use a question, then a powerful teaser style headline
will work as well. To do this, all you have to do is take the main
benefit of the article you are using or the product that you are
promoting in your ezine and turn it into a question. Let's say your
ezine is about golf and you new issue is on how to improve your
golf swing quickly.
Then the question could be:
"Are you ready to learn how to improve your golf swing today ?"
…and then you lead them to the article, etc.
Did you know that statistics show that 90% or more of your
readers will not make it past the first sentence of your email. Even
if you have successfully gotten them to open up your message, it's
still possible to lose their attention if your first paragraph doesn't
give them a taste of what they want.
Your goal is to get them to read the first sentence, which leads to
the second and so on. Don't waste that space by telling them why
you sent the message, how to opt-out, apologize for sending it and
definitely don't state "this message is not spam"!
Every sentence should contribute toward moving your reader
towards your objective what ever that objective is. If your subject
gets their attention, the first paragraph should lead them into the
rest of you message. You should always keep one thing in mind;
your reader only cares about one thing – what's in it for them.
Provide them with something of value and they will keep reading
and hopefully take you up on your offer. If you ask questions and
become a resource to your readers you will see your open rates
increase along with better response rates as well. Just keep their
interests in mind at all times and you will yield much better results
overall!
Make sure you look for your next issue soon. We will be talking
about some of the things you should avoid doing when you email
your list.
"your name here"
"your email address"
"your URL here"
Sample Extra Titles
The Single Best Strategy To Use For Ezine Marketing
The Most Overlooked Solution For Effective Ezine Marketing
Unknown Facts About Ezine Marketing Made Known
Unanswered Questions Into Ezine Marketing Revealed
Instant Solutions To Your Ezine Marketing Woes
Confidential Information on Successful Ezine Marketing
Shortcuts To Ezine Marketing That Only A Few Know About The History of Ezine Marketing
The Basics of Ezine Marketing That You Can Benefit From
Why Everybody Is Talking About Ezine Marketing
The Ins and Outs of Successful Ezine Marketing
Everything You've Learned About Ezine Marketing Is Wrong
5 New Things About Ezine Marketing
Undeniable Facts About Ezine Marketing – How They Affect You
New Ideas Into Ezine Marketing Never Before Revealed
Deceptive Practices of Ezine Marketers
What You Don't Know About Ezine Marketing May Shock You
What Everybody Else Does When It Comes To Ezine Marketing And What You Should Do Different
The Idiot's Guide To Successful Ezine Marketing
Unknown Facts About Ezine Marketing Revealed By The Experts
And More…
Sample Extra Paragraphs
uilding your mailing list of hungry prospects can be one of the
best investments you will ever make, as it is time and effort worth
spending on. When you strike on a Joint Venture and have a new
product or service to endorse, you can look no further than your
own mailing list.
————————————
Collect leads with your auto responder. Ask for mailing addresses
and telephone numbers, too, for additional ways to follow up with
each person. When you download the e-mail digest of everyone's
e-mail addresses and other information from those who requested
additional information from your auto responder, follow up multiple
ways. Send postcards. Call. Mail sales letters and other
promotional pieces.
————————————
This is often true, because owning your own mailing list for you to
endorse products and services to is one of the fastest-producing
results, beating other affiliate marketing methods imaginable.
————————————
Some webmasters set up link or article directories on their sites.
They create a directory on a specific industry topic, placing their
own ad or banner along the top. Then they invite others to add
their website links via a link exchange program, listing themselves
in your directory. Or they invite articles to be submitted that include
a resource box at the bottom of each with a link to the author's
website. This results on increased traffic as sites link up across
the World Wide Web. Enter "link exchange software" or "article
directory software" into a favorite search engine for help with each.
————————————
But the bottom line is that your visitor may not come back to your
website again. If 1,000 visitors visit your website, leave and never
come back again, you can imagine the amount of potential
revenue lost, simply because they do not come back. You could
have converted a fraction of the visitors into your customers.
————————————
Make friends with other opt-in list users. This is basically
beneficial especially if it is someone who has already launched a
successful opt-in list. These are people that have the experience
in this venture and experience is still the best teacher. While there
are many articles available for you in the Internet to use, there is
nothing like getting a first hand account from someone you trust.
And More…
Other Details
- 12 Part Autoresponder Email Messages (TXT, DOC)
- Squeeze Page (HTML, PSD)
- Ecover (PSD, JPG)
- Affiliate Programs List
- File Size: 1,070 KB