Salespage Snapshot: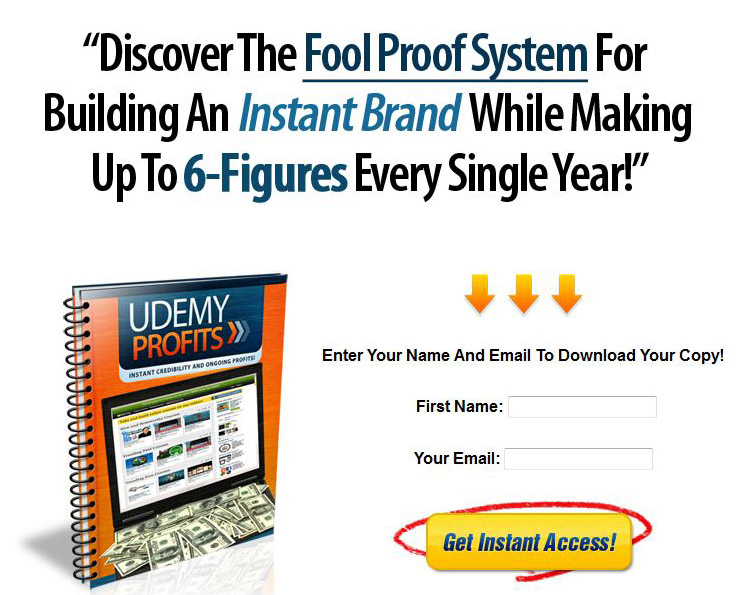 >>> Click Here To View Full Sales Page…
Table of Contents
Introduction To Udemy …. 3
How To Make Money With Udemy ….. 5
Creating Your Udemy Course 7
Optimizing Your Udemy Course For Maximum Exposure . 11
Promoting Your Udemy Course 14
Additional Tools & Resources … 14
Sample Content Preview
Chances are, we can all find something worthy of teaching and something that we know enough about to share with others. Whether you think that people would be willing to pay for the training is a whole other story – you'd be surprised at just how many unusual courses are generating 6-figures on Udemy every single year!
Here are a few top selling courses for inspiration:
· Microsoft Excel for Beginners – Over $565,000 in total course sales.
· How to develop an iPad application – Over $200,000 in course sales.
· Become a web developer from scratch! – Over $175,000 in sales.
· CSS For Beginners – Over $160,000 in sales!
As you can see, Udemy courses are incredibly profitable! Think about the different topics that you know a lot about. How many of those topics could be turned into a Udemy-based course?
In the next segment, we'll take a closer look at how you can quickly create an in-demand course for your market!
Creating Your Udemy Course
In order to create your Udemy course, you need to carefully plan what your course will be about, what kind of content-formats will be available to students, and how you plan to deliver modules.
For example, if you planned to create a Udemy course on PHP
Programming, you would want to start the course off with a basic introduction to coding, followed by simple hands-on exercises that warm up your students and help them better understand the coding process.
To simplify training, you might include various content formats such as video guides that show them exactly how to enter code into a .php file. You may also include "PHP Cheat Sheets" in PDF format, downloadable from within the Udemy training center.
With Udemy, you can thoroughly customize your course, including as many different content types as you wish.
To begin, you need to choose a topic for your course. If you struggle to come up with potential ideas, here are a few things to keep in mind:
– Choose a topic that you are passionate.
When choosing your topic, consider:
"What Do You Know?" and "What Do You Enjoy?"
If you teach what you are most passionate about, your course will reflect your personal experiences and expertise for a higher quality program.
– Define your objective and determine who your audience is.
In order to create a high quality course you need to know who your audience is and what they are most interested in.
So, ask yourself: Who will participate in your course and what are they hoping to learn?
Your course should always focus on a specific level as well, such as "Beginners", "Intermediate" or "Advanced". It's important to heavily target who your audience is before you create your course. This will not only help you target the right audience but it will ensure that your course offers the information that your students are looking for.
– Brainstorm ideas and flush out all of the possible things that you want to include in your course.
Udemy is a marketplace of education and you can teach just about anything you like, but it's important that you flush everything out prior to creating your course.
Use mind maps to brainstorm ideas – starting with a central idea, root topics and branches that cover different chapters or segments of your course. A mind map provides a graphic representation that will guide you from start to finish.
– Choose your delivery method, including content types. Determine what the best medium is for your audience.
In order to create the best course possible you will want to create content in a variety of formats, including video, PDF files, and "takeaway" material. The more dynamic content available within your course, the more valuable it will be to your students.
Here are a few content formats that you can offer within your course:
Screen Capture
You can create screen captures in many different ways but the basis is that as an instructor, you share your screen with your students. This makes it easier to demonstrate how to complete specific tasks.
You can use Camtasia Studio, Screenflow, CamStudio or Microsoft Expression to create dynamic screen captures.
Note: Screen Capture is the most common content types available on Udemy.
Audio & Video
Video based training is a very popular content type on Udemy because it gives students the opportunity to follow along by watching as the instructor shows them key points in the course training.
PPT/Mashup
Udemy makes it easy to provide your students with both video and text based learning aids by taking a video recording and creating a PDF version transcript.
Documents & Downloads
You can offer a variety of document types including worksheets, mindmaps, charts, reports, ebooks, lesson plans, cheat sheets, checklists and more! It's important to provide "takeaway" documents giving your students a chance to reflect on your content later on. Create transcripts, offer "summary sheets" available in PDF format, zip files that include additional lectures or guides that serve as auxiliary components for your course.
Live Session Training
One of the most powerful ways to deliver your content is with live session training where you can schedule meetings with all of your students! Live sessions will have a huge impact on the overall value of your course. Just remember, the more you engage your audience – the more attentive they will be. People want to take a hands-on approach when learning so provide your students with simple "homework" that keeps them motivated.
Optimizing Your Udemy Course For Maximum Exposure
In order to make money with your Udemy based course, you need students! Here are a few quick and easy ways to drive quality traffic to your course:
Choose a catchy title
It all being with your course title. You want it to be short, descriptive and memorable. Make sure that people understand exactly what your course is about and what they can expect to learn from it.
For example, if you are developing a course that teaches the basics of PHP, your course title may be:
Learning PHP for Beginners or Beginners Guide To Mastering PHP
You also want your course to provide detailed information on what is covered (and what is not). Ask yourself who your target audience is, what level of learning and what they would expect to learn after completing your course and include all of that information in your description.
Also consider:
What makes your course different from others available on Udemy?
Why should someone choose your course over another?
Choosing a headline for your course is also extremely important, as it needs to stand out and capture attention from those browsing through lesson plans and available courses.
Avoid the over-use of exclamation marks using it only when necessary and instead, focus on injecting your course title with motivating, action-driven keywords.
Other Details
- 1 Ebook (PDF, DOC), 15 Pages
- 7 Part Autoresponder Email Messages (TXT)
- 1 Squeeze Page (HTML, PSD)
- File Size: 22,761 KB