Salespage Snapshot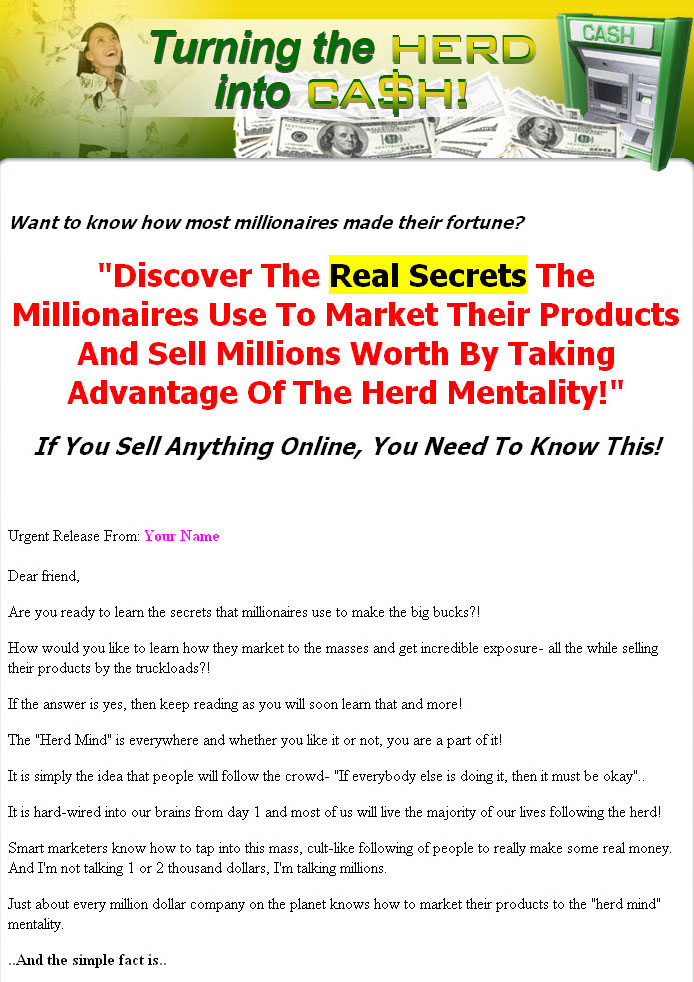 >> Click Here To View Sales Page...
PLR Ebook Sample Content Preview
– Introduction
Hello and thank you for grabbing a copy of my report.
In this report, I am going to outline a few ways that you can start selling to the "Herd Mind"..
Although some may not want to admit, just about everybody is a part of the herd mind at one time or another, some are always and will be for the majority of their life.
The herd mind is simply people following people.
We are brought up to be lead and listen to authority. Once we are old enough to think for ourselves, we usually become a part of the herd mind in one form or another.
It's the whole idea of "everybody else is doing it so it must be right"..
Good marketers know how to tap into this herd mentality and profit hugely from it.
If you can convince a mass of people that you are the authority or that you are right, then they will follow. It's hardwired into our brains.
This of course can turn into huge profits!
Every million dollar (or billion dollar) company out there markets to the herd mentality in some way or another.
So in this report I am going to give you the secrets or marketing to the herd so that you too can make mega bucks!  Let's get started . . .
– Selling The Dream
Everybody wants "The easy dream". The easy dream is simply that, the easiest way for somebody to live their dreams.
The easiest (and often times laziest) way to accomplish a goal or get a job done will always be a big seller.
If it's weight loss, then popping a pill is much more attractive then doing 30 minutes of cardio exercise per day.
Everybody knows that doing cardio exercise every day is an effective way to lose weight right? But who wants to do that? That's just more work added to our lives.
But, popping a pill once or twice per day isn't work. It doesn't require 30 minutes or an hour of time that we could be sitting on our butts watching TV.
It doesn't require us to sweat and put forth any sort of real effort. Because it requires no work, the pill popping idea of losing weight sells big!
If it's Internet marketing, then the "already made, set it and forget it" technology will generate sales.
Who wants to sit there and spend days or weeks creating a product, writing a sales letter, researching a market, etc..
"If all of that is already done for me, I'm in!" (says the herd mind)..
Whatever the easy way to live the dream is, us marketers can use in our marketing to sell more product.
Other Details* Sales Page:
Included, HTML
* File Format:
MS Word Doc, PDF
* Number of Pages:
17
* Included Graphics:
Ecovers, PSD
* Download File Size:
16,656 KB

* Private Label Rights Terms & Conditions :

[YES] Can be edited.
[YES] Can put your name as the author.
[YES] Can be broken down into articles.
[YES] Can be used as web or e-zine content.
[YES] Can be published offline.
[YES] Can turn the articles into an ebook.
[YES] Can be packaged.
[YES] Can be offered as a bonus to paid product.
[YES] Can sell Master Resell Rights.
[YES] Can be given away for free.
[YES] Can be sold on auction sites.
[YES] Can give away Master Resell Rights.
[YES] Can sell Private Label Rights.
[YES] Can give away Private Label Rights.
[YES] Can be added into membership sites.