Salespage Snapshot: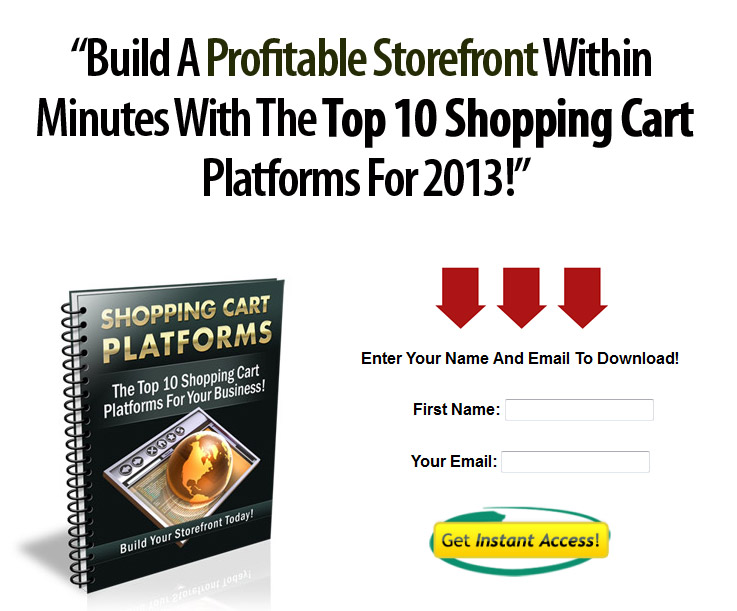 >>> Click Here To View Full Sales Page…
Table of Contents
Choosing The Right Shopping Cart For Your Website …. 4
The Top 10 Shopping Cart Platforms 6
1ShoppingCart Platform …. 7
eJunkie Shopping Cart …… 9
JVZoo 13
Shopify …… 16
Premium Web Cart … 18
Open Cart System …. 20
VIP Cart Complete Solution ….. 22
3D Cart System . 26
Top 10 Shopping Cart Platforms Revealed Page 3
ShopperPress … 29
Volusion eCommerce Platform ……. 31
Final Thoughts .. 33
Sample Content Preview
Another thing to consider is the actual optimization options available, such as search engine optimization components (SEO). You always want to choose a shopping cart platform that offers the ability to optimize the pages in the checkout process, including personalizing your buyers experience and that you are able to modify the design of the pages to match your overall branding.
And finally, you want to choose a shopping cart platform that offers an easy checkout experience for your buyers. Fast loading pages, quick overview of orders, the ability to access their cart as well as modify quantities or change their order altogether without leaving the page are all important components of a satisfactory shopping experience.
Make it easy on your buyers to buy!
So are you ready to take a look at the top 10 shopping cart platforms online? Here's a complete overview of the best shopping carts for digital products as well as how they work, so that you can choose the best system for your online business!
The Top 10 Shopping Cart Platforms
When it comes to setting up a payment system for your products and services, it's important to streamline and automate everything from order acceptance, confirmation, delivery and finally, follow up such as order confirmation, product registration and ongoing support.
Your customers don't want to wait for their purchases, especially in today's society where we're used to getting everything instantly. Besides, implementing a shopping cart platform that automates the delivery process will not only satisfy your customers but it will also save you a tremendous amount of time while minimizing support requests and refunds.
And there's something else that you need to consider when choosing a shopping cart platform for your website. It's important that the buying process is made easy, and that your customer's are familiar with the payment options. A good shopping cart platform will allow you to easily connect your cart to existing accounts such as Paypal, Authorize.net or other merchant accounts that you use.
Here are the top 10 shopping cart platforms online:
1ShoppingCart Platform
http://www.1ShoppingCart.comı
1ShoppingCart makes it easy to automate your payment processing and order fulfillment with their customizable subscription plans and offers a 30- day free trial so you can explore the countless features for yourself.
You can even integrate list-building campaigns into the checkout system so that you're able to build mailing lists by collecting your customer information and giving them the opportunity to receive new offers and discounts.
1ShoppingCart includes a powerful shopping cart system that works with many of the leading payment processors including Paypal and 2Checkout.com and is incredibly robust and flexible.
1ShoppingCart.com works with both digital and physical products and includes options to add on shipping, recurring payments, and taxes as well as use different landing pages and thank you pages for products.
Features:
Powerful, feature-laden system that offers a ton of features that will help you grow and manage your online business.
All in one solution for online processing including a robust shopping cart, list management and more.
Low cost solution with free trial offer.
Getting Started | Costs Involved:
1ShoppingCart's all in one plans are affordable for budget-conscious merchants allowing you to choose from 3 different packages including: Plus – Premium – Ultimate ranging from $34 a month to $249/monthly: http://www.1shoppingcart.com/packages
eJunkie Shopping Cart
http://www.e-Junkie.com
e-Junkie is a basic shopping cart platform that allows instant integration with many popular processors including Paypal and 2Checkout.com (as well as others).
E-junkie gives you the opportunity to set up an affiliate program, where you can set a flat rate or percentage based commission offer on all of your products, or customize your commission offer per product.
You can create your own customized affiliate page and link to it, or use Ejunkies affiliate link creation page and direct all potential affiliates to their site. E-junkie also allows the use of coupons and discounts and provides secure protection for downloadable products either by uploading the product to the e-Junkie website or through the use of protected redirection URL's. What You'll Love:
Affordable and easy to use with any website. Basic shopping cart system or individual product purchases.
No "per item" fees. You pay only one monthly fee regardless of quantity sold.
Instant protection for your products. e-Junkie will create encrypted download links for all of your products.
Works with ClickBank, Paypal, 2Checkout, Authorize.net, Google Checkout, and more.
If you aren't interested in a "shopping cart" format, you can simply create individual purchase links that work in the same way as Paypal "Buy Now" buttons, directing customers through Paypal where they make their purchase and then automatically redirected to E-junkie where they can access their purchases.
· You can assign a coupon that works for all of your featured products, or assign a discount coupon to individual products.
· Their transaction fees are lower than nearly any other payment processor, charging around 3% per sale rather than 7% or higher like the majority of merchant accounts.
· E-junkie doesn't charge based on per unit sold but rather a flat rate monthly fee that varies depending on the number of products you are selling and the space needed to house your products.
Cons:
No direct integration into autoresponders, making it difficult to capture leads or build a list of customers'. However, E-junkie will keep a log of all purchases made, including your customers first and last name, and email address so you can download a copy of the database from within your Ejunkie account at any time.
Costs Involved:
E-junkie doesn't charge based on per unit sold but rather a flat rate monthly fee that varies depending on the number of products you are selling and the space needed to house your products.
For example, a starter account is just $5 a month and gives you the opportunity to sell up to 10 products with 50mb of storage.
If you plan to sell a higher number of products, or you need more space in which to store your products on e-junkie, you can upgrade your account to another service plan, such as their $15 monthly plan that offers 250mb per month.
JVZoo
http://www.JVZoo.com
JV Zoo offers an all-in-one solution for selling digital products. There are no out of pocket costs or upfront fees involved in becoming a merchant through JV Zoo, and with their ever-growing marketplace, you can quickly build a customer base while enhancing exposure.
Other Details
- 1 Ebook (PDF, DOC), 34 Pages
- 7 Part Autoresponder Email Messages (TXT)
- 1 Squeeze Page (HTML, PSD)
- File Size: 10,332 KB