Salespage Snapshot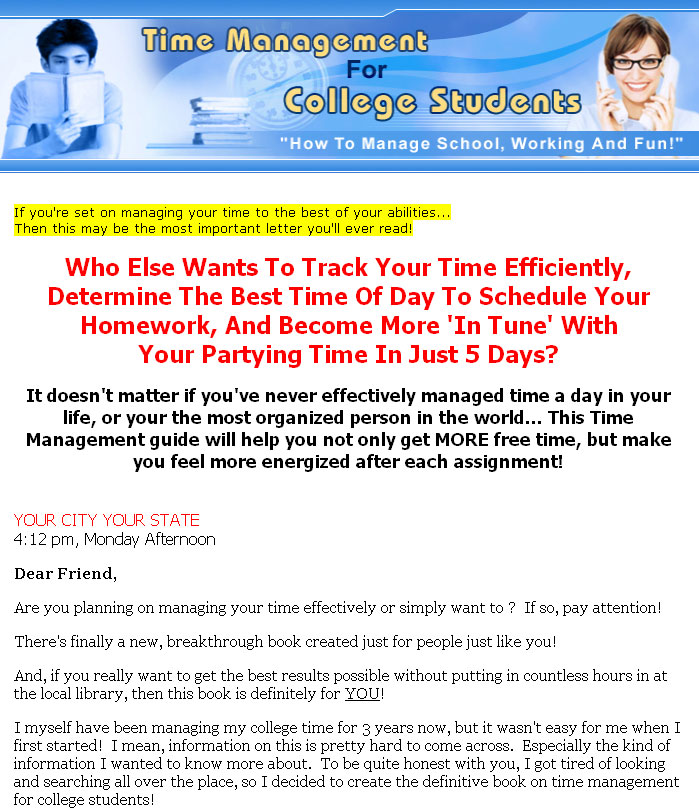 >> Click Here To View Sales Page...
Ebook Table Of Contents
Pg. 3    Welcome to College!
Pg. 4    Setting Goals
Pg. 7    Time is On Your Side
(Tracking Your Time)
Pg. 10    Your Planner is Your Friend
(Using a Daily Planner)
Pg. 16    Time Management 101
Pg. 22    Now Where Did I Put That?
(Organization Skills)
Pg. 26    I'll Stop Procrastinating Tomorrow
Pg. 31    AAAAHHHH!
(Stress Management)
Pg. 41    Stop The Cramming!
(Study Tips)
Pg. 46    Workin 9 to 5
(Managing Work and Studies)
Pg. 50    Just Because There's Checks In The Book
(Money Management)
Pg. 54    Party Responsibly
Pg. 57    But I'm Not 18 Anymore!
(Non-traditional Students)
Pg. 59    You Can Do It!!!
Sample Content Preview

WELCOME TO COLLEGE!
You've walked across the stage, collected your diploma and spent a summer dreaming of the freedom you'll enjoy in college!  Congratulations!  You're embarking on a journey sure to be filled with fun, new friends, new experiences, and knowledge beyond your dreams.
Some questions you might be asking yourself include:
1. How do I get everything done I need to get done?
2. How do I fit all MY stuff in the room with ALL my roommate's stuff?
3. Where's the cafeteria?
4. Where's the party?
While all of these questions are of extreme importance, the one you need to focus on the most is the first one.
At first, you will have more time available to you now than you will know what to do with. Even if you take a huge class load, run a marathon a day, start a quilting bee, and even sleep, I guarantee that you are going to have more time than you can really believe.  It's maximizing that time that makes all the difference in succeeding in college or struggling.
For many college freshmen, this experience can be a difficult transition.  Your parents aren't around anymore to make sure you get up for school.  You go from being a "big" senior to a "greenie" freshman again.  College is more than just an excuse to party.  It's a beginning for your adult life.  You will be learning what you need to know to succeed in the real world.  That, alone, can be overwhelming!
But it doesn't have to be.  All you need to do is learn time management skills along with ways to cope with stress and maximize your college experience.  How do you do that?  It's not always easy, but it can be easier – with the help of this valuable guide.
Inside these pages are valuable tips to learn how to schedule your time effectively, how to stop procrastinating, how to shut out distractions, and how to manage your studies and work with your personal life.  A huge part of this experience is stress management, and we've provided many valuable tips and tricks to minimize stress and enjoy the whole college experience.
We all probably wish that there were more hours in a day, but since that is impossible, we must make the best use of the hours that we do have. By utilizing the tips in this book, you will be on your way to achieving better time management skills and becoming an all-around better college student.
It doesn't matter if you're an 18 year old freshman right out of high school, a senior almost ready to graduate, or a 40 year old returning to classes for the first time in 20 years, these tips can apply to everyone.  And, they will apply to your life after college as well!  Learning effective time management skills makes life much easier and allows you more and more time for yourself, which is as equally important…
Other Details
* 50+ Page PLR Ebook
* Professionally Written Salesletter
* 50 PLR Articles
* 5 Part Autoresponder Email Course
* 1 Complete Adsense Website
* Professionally Designed Graphics Set
* Highly Targeted Keyword List
* Pre Written PPC Ads
* PDF and MS Word Source File For eBook
* PSD Files For Graphics