Salespage Snapshot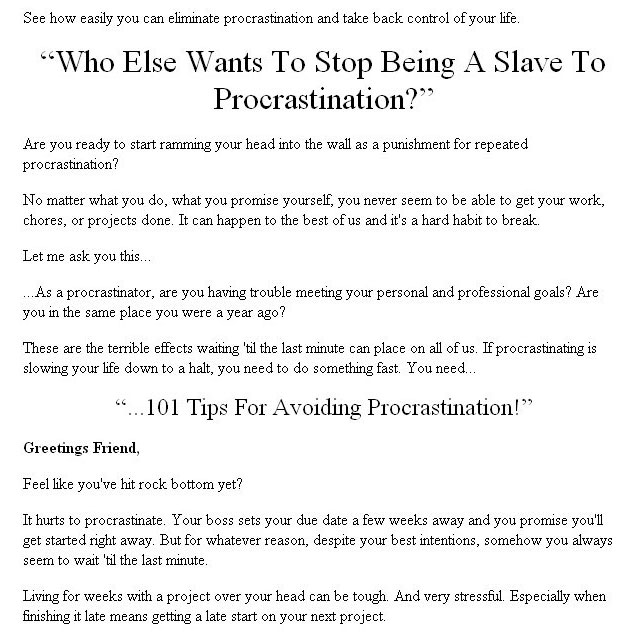 >> Click Here To View Sales Page...
PLR Ebook Table Of Contents
I.    INTRODUCTION    3
II.    SELF-EVALUATION    5
III.  PROCRASTINATION AT HOME    12
IV  PROCRASTINATION IN SCHOOL    17
V.     PROCRASTINATION AT THE WORK PLACE    22
VI. PROCRASTINATION AND HUMAN RELATIONSHIPS    33
VII.    SELF IMPROVEMENT – A GENERAL SENSE OF WELL BEING    39
VIII.    BONUS TIPS    46
IX.    CONCLUSION    54
PLR Ebook Sample Content Preview

I. Introduction
On the back of the jacket of Jack Canfield's book, The Success Principles, this quotation caught our attention:  "The principles always work if you work the principles".
Perhaps this is too simplistic a statement or merely echoes another familiar marketing "come-on", but it does translate into a variation of the work ethic.  To us, this means doing instead of just thinking.
And doing is synonymous to action, execution, implementation, carrying out – all these convey the active mode as opposed to the passive mode of just thinking.
The human brain knows no limits when it comes to thinking out ways and strategies in dealing with all kinds of problems, but if these strategies and plans are NOT acted upon, they really hold no meaning – they're like empty blueprints camouflaged in sparkling rhetoric.  And rhetoric comes cheap these days.
We've made up our minds to be less ambitious about this work, and called the 101 recommendations and suggestions contained in this book as simply TIPS.  Tips on how NOT to procrastinate.
Procrastination pervades every aspect of our lives.  And we've mastered it to perfection having learned a subtle form of it when we were babies.
We delayed falling asleep because our mothers wouldn't cradle us in her arms.  We've procrastinated in performing our duties at home, in school, in…
Other Details* Sales Page:
Included, HTML
* File Format:
MS Word Doc, PDF, RTF
* Number of Pages:
62
* Download File Size:
285 KB