Salespage Snapshot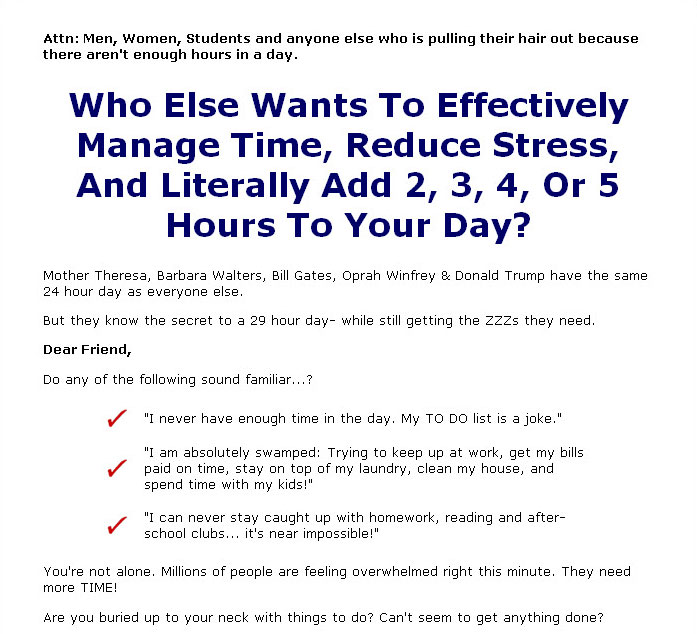 >> Click Here To View Sales Page...
Ebook Table Of Contents
Table of Contents    3
Introduction    4
Chapter 1:  Defining Time Management    5
How Are You Living?    6
Five Things To Do Now    7
The 80 to 20 Rule    9
Chapter 2:  Procrastinating, Who Me, I Don't Do That!    11
Why Do You Procrastinate?    12
Are You Overwhelmed Yet?    15
Getting Past Procrastination    17
Realize Your Are Procrastinating    18
Why Are You Procrastinating?    19
Step Through It    20
Chapter 3:  What Type Of Time Manager Are You Now?    23
Your Possible Time Drains    24
Time Of Day Drains    25
Recording In Logs    27
Chapter 4:  Developing Your Plan Of Action For Time Management    31
Sample Action Plan    31
Sample To Do List    33
Developing Your To Do List    36
Writing An Effective To Do List    39
Use Your To Do List Correctly    40
Develop Your Action Plan    41
Chapter 5:  Scheduling For Effective Time Management    43
Goal Setting Defined    43
Writing Effective Goals    45
Making Goals Reality    46
5 Step Scheduling Secrets    48
Conclusion    51
Ebook Sample Content Preview
Introduction
Time is the most valuable resource in the world.  To you, to anyone else, it is the one element that we can not get more of no matter how we try to do so.  Consider this fact.  The most successful of business people today have the same amount of time in their day as you do.  They do not have more and contrary to what most people believe, they do many of the small, everyday things themselves.
This should show to you just how essential it can be for you to actually manage your time properly.  When you do that, you can accomplish more in your everyday life than you thought you could.  Most importantly, you can be just as successful at accomplishing the tasks that you need to as the next guy, even the most successful of people that you look up to.
In time management, you are managing your time better.  You are not giving more of your time to your job or to the endless tasks that you have to do.  You are simply making better decisions about what you do and how you will do it.  The end result is that you find yourself in a much better place at the end of the day.  Perhaps even with hours to spend watching television and playing with your children.
Other Details* Sales Page:
Included, HTML
* File Format:
MS Word Doc, PDF, RTF
* Number of Pages:
50
* Download File Size:
234 KB