Salespage Snapshot: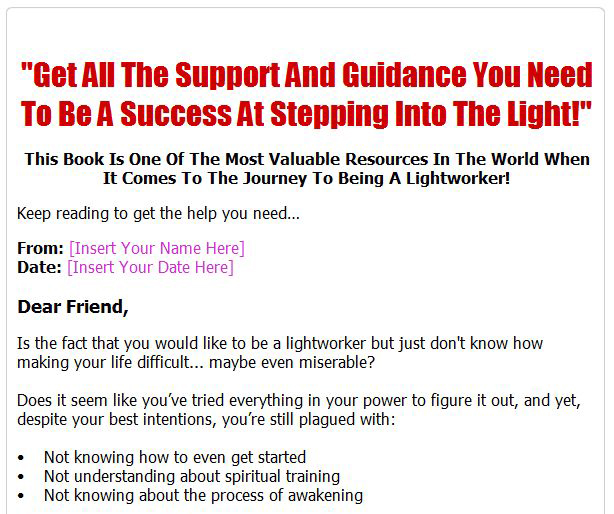 >>> Click Here To View Full Sales Page…
Table of Contents
Foreword
Chapter 1:
Lightworker Basics
Chapter 2:
Blocks To Being A Lightworker
Chapter 3:
Spiritual Training
Chapter 4:
The Process Of Awakening
Chapter 5:
How Prayer Comes In
Chapter 6:
Where To Go For Training
Chapter 7:
What Happens In A Session
Chapter 8:
Lightworker Events
Chapter 9:
Selecting The Right Program
Chapter 10:
Benefits Of Becoming A Lightworker
Sample Content Preview
Chapter 2: Blocks To Being A Lightworker
Synopsis
Lightworkers are carrying with them the capability to obtain spiritual awakening better and even faster than others. They are also carrying inner seeds that are essential for a rapid awakening.
This not because they have higher souls or better souls than other people. This is actually because of the fact that they are older than many souls that presently incarnate in the world. Such older age can actually be understood in terms of experience instead of time.
Lightworkers have attained a certain phase of enlighten even before they come to life on this world and start their mission. It only depends on them on how they can unleash that "lightworker" within them.
However, there are many problems involved in awakening that kind of stage into them. Here are some of the common issues related to being a lightworker.
Issues to Becoming A Lightworker
Lightworkers can also be caught up in similar states of illusion and ignorance just the same as anyone else. Even though they begin from different points of departure, their ability to break through illusion and fear to be able to obtain enlightenment can always be locked or blocked by a lot of factors.
By enlightenment, what we mean is the state of being, which one realize that he or she is mainly of the Light – he or she has the ability to choose light at any time.
There are many lightworkers who are carrying the heavy karmaic burden, leading them astray for some time. This is one of the many factors that block the road to enlightenment for those lightworkers.
Such karmaic burden is actually related to those decisions that they once made regarding to humanity during its early stages. Such decisions were significantly disrespectful of life. All lightworkers who are now living in this world wish to undo and set right some of the mistakes that they once made in the past. They also want to restore and to cherish the things that were destroyed due to those mistakes.
When the lightworkers made their way through a kamic burden that means to release their need for power, they will begin to realize that they are beings of light. This will allow them to extend their hand and help other people in searching for their own real selves. However, they need first to go through such process on their own. This requires great perseverance and determination on their inner level.
Due to the fact that the society is feeding them with judgments and values, which commonly go against their natural impulses, a lot of lightworkers have gotten lost, and they end up in the states of self-denial, self-doubt and even hopelessness and doubt. This is actually because they can't suit into the order of things. They also conclude that there might be something wrong with them.
There are some lightworkers who also become stuck in the awakening stage. Toxic exposures, nutritional imbalances and overwork are creating lots of stress. It is discouraging many of them, and they require energy in order to overcome their past and their struggles and get on with their nature of service and healing.
What those lightworkers need to do is to cease searching for validation from those outside – friends, parents or society. This is the right time to remove those blocks in your goal of becoming a great lightworker.
Chapter 3: Spiritual Training
Synopsis
Light work is actually something that is very different. For you to fully understand what spiritual healing and light work is all about, you have to let of your traditional image. You also have to let go of the idea that helping is all about offering something to others.
The notion that others are lacking something is damaging to their healing process. The right way to help others is to make them more aware of their ability and power to heal themselves.
To become a real lightworker and successfully bring light into the world and awareness into the lives of others, you need lightworker trainings. Here, you will learn several principles and ideas that can help you become an effective lightworker.
What Spiritual Trainings Can Give you?
Are you living in the light of spiritual awareness, and you feel compellers to bright that light into the world? Are you thinking about making positive changes in the world, but you have not yet found a suitable avenue of service? A spiritual training will help you become an effective lightworker and achieve these things.
Spiritual trainings are essential to help all lightworkers obtain their goals by fulfilling different avenues of spiritual service and by offering classes that can help them accelerate their ascension process.
Lightworkers are those who are awakening to the light of greater consciousness, and they are passing such light to other people in some ways to be able to facilitate and then quicken spiritual awakening. Spiritual trainings can help you in fulfilling your callings as a lightworker and spread light into the world.
Spiritual trainings will offer you with all the information and tools that you need in order to become a proficient and thriving lightworker, fulfilling your purpose and achieving your goals.
Through those trainings, you will obtain answer to all your questions. You will also learn how to eliminate all those blocks to becoming a great lightworker. You will also experience an unbounded awareness of your better and higher self. These trainings will also help you be ready to step in to the real light.
Other Details
- 1 Ebook (DOCX, PDF), 30 Pages
- 1 Salespage (HTML)
- Ecover (JPG)
- File Size: 119,843 KB