Features:
* 52 Weeks Pre-written Newsletters
This isn't just ANY private label content. These newsletters are written to effectively promote best-selling affiliate products for an entire year. All the work is done for you.
* List of Top Affiliate Programs
Comes with high-paying, high conversion affiliate programs from Clickbank, Commission Junction, Shareasale, and others – just sign up! Once you've got your affliiate links, you put them into the content and bam – your newsletters are branded and ready to make you money!
* Opt-In Template For Each Niche
Pop in YOUR autoresponder information, and you're ready to upload this page to any domain and start collecting leads!
Opt-In Template Preview: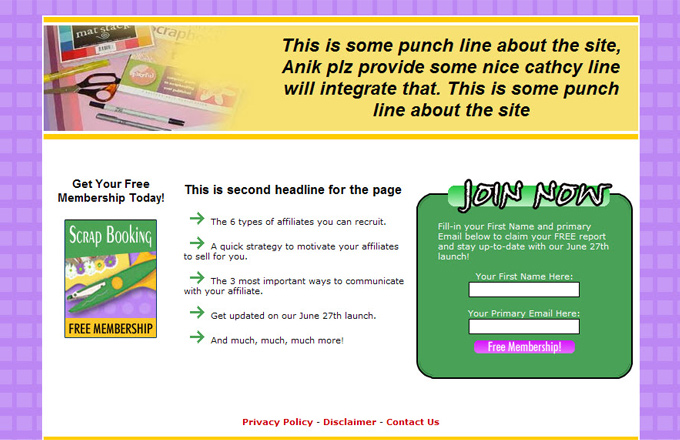 Autoresponder Message Titles:
– Conquering Clutter
– Enhance Your Scrapbook Pages
– Why You Should Scrapbook
– Scrapbooking On A Budget
– Totes For Mobile Scrappers
– Finding Your Scrapbook Style
– Scrapbooking Yourself
– Computer Scrapbooking
– Good Handwriting Not Needed
– Preserving Memories
– Embossing Scrapbook Pages
– Splish-Splash
– What Is Scraplifting?
– PhotoShop For Digital Scrapbooking
– Copyrighting When Scrapbooking
– Hot Glue On A Scrapbook
– Organizing Your Photos
– Scrapbooking Your Family History
– Scrapbooking Color Wheel
– Using Black And White Film
– Personalizing Photo Albums
– Scrapbooking Travel Photos
– Wedding And Anniversary Scrapbooks
– Ideas For Scrapbooking
– Paper Storage Tips
– Stenciling Your Layouts
– Adding Accessories To Your Page
– The Art Of Paper Tearing
– Storing Family Keepsakes
– Family Scrapbooking Ideas
– The Mobile Scrapper
– Collage In Scrapbooking
– Scrapbooking Your Baby's Firsts
– Finding Time To Scrapbook
– Essential Tools For Scrapbooking
– Scrapbooking Basics
– Scrapbook Supplies Online
– Protecting Your Scrapbook Pages
– Paper Layering
– Organizing Your Scrapbook Space
– Scrapbooking Clubs
– Joining Forces
– Taking Great Baby Photos
– Men Can Scrapbook Too
– To Crop Or Not To Crop
– The Foiling Technique
– Digital Photography Scrapbooking
– Scrapbooking Clubs
– Rubber Stamps On Pages
– How To Get Started Scrapbooking
– What Adhesive Should I Use?
– Tips On Sewing On Your Pages
Sample Affiliate Program Preview:
Scrapbook
Earn between 6% and 12% on sales of thousands of scrapbooking products from all of the major scrapbook supply manufacturers in the world.
Scrapbook Super Center
Earn 10% on all scrapbooks and hundreds of scrapbooking supplies, including adhesives, chalks, dies cuts, idea books, memory kits, and paper quilling. Low $50 minimum payout. Administered by ShareASale.
Memorable Scrapbooking
Earn 60% on this ebook which covers the basic scrapbooking tools, planning, and design principles. Includes advanced techniques for embellishments, backgrounds, faux techniques and more. Administered through ClickBank. Sign must be done through the product listing in the ClickBank marketplace.
Princess Crafts
Earn 40% commission on every subscription to this scrapbooking membership site that offers access to hundreds of scrapbook pages, graphics, and designs, plus scrapbooking courses.
Lasting Expressions
Earn 50% commission on this unique ebook that compiles and crossreferences more than 5,000 phrases, quotes, and sayings for us in scrapbooking and other projects.
Ultimate Fast-Start Scrapbooking Video Guide
Earn 45% commission selling this downloadable video series and printable guides that teach you the principles of creating eye-catching, color coordinated scrapbook page layouts.
Other Details* No Of Messages
: 52
* File Format
: TXT
* Included Graphics
: eCover [PSD, JPG]
* Extras:
Squeeze Page
* Extras:
Affiliate Programs [PDF]
* Download File Size:
1,230 KB