Features:
* 52 Weeks Pre-written Newsletters
This isn't just ANY private label content. These newsletters are written to effectively promote best-selling affiliate products for an entire year. All the work is done for you.
* List of Top Affiliate Programs
Comes with high-paying, high conversion affiliate programs from Clickbank, Commission Junction, Shareasale, and others – just sign up! Once you've got your affliiate links, you put them into the content and bam – your newsletters are branded and ready to make you money!
* Opt-In Template For Each Niche
Pop in YOUR autoresponder information, and you're ready to upload this page to any domain and start collecting leads!
Opt-In Template Preview: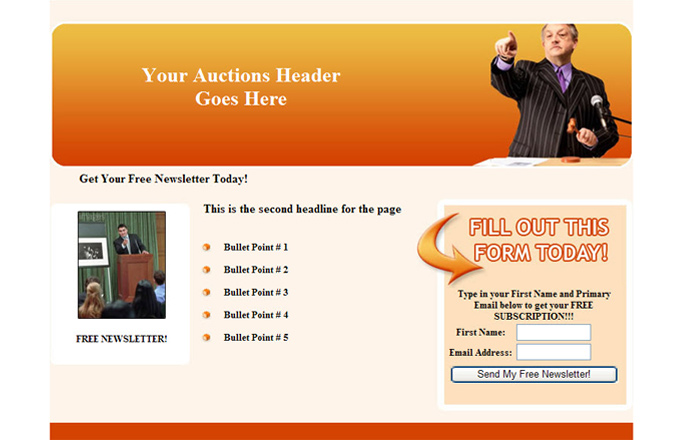 Autoresponder Message Titles:
– Charity Auctions
– Christie's Auction House
– Automobile Auctions
– The First American Auctions
– Types Of Auctions
– Reverse Auctions
– Online Auctions
– Sotheby Auctions
– Auction Terminology
– Online Auction Business
– Police Auctions
– Liquidation Auctions
– Auctions During The Great Depression
– What Is An Auction?
– Sealed-Bid Auctions
– Civil War Auctions
– Bank Auctions
– Government Surplus Auctions
– How To Buy At Auctions
– Auction Bidding Strategy
– Making Money Via Internet Auctions
– The World's Most Famous Auctioneer
– Repossessed Car Auctions
– Collectibles Auctions
– English Auctions
– Auctioneer Schools
– Government Auctions
– Self-Storage Auctions
– National Auctioneers Association Hall Of Fame
– EBay Auctions
– Auction Chant
– Going, Going, Gone
– Silent Auctions
– The Weeping Time
– Avoiding The Auction Winner's Curse
– Private Antique Auctions
– Real Estate Auctions
– IRS Real Estate Auctions
– Insurance Auctions
– Reserve And No-Reserve Auctions
– The Auction Of 193 AD
– Famous Quotes About Auctions
– Suggested Opening Bid
– Livestock Auctions
– Dutch Auctions
– Commodities Auctions
– Boat Auctions
– Buying Furniture At Auctions
– Firearms Auctions
– Online Sports Memorabilia Auctions
– Consumer Electronic Online Auctions
– Ancient Auctions
Sample Affiliate Program Preview:
eBay
Founded in 1995, eBay connects hundreds of millions of people around the world every day. eBay is the largest marketplace in the world, with over 276 million registered users worldwide. eBay has some of the most generous affiliate commissions on the web, and how much you earn depends on how much quality traffic you drive every month – the more you drive, the more you earn. Each program has a different payment structure. Theirs is a self-administered affiliate program.
The Auction Traffic Mastery
The Auction Traffic Mastery Affiliate Program – "Earn $175 for Every Sale You Refer! Auction Traffic Mastery is the definitive course on using the massive power of eBay's built-in traffic to sell information products and funnel customers to your other websites and offers. It is a high-appeal, high-quality product delivered on 9 CD-ROMs right to your customer's door.
Daves Cool Little Website
Make money with your OWN ebay auction site. – Earn 50% on recommended Clickbank Products and commission from referred eBay sales as well as Adsense (that are displayed on your own web-site).
This is more than just one product; you get an actual website that you can market and make money from. Self-administered affiliate program.
eBay Profit Auctions
eBay Mastery Package sells for $ 150.00 USD. Commission is $54.80 on Level 1 (less processing fees.) All payments are made through PayPal.
GovernmentAuctions
GovernmentAuctions is the premium membership-based web site for bargain hunters that helps its users find and participate in government auctions of seized and surplus property in the U.S. and Canada. 2-tier commission structure as follows.
Tier 1 Commission: $18-$22 per each of the member signups referred even for those that sign-up as late as 60 days after being referred.
Tier 1 is based on a 5-level commission structure providing partners with more control over their revenue. Tier 2 pays 15% of the earnings generated by subaffiliates.
Liquidation
Earn cash by promoting the online marketplace. Through Liquidation.com, visitors can buy or sell surplus goods via an online auction. Commission is based on whether purchase is a buyer or seller as follows: $1 for each unique bid, $25 for each buyer transaction, $25 for each seller transaction.
Other Details* No Of Messages
: 52
* File Format
: TXT
* Included Graphics
: eCover [PSD, JPG]
* Extras:
Squeeze Page
* Extras:
Affiliate Programs [PDF]
* Download File Size:
1,608 KB