Salespage Snapshot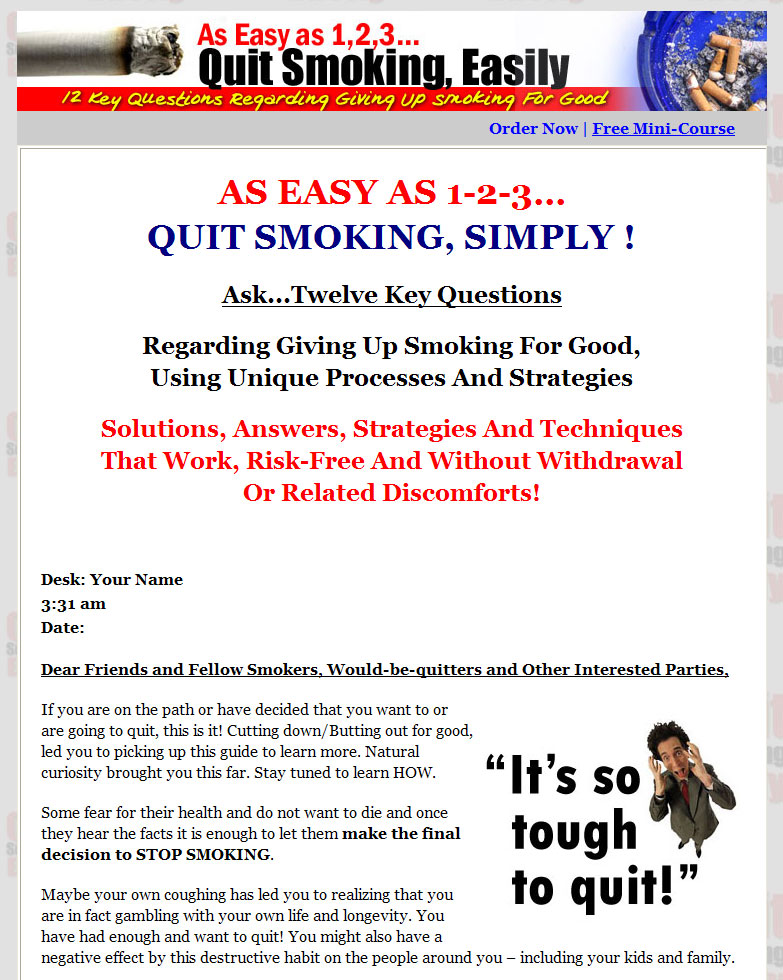 >> Click Here To View Sales Page...
PLR Ebook Table Of Contents
Foreword and Introduction, Layout and Purpose of the book        4
TWELVE KEY QUESTIONS REGARDING GIVING UP SMOKING FOR GOOD, USING UNIQUE PROCESSES AND STRATEGIES
–    Question # 1: When Can You Say That Smoking Is Too Much And Which Aggravating Factors Should Be Considered Part Of The Problem And Not The Solution?                 5
–    Question # 2 (A) : Why Can We Or Can We Not Stop Smoking Successfully And Effectively – On Our Own, Easily And With Guaranteed Outcome, Discipline And Sustainable Results? 9
–    Question # 2 (B): How To Effectively Change (Smoking) Habits/Quit?                            9
–    Question # 3: Why Do We Tolerate And/Or Even Keep On Smoking Even When It Makes Us Ill Or Kills? Why Do We Willingly Opt For Something Harmful And Deadly, Despite Being Knowledgeable About Its Negative Effects?             11
–    Question # 4: Has The Time Come For Us To Take A Long, Hard Look At What It Takes To Success, Not Fail At Quitting Smoking?                                 12
–    Question # 5: For Quitting Smoking, What Works And What Does Not? Mastering And Learning New Habits?        15
–    Question # 6: How And Why Do We Rationalize Smoking, Bad Habits, Not Quitting (Even Not Succeeding)            18
–    Question # 7: Taking A Real Hard Look At Money, Financials, And Answering How Advertising, Sales Dollars And Related Expenditures Are Influencing, Impacting, Even Ruining Our Changes Of Quitting Smoking?                    22
–    Question # 8: How Can Psychological Principles And Self-Hypnosis Techniques Help/Hinder Your Process Of Quitting Smoking?                                24
–    Question # 9: What About The Role Of Self-Managed, Self-Help And Visualization Techniques For Quitting Smoking… Permanently?                            32
–    Question # 10: What Will It Take To Change Attitudes And Habits Around And Of Smoking?                41
–    Question 11: What Is The Value And Nature Of A Personal Action Plan For Quitting Smoking Simply, Easily, Naturally, Permanently?                            49
–    Question # 12: How Do We Utilize And Optimize Alternative Approaches For Quitting Smoking Effectively? (Visualization, Self-Affirmation, Self-Hypnosis, Relaxation Et Al.)        50
Conclusion                                     54
Sample Content Preview
Foreword and Introduction, Layout and Purpose of the book
Diagnosing and treating a condition or addiction for that matter, might require some intensive therapy and intervention to get the desired  outcome, success and results. There are limitations, pros and cons to every conceivable method of coping with substance abuse and nicotine-type addictions.
Hypnosis has been proven to be quite effective, however it cannot cure all ills, nor is it the quick-fit, silver-bullet solution some make it out to be. Realistic expectations, good know how and disciplined, consistent good choices will all do their part to get you where you need to be/go!
Utilizing and optimizing techniques like relaxation, induced, guided, hypnosis and even self-hypnosis, making the most of the body, mind connection and interrelatedness to get results can work wonders. This might be leading to behavior modification of some bad habitual tendencies and actions. These are at the very center and core of some of the most advanced techniques of cessation treatment for smoking.
Safe for all and not dangerous or harmful in any way, shape or form, there are lots of options and applications for this 'natural' process, tried and true accepted method of practice.
Many want to be assured that the treatment that they seek are right for them, that there are some standards and measurements, rules of thumb that apply to and help all.
If you want to successfully, effectively, self-managed or guided want to give up smoking FOR GOOD!, this guide will have value for you – stay tuned and keep on reading!
QUESTION # 1: WHEN CAN YOU SAY THAT SMOKING IS TOO MUCH AND WHICH AGGRIVATING FACTORS SHOULD BE CONSIDERED PART OF THE PROBLEM AND NOT THE SOLUTION?
SMOKING TOO MUCH IS AT THE CENTER OF CONCERN for this topic, but how we/you individually, collectively, even as a society define this "excessive use of a substance",  is what will in the end trigger the final standard between acceptable and rejected on the grounds of NOT BEING GOOD FOR YOU or IN EXCESS (TOO MUCH!).. and addiction, problem and/or illness!
Start by asking yourself which of the following scenarios and/or habits apply to you?
–    Cigarettes are the very first and last thing you do every day. Find yourself NOT being able to go without it is part of your daily routine and battle…
Other Details* Sales Page:
Included, HTML, MS Word Doc
* File Format:
MS Word Doc, PDF
* Number of Pages:
59
* Included Graphics:
Ecovers, PSD
* Extras:
5 Part Autoresponder Email Message Series
* Download File Size:
8,640 KB