Salespage Snapshot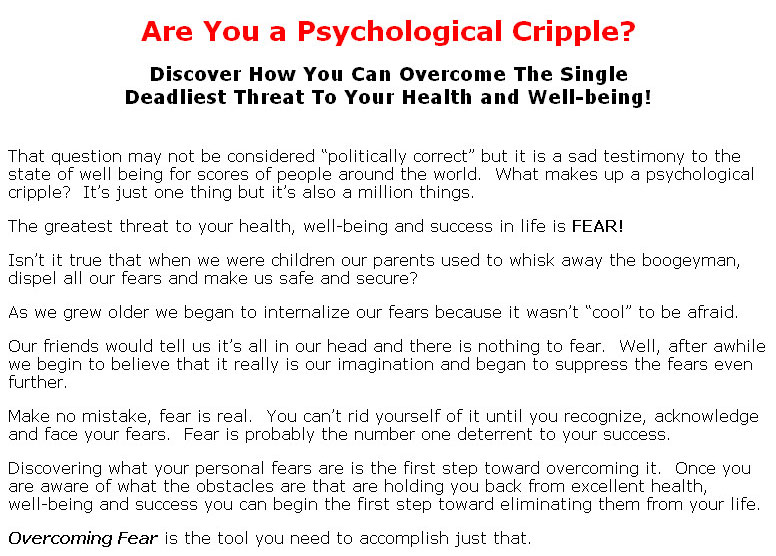 >> Click Here To View Sales Page...
Ebook Table Of Contents
Are You Afraid?
What are you Afraid of?
Childhood Fears All Grown Up!
How to Overcome the Fear of Rejection
How to Overcome the Fear of Failure
How to Overcome the Fear of Success
Fear of Mental or Physical Abuse
Procrastination – the Fear of Making Decisions
Fight or Flight?
Creating A Self-fulfilling Prophesy
Why Does Fear Immobilize?
Re-programming Your "Self – Talk"
When Fear Becomes Phobia
When You Should Seek Professional Help
Ebook Sample Content Preview
Are You Afraid?
You may not recognize it as such. In fact, you may even deny you ever experience it.
But if you get a feeling of anxiety and apprehension when an object or a situation comes up, then you are demonstrating fear.
Fear is an emotion that arises from a perception that something is harmful. It is a self-preservation "device" wired into our brain. This is why we feel nervousness, panic and exhilaration coming in a sudden rush in moments of fear.
Physiologically speaking, that rush is caused by the body producing and releasing hormones such as adrenaline. Adrenaline as you may already know is an "emergency" feature our body uses to make us do things we may not be able to do under normal circumstances. Fear is a very strong trigger for adrenaline. And as its purposes are mainly for self-preservation, it is only rightly so.
Other Details* Sales Page:
Included, HTML, MS Word Doc
* File Format:
MS Word Doc, PDF
* Number of Pages:
61
* Download File Size:
186 KB