Salespage Snapshot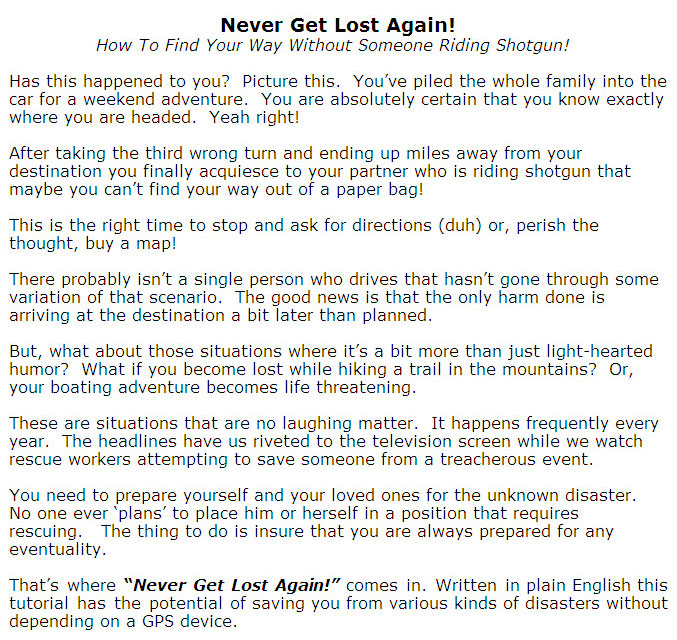 >> Click Here To View Sales Page...
PLR Ebook Table Of Contents
Navigation for the Ancients
Nautical Terminology
Nautical Navigation
How to Read Maps
Using a Compass
Wilderness Navigation
Coastal Navigation
Navigation for the Aviator
About Global Positioning
Survival Tips When Lost at Sea
Survival Tips When Lost on Land
Preparing a Survival Kit for Water Trips
Preparing a Survival Kit for Land Adventures
How to Avoid Getting Lost
PLR Ebook Sample Content Preview
Navigation for the Ancients
Navigation Tools and Techniques for the Ancients
It is the nature of man to explore the world around him. That is why during the ancient times, thousands of years ago, sailors traveled in ships, crossed oceans, reached different continents and conquered many islands.
Observing modern navigation will surely get you to thinking that traveling by sea, by air or even by land is a very complicated task. Having maps at hand during such travels will be of great help. But without the benefits and usefulness of modern technology and sophisticated navigational tools, how did the ancient people manage the task?
Numerous researches about early navigation techniques of different civilizations have found that almost all ancient navigators, most of them sailors, have relied on the placement and regular appearance of the sun, the moon and the stars for navigational purposes. Analyzing the findings, you will conclude that the techniques to use celestial bodies as points of reference for travel make sense.
In fact, there are still many sailors and travelers today that use celestial or heavenly bodies to aid navigation during air, land or sea travel. But with the modern tools of today, of course, everything is made simpler and less complicated.
Other Details* Sales Page:
Included, HTML, MS Word Doc
* File Format:
MS Word Doc, PDF
* Number of Pages:
58
* Included Graphics:
Ecovers, PSD
* Download File Size:
1,885 KB