Salespage Snapshot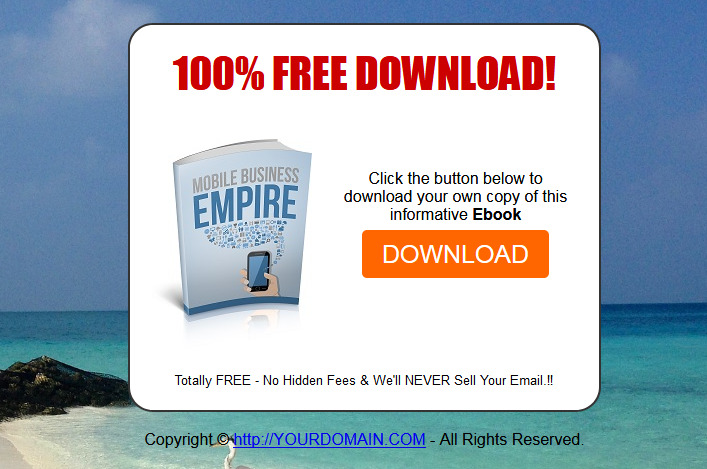 >> Click Here To View Sales Page...
Table of Contents
Embracing The Online Enviroment …… 4
Niche Sites . 4
Google Keyword Tool 6
More About Blogs ….. 7
Websites …. 8
Forums …… 9
Email ……. 10
Long Term Business Ideas … 11
Target Hot Markets . 11
Create An Automated Sales System …. 11
Create Self-Perpetuating Communities 13
Get As Many Affiliates As Possible ……. 13
Offer Free Items Frequently .. 14
Monthly Subscriptions ………. 15
Good Ol' Marketing . 16
Wash, Rinse, Repeat ………… 16
The Art Of Persuasion ………. 17
Learn The Art Of Attraction … 18
Change Your Marketing Mindset ………. 19
How Much Are You Worth? …. 20
How Much Is Your Customer Worth? … 22
Simple Things To Remember . 22
Creating A Personal Connection With Potential Customers . 24
The Elements Of A Good, Persuasive, Story ……. 24
Using The Five Elements In Your Sales Page…… 26
Use The Power Of Imagination To Sell . 27
Drama And Controversy ……. 27
The Story Of Your Sales Page 29
The Coveted Offer … 30
When No Means Yes 30
How Just ½ Hour Of Time Can Produce Results .. 31
Be Prepared At All Times …… 31
Be A Copy Cat …….. 33
Who To Copy ………. 34
Sample Content Preview
Create An Automated Sales System1 2
The way to create an automated sales system that takes advantage of the great desire a segment of the population might have for some product or service, is to follow three easy steps.
1. Make A Great Offer – This is the first powerful hook for the people who happen on your website. The ad can be for something like a free report that will be provided for adding their email to your list. Or, it can be for a discount coupon code available for those that sign up their email address. The whole point is to get that email address as quickly as possible while providing some incentive to purchase in step 2.
2. Fabulous Sales Letter – If you are giving away the free report, this should actually be your sales letter in disguise. Include great information about the topic, but also include information that sells your products and services through the report copy.
3. Add Affiliate Offers – Just in case they don't buy your products, that doesn't mean you still can't make a sale. Include information on affiliate offers that can provide a stream of income for you, whether they choose your product or not.
The sales funnel is set up to capture most people who visit your website by offering them something they will have difficulty turning down. The original offer is meant to harvest their email address. From there, you send them the freebie, which will include other offers. And, finally, if you still don't make a sale, you now have their email address and can continue to market them further down the line.
The trick to automating this entire process, however, is in how you set up the email system. You want to set up autoresponders to be able to send out products once a sale has been made. You don't want to have to check your email all the time, and manually respond to each one by attaching the report they've requested. Instead, you want the system to do it for you. You want your offer to send email to an autoresponder that replies with the free report.
You don't even have to ever see that someone requested it. You can also set up your payment processor to send an email to a specific email autoresponder that can respond with any product you are selling, without having to constantly manage incoming and outgoing emails. This way, you can set up a site, set up the offers, set up the autoresponders, and then walk away. All you're interested in is the dollar signs that you make at end of each month that should be automatically deposited into your payment collection areas.
Create Self-Perpetuating Communities
Social networking is a great way to create self-perpetuating communities that create content and buzz for your products and services. You can do this by simply adding a forum to your site and signing up a few people to get the ball rolling. Some people even choose to pay a few contributors until the community takes hold, but it's really up to you. You can create multiple user names for yourself and just add multiple entries under your own name to build up the appearance of a larger community until more people join up.
Forums and networking sites are a great way to get other people to work for you. They are also a great place to sell online advertising to other people, if you want to make money that way. Or, if you want to concentrate on your own products, you still have a captive audience that will allow you to post any advertisement you want in front of them.
Get As Many Affiliates As Possible
You will want to sign up as many affiliates as possible to sell your products for you. The way to do this is to offer them a higher commission. It wouldn't be a bad thing if you gave them 60 to 70% of the sale, even if that sounds outrageous. The fact is that you want them to do the selling while you go off to create more sites. If you have 1000 people selling your ebooks for you and you don't have to do any of the sales, you are free to develop more streams of income while collecting on old ones. If you only have a few people selling your products though, it won't be worth it. You want to maximize the potential for income without having to do too much of the actual work.
And, remember that affiliates don't just make sales, but they also boost the traffic to your site. So, why wouldn't you want someone publicizing some of your offers for you? Each site itself will start to grow in value and you will eventually be able to sell the entire thing to someone else for quite a handsome profit, if you ever wanted to move on.
Offer Free Items Frequently
Okay, you're probably scratching your head at this one. How can you make money if you keep giving things away for free? Well, because the power of the Internet is about exposure and leveraging your paying offers within free items. So, even though you give away something for free, it doesn't mean you won't get something back. And, if you want something to go "viral" on the Internet, you have to give it away. Once something goes viral and propagates all over the Internet like a runaway meme, you have the potential to make BIG money on any embedded link offers that were within that free report or item. At the very least, you should have a URL in the free reports pointing back to your website so that if it goes viral you reap a huge amount of traffic.
Now, if you want to keep people coming back over and over, then you can offer free items on a regular basis as part of the sign up. Some people do this by offering a free monthly newsletter. The newsletter should have valuable information in it, but it should also include links to your offers so that you are marketing them yet again while appearing to be quite altruistic. Not only to people look forward to good newsletters, but sometimes they even forward them to their friends too. If you send out a paper newsletter, people have it in front of them all the time around the house and it can be a way to get some direct mail customers, however, the cost of mailing is higher.
Another popular way to generate interest and increase sales is to do contests for free things. These work very well on content sites with forums. Say you want to get people to contribute more content. You can either pay a bunch of people to write posts, or you can sponsor a contest with one of your products as the prize. Not only do you get a bunch of people competing and adding valuable content to your site, thus building your community, but you also get to advertise your product while you are doing. Those that don't win still know where they can buy your product.
Monthly Subscriptions
If you manage to build a community site, you will want to offer some membership subscriptions. There are several reasons for doing so. It goes back to the idea that you are creating a group with higher status than just the regular people who visit your site. You will let this elite group in on extra discounts, specials, tips, and goodies that the rest don't get. And, this will appeal to people.
The other reason is that you make a residual income with monthly subscriptions. You don't even have to charge much. If you just charge $5 for instance and offer a $25 discount for signing up, it will appear that the subscription pays for itself. The thing is though, that people often forget where they've signed up and that $5 a month may end up being deposited in your account for years because they won't take the trouble to unsubscribe. It's like the concept of the gym membership you never use. You don't cancel it because you think you might use it in the future, and besides (you reason), it's not that much to hold on to. Further, if you make it hard to find out how to unsubscribe people might just give up and forget the matter entirely.
Other Details
- 25 Articles (TXT)
- 1 Ebook (PDF), 36 Pages
- 1 Squeeze Page (HTML)
- 2 Ecovers (PNG)
- Year Released/Circulated: 2018
- File Size: 2,134 KB
License Details:
[YES] Can sell and keep 100% of the sales.
[YES] Can edit the squeeze page.
[YES] Can be bundled into another paid package and sell at a higher price.
[YES] Can be used as a bonus to another product you are selling.
[YES] Can be sold in a Dime sale event.
[YES] Can be added into a paid membership site.
[YES] Can pass on the Master Resell Rights privilege to your customers.
[YES] Can be given away for free AGAINST an email address (lead generation)
[NO] Contents of the product can be edited, modified or altered.