Salespage Snapshot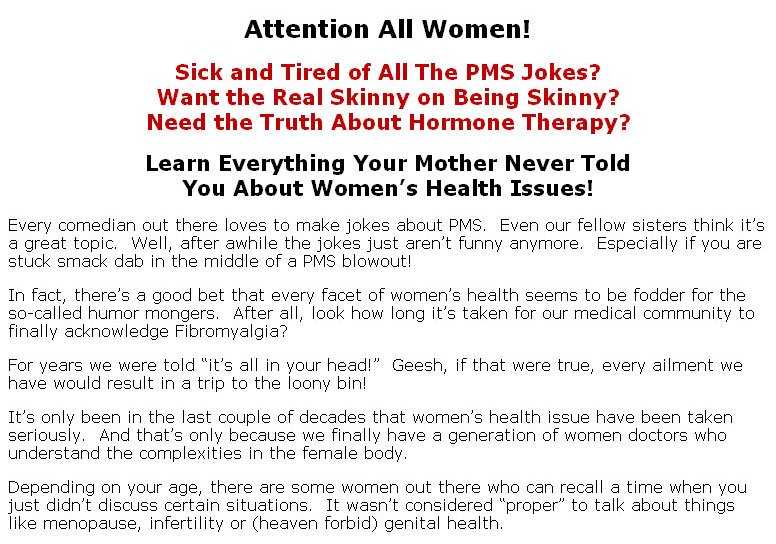 >> Click Here To View Sales Page...
Table Of Contents
Menopause Mania – Beat the Symptoms
What is PMS and What Are the Symptoms
A Brief Synopsis of Infertility
Tanning Without the Sun
How to Have Beautiful Hair
All About Mammograms
What is Fibromyalgia
What is Endometriosis
What is Osteoporosis
Botox
Removing Body Hair
Stretch Marks
Genital Health
The Truth About Cellulite
Your Body and Progesterone
PLR Ebook Sample Content Preview
What is Menopause and What are the Symptoms
Menopause is the time in a woman's when menstruation ends.  Menstruation ends because the woman's body and her ovaries are producing less hormones.  Women as they grow older, start to lose estrogen and progesterone.  These hormones contribute with pregnancy.
Menopause predominantly happens with women ages 42 to 56.  But the average is around 52.  A woman could say that she started  menopause when it was already a year since she had her last menstruation.
Before having menopause, women can already feel the build-up in the next few years.  This is called the menopausal transition or the perimenopause. But many times, women would refer to the pre-menopausal stage and the menopausal period itself simply as menopause.
Menopause is a natural process the body undergoes as it ages.  But induced or surgical menopause can also happen to a woman.  In an induced menopause, the woman undergoes menopause suddenly and prematurely.
Other Details* Sales Page:
Included, HTML, MS Word Doc
* File Format:
MS Word Doc, PDF
* Number of Pages:
86
* Included Graphics:
Ecovers, PSD
* Download File Size:
1,795 KB