Salespage Snapshot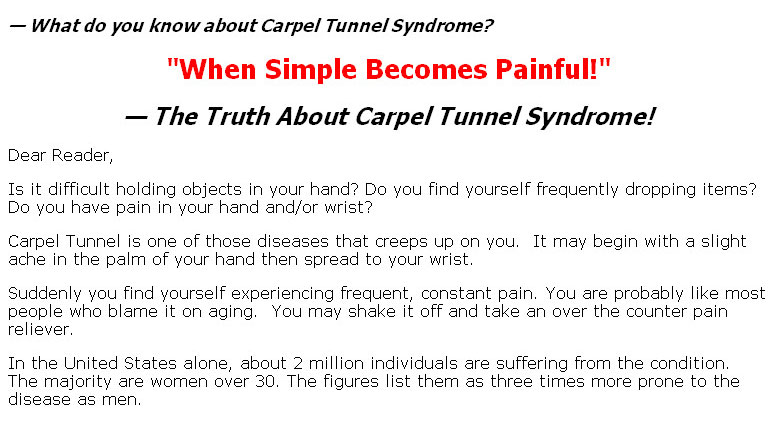 >> Click Here To View Sales Page...
Ebook Table Of Contents
What is Carpel Tunnel Syndrome?
What Are the Symptoms of Carpal Tunnel?
How is Carpal Tunnel Diagnosed?
Who Gets Carpal Tunnel?
What Causes Carpal Tunnel?
Treatments for Carpal Tunnel
Carpal Tunnel Surgery
Home Remedies for Carpal Tunnel
Carpal Tunnel and Nerve Damage
Carpal Tunnel and Acupuncture
Exercises for Carpal Tunnel
Braces for Carpal Tunnel
Massage for Carpal Tunnel
How to Prevent Carpal Tunnel
Ebook Sample Content Preview
What Is Carpel Tunnel Syndrome?
What Is Carpal Syndrome?
The full name of the disease is Carpal Tunnel Syndrome (CTS), a painful sensation of pinching or a tingling feeling in the fingers, the wrist and the whole hand. Sometimes, the pain may even run up the entire arm to the shoulder.
People who are afflicted with CTS suffer from a weakness in the hand (often dropping things). They usually wake up midnights with pain, numbness, and tingling sensations of the afflicted areas (fingers, wrist and hand).
Symptoms
Carpal tunnel syndrome produces pain and numbness in the thumb area and in the middle fingers, occurring near the palm of the hand. These worsen at night.
Other tell-tale signs include muscle weakness in the afflicted hand and wrist. Aside from the pain or tingling, the hand reflexes are impaired.
Other Details* Sales Page:
Included, HTML, MS Word Doc
* File Format:
MS Word Doc, PDF
* Number of Pages:
69
* Included Graphics:
Ecovers, PSD
* Download File Size:
2,180 KB