Squeeze Page Preview: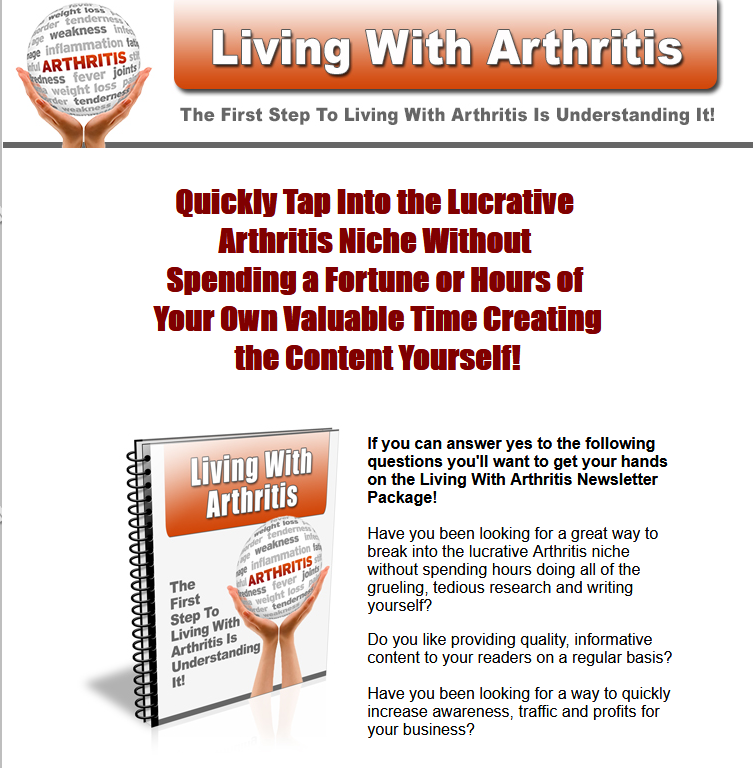 >>> Click Here To View Full Squeeze Page…
Features:
* 12 Issues Full Of Great Content
– Just add in your contact info and plug it in to your favorite auto responder. Each issue contains 500 words or more!
* One Ready To Go Squeeze Page
– Just add in your opt in form, upload to your server and your done!
* One Ready To Go Thank You Page
All ready to remind your subscribers to check their email and confirm their subscription. It even has built in revenue!
* 4 Researched Click Bank Products
These are top selling products on Click Bank that I've personally researched and chosen for each series.
* Extra Copy And Paste Article Content
You will get:
– Extra titles
– Extra opening paragraphs
– Extra closing paragraphs
– Extra fill in paragraphs
(these would make great tips that you add in to your follow ups system for more frequent contact with your readers)
Sample Content Preview
Hello "autoresponder code here",
In the last issue, we talked about how eating a good diet and maintaining a healthy weight to help alleviate your symptoms. In this issue, we are going to go over a few simple tips that you can use to help reduce the pain associated with mild to moderate flare-up's.
Do you think you can't put an end to your arthritis pain?
Many arthritis sufferers feel that way, like there is nothing they can do to stop the aches and pains they have to endure on a daily basis. However finding relief doesn't have to be hard, complicated or expensive. Often the small things make a big difference.
Let's go over a few simple tips that may help.
– Protect your joints
This means avoiding unnecessary stress like heavy lifting or prolonged physical activity when you're in pain. You should also avoid keeping them in the same position for a prolonged period, because it will cause stiffness and inflammation. Just by maintaining a good balance of physical activity and rest throughout the day you can alleviate many of your aches, pains and stiffness.
– Be sure to stretch
Stretching should be part of every arthritis sufferers daily routine. A good stretch helps warm up muscles and prevent injuries. Limber tendons are less likely to tear. Spend just 10 minutes a day stretching your major muscle groups and you will be amazed at how much better you feel.
– Keep cool
If you begin to feel overheated or your joints and muscles are, burning be sure to stop and take a break. Rest in a cool, comfortable environment. To cool down faster try spraying yourself with a mist of cool water or wrap an ice pack or cold compress in a towel and apply it to reduce arthritis pain and swelling.
– Keep moving
As we have discussed before regular exercise can help reduce joint pain and stiffness and increases flexibility and muscle strength. It can also help with weight control, stress management, and make you feel better overall. The Arthritis Foundation also offers water exercise and other classes.
– Get a massage.
Massage therapy can relieve your pain, soothe stiff sore muscles, reduce inflammation and swelling. Make sure you use oil or cream on your fingers to make it more gentle. Work the area for five to ten minutes a day if possible.
– Keep your weight in balance.
Being overweight, even just moderately, affects your weight bearing joints and can increase the pain of arthritis. Studies have indicated that losing extra weight lowers the risk for developing osteoarthritis of the knee. Losing weight can help slow the progression of arthritis too.
– Get a diagnosis.
Remember, if you are experiencing persistent symptoms like pain, stiffness, swelling for more than a week, you should see your doctor and get a proper diagnosis. Don't forget, there are more than 100 types of arthritis. It is important to get the specific diagnosis for the type of arthritis you have, so you can use the right course of treatment.
– Medication
If your doctor prescribes medication make sure you follow the dosage instructions. Never stop taking your medication just because you feel better or think it is not working. Always check with your doctor first. You need to understand that it may take several days to several months for a medication to become effective.
– Educate yourself
New treatments for arthritis are constantly being studied, so make sure you take the time to look for new options. Recently FDA has approved some new drugs for osteoarthritis, rheumatoid arthritis and other arthritis diseases. If feel that the current medication doesn't work well, check with your doctor about possible new options.
Keep educating yourself. It is important to learn something new about arthritis. Find some good websites online and subscribe to their newsletter if they have it. Join one of two active online arthritis communities like forums or bulletin board. Never hesitate to see your doctors and ask questions.
Make sure you look for your next issue soon. We will be talking about using acupuncture to treat your arthritis.
Until then,
"your name here"
"your email address"
"your URL here"
Sample Extra Titles
What You Don't Know About Arthritis May Shock You
The Dirty Truth on Arthritis
The Low Down on Curing Arthritis Exposed
Dirty Facts About Arthritis Revealed
The Undeniable Truth About Curing Arthritis That No One Is Telling You
What Everybody Else Does When It Comes To Curing Arthritis And What You Should Do Different
Unknown Facts About Arthritis Revealed By The Experts
The Hidden Truth on Curing Arthritis Exposed
The Secret of Curing Arthritis That No One is Talking About
The Unexposed Secret of Curing Arthritis
Arthritis – An Overview
The Ugly Side of Arthritis
The Ultimate Guide To Curing Arthritis
5 Simple Facts About Arthritis Explained
What To Do About Arthritis Before It's Too Late
The Secret For Curing Arthritis Revealed in 5 Simple Steps
The Ultimate Solution For Curing Arthritis That You Can Learn About Today
Be The First To Read What The Experts Are Saying About Curing Arthritis
And More…
Sample Extra Paragraphs
As great as it is to know that some individuals are able to seek arthritis pain relief from red chili peppers, you likely have many questions. What type of red pepper? What format should I opt for? How much should I consume? Do I eat it or apply it to the skin and how often? If you have these questions, please continue reading on for answers.
————————————
Pineapple. Pineapple is recommended for arthritis because it contains a chemical called Bromelain. Many claims this helps to prevent inflammation. In fact, some athletic trainers recommend its consumption to keep joints pain free and flexible. As with any other health foods, it is best to consume fresh instead of canned or frozen.
————————————
Joint damage. The elderly and those who let their arthritis go untreated are susceptible to joint damage. This includes deformities. For example, a patient with severe rheumatoid arthritis may have bent out of shape fingers. This not only looks different, but it is excruciating in terms of pain. Surgery can be used to correct these deformities and other severe joint damage.
————————————
It depends. For starters, how severe is your arthritis? When were you diagnosed? The earlier osteoarthritis and rheumatoid arthritis are diagnosed, the easier it is to treat without surgery. Exercise is vital. Yes, it is difficult to move your joints, so exercise may seem like it is out of the question, but it is not. Start with low impact exercises or opt for water exercises or physical therapy. The more a joint is moved, the less stiffness you experience. This can later reduce the chance of deformities.
————————————
Purchase an over-the-counter topical cream with capsaicin as the main ingredient. This is an alternative to using the above mentioned hot sauce. Many creams use capsaicin, which is derived from cayenne pepper. If on a budget, try the above mentioned hot sauce remedy first. If it does not work, try this alternative.
————————————
Oily fish. Those suffering from rheumatoid arthritis are often encouraged to avoid meats. Meat has fat that is known to produce inflammation agents in the body. The only exception to this is with fish. Oily fish, such as mackerel and salmon, are rich in omeg-3 fatty acids. These acids have many health benefits. They inhibit the release of joint destroying chemicals and compounds. Supplements are found in most retail stores, but it is best to get these oils directly from the source.
————————————
Not all supplements aid in arthritis relief. There are wide ranges of dietary, herbal, and natural supplements available for sale, both locally and online. Do the research first to determine what supplements may reduce your joint pain and swelling. For example, Avocado Soybean Unsaponifiables (ASU) is believed to slow down the making of inflammation causing chemicals. Devil's Claw can reduce inflammation and pain in arthritis patients. These are just a sample of the supplements that can help. Before heading to the health store, know what to buy.
————————————
Foods with anti-inflammatory benefits. Did you know that some foods can reduce the pain and swelling associated with arthritis? Some can. These foods include fresh pineapples, fresh cherries, cayenne pepper, and sesame seeds. Although there is little to no proof to backup these claims, many arthritis patients have been eating these foods for years and recommend them.
And More…
Other Details
- 12 Part Autoresponder Email Messages (TXT, DOC)
- Squeeze Page (HTML, PSD)
- Ecover (PSD, JPG)
- Affiliate Programs List
- File Size: 13,200 KB