Squeeze Page Preview: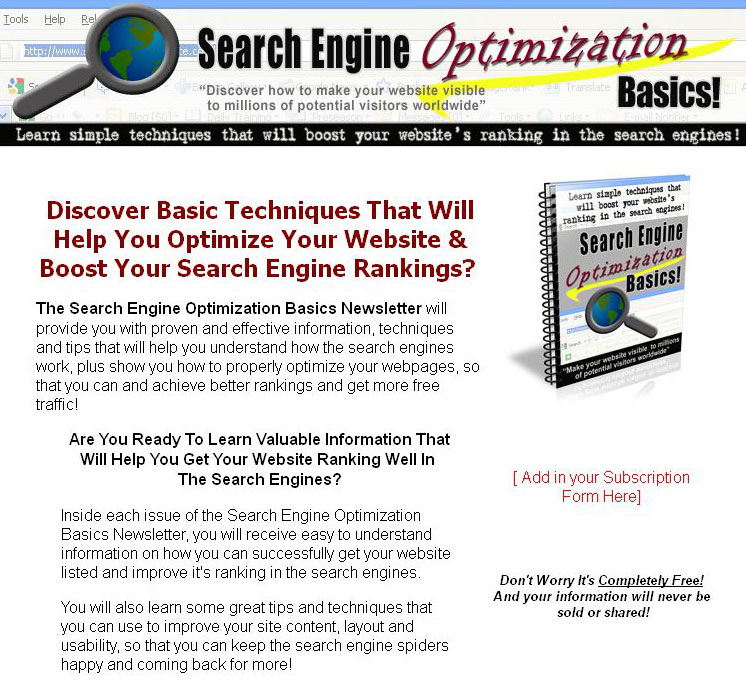 >>> Click Here To View Full Squeeze Page…
Features:
* 12 Issues Full Of Great Content
– Just add in your contact info and plug it in to your favorite auto responder. Each issue contains 500 words or more!
* One Ready To Go Squeeze Page
– Just add in your opt in form, upload to your server and your done!
* One Ready To Go Thank You Page
All ready to remind your subscribers to check their email and confirm their subscription. It even has built in revenue!
* 4 Researched Click Bank Products
These are top selling products on Click Bank that I've personally researched and chosen for each series.
* Extra Copy And Paste Article Content
You will get:
– Extra titles
– Extra opening paragraphs
– Extra closing paragraphs
– Extra fill in paragraphs
(these would make great tips that you add in to your follow ups system for more frequent contact with your readers)
Sample Content Preview
Message # 1
Subject line: Your First Search Engine Optimization Basics Issue
Hello "autoresponder code here",
Welcome to your first issue of Search Engine Optimization
Basics.
In each issue of "Search Engine Optimization Basics" you will
learn valuable information on how you can successfully use search
engine optimization to get your website optimized and ranking
well in the search engines.
Let's start off by talking a little bit about what search engine
optimization is an how it can help you.
The process of search engine optimization or SEO is fairly easy,
provided that you take the time understand the different factors
involved when it comes to getting your site well optimized, ranked
and bringing in targeted traffic.
There are many different techniques that you will have to learn so
that you can make your website more visible to the world.
Simply put SEO is the process of developing and boosting the
quality and volume of traffic that your website receives from the
search engines.
Search engines use organic or algorithmic methods to catalog
and search for relevant websites according to the keywords that
visitors type in. In most cases, the higher a website presents itself
on the search results page, the higher number of visitors it will get
from the search engine.
Three of the most popular search engines include Google, Yahoo
and MSN. There are literally thousands of search engine on the
Internet that target various types of searches like images, local
searches and industry-specific topics.
There a several ways that you can optimize your website from
creating and changing the content to editing the HTML coding to
help boost its ranking.
SEO can be very beneficial for your website, provided that you
follow the rules and guidelines that the search engines give you
when you submit your site.
There is a huge amount of information available online that can
help you learn how to achieve long term success in the search
engines and learning the basics is the best place to start.
The simple fact is the better you optimize your website the better
chance it has of reaching the top of search engine results page
and the more traffic your site will receive.
When used properly SEO can make your website more visible
and available to visitors all over the world. It is also very affordable
way for you acquire hundreds or even thousands of new visitors
and customers in a short amount of time. Not to mention the
added benefit of enhancing your ability to earn more money too.
Compared to paid advertising where you pay a certain amount of
money to reach a specific amount of people, SEO gives you the
ability to reach an unlimited amount targeted individuals for free.
These are people that are actually interested in what you have to
offer because they went searching for it.
Once your site gets listed it becomes visible to your target market
any time of the day or night. People can visit your site regardless
of their location or yours. Good SEO continually works for you
even when you aren't working on it.
As I mentioned earlier, it doesn't have to be complicated. It can be
as simple as updating the content of your site, using the right title
tags, meta tags and descriptions, so that the search engines can
navigate and crawl to your pages easily.
When you begin optimizing your website you will discover that it is
important to make your pages accessible to search engines so
they can index them appropriately.
SEO is a process and as your site grows and you learn more you
will discover several ways that you can enhance your onsite
navigation and provide vital information that will appeal to
your visitors as well as to the search engines.
Learning how SEO works is the first step, especially for a
beginner such as yourself. A basic understanding of how it works
will help you determine the steps you need to take in order to fully
realize and take advantage of everything that good SEO has to
offer your website.
Make sure you look for your next issue soon. We will be talking
about how the search engines spiders collect and analyze data to
index websites.
Thank you again for joining,
"your name here"
"your email address"
"your URL here"
Other Details
- 12 Part Autoresponder Email Messages (TXT, DOC)
- Squeeze Page (HTML, PSD)
- Ecover (PSD, JPG)
- Affiliate Programs List
- File Size: 11,560 KB