Salespage Snapshot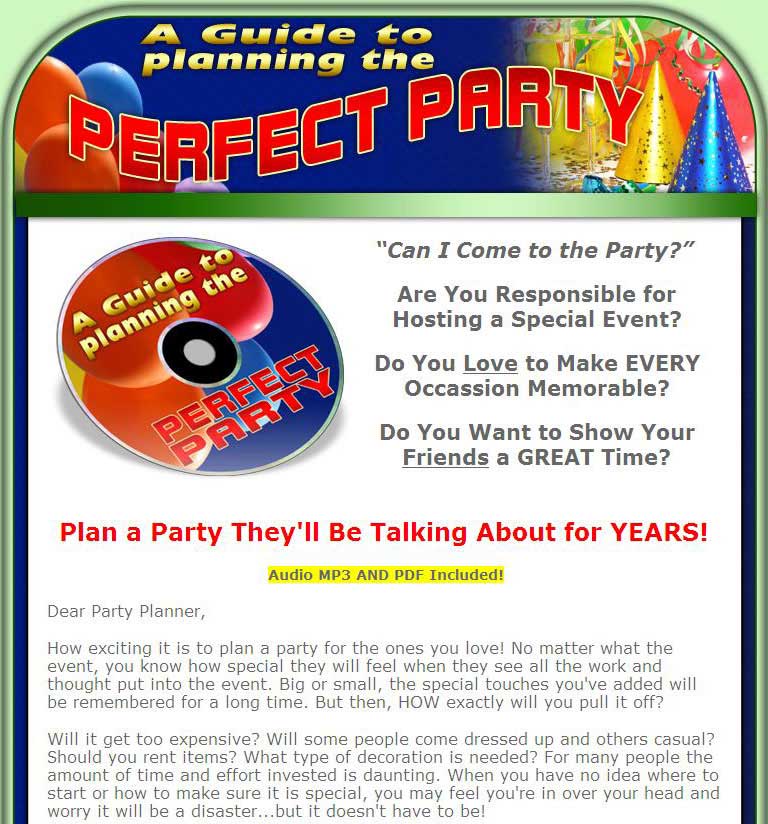 >> Click Here To View Sales Page...
Ebook Table Of Contents
What Preparations Should You Make for a Party?    4
What Kind of Party Will You Host?    6
How Much Will Your Party Cost?    8
Will Your Party Have a Theme?    10
Who Will You Invite to the Party?    12
What Is Your Party Dress Code?    14
Ideas for Party Decorations    16
Ideas for Party Entertainment    18
Tips for Party Rentals    20
How Long Should the Party Last?    22
Creative Party Invitation Ideas    24
Easy Party Menu Ideas    26
Tips for Choosing Drinks for the Party    28
Tips for Hosting a Children's Party    30
How to Schedule Your Party Preparations    32
PLR Ebook With Audio Sample Content Preview
What Preparations Should You Make for a Party?
You've decided to have a party. It may be for a birthday; it may be a Fourth of July party; it might even be a Welcome Home party. It doesn't matter what the occasion but you will need to plan and make preparations for your party to be a success.
Your preparations should be thorough, (unless its a spur of the moment party!) and take into consideration the following:
1. How many people will be attending?
2. What are the ages of the guests? Will they be of mixed age or children or adults only? The age of your guests will determine the type of food and drink you serve and many other facets of the party.
3. What time will you hold the party? Will it be an afternoon barbeque or an evening cocktail party? Will you set a start and finish time?
4. What food and drink will you serve? Will it be a formal dinner or just snacks?
5. What type of dress will you want the guests to wear? Will there be a theme? Will it be formal or casual?
6. Will there be entertainment at your party? Will you need to organize music or arrange entertainment for children?
7. Will you need to rent tables and chairs or bring in catering staff or will you be able to prepare everything yourself?
8. Do you have a budget for the party? If so, make sure you stick to it.
Other Details* Sales Page:
Included, HTML
* File Format:
MS Word Doc, PDF, Mp3
* Number of Pages:
33
* Included Graphics:
Ecovers, PSD
* PLR Articles:
Doc, Mp3
* Number Of PLR Articles:
25
* Download File Size:
114,707 KB