Salespage Snapshot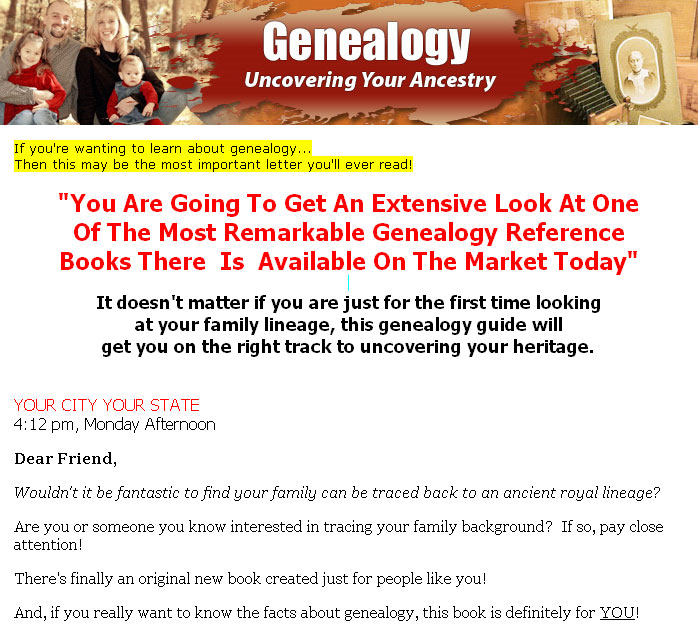 >> Click Here To View Sales Page...
Table Of Contents
Table Of Contents    3
Introduction    4
Chapter 1:  Why You Need To Explore Your Past    5
Defining Genealogy    6
Chapter 2:  Genealogy And The Search For Answers    10
Genealogy And History    10
Chapter 3:  Modern Methods Of Researching Your Past    14
The Advent Of Change    14
Research Effort Methods    16
Chapter 4:  Where You Need To Start Your Journey    23
The Benefit Of Stories    25
Creating A Family Tree    28
The Importance Of Pictures    30
Chapter 5:  The Records Search Begins Now    32
How Records Came To Be    32
The Records Search Begins    34
Land Searches    38
School Records    39
Other Records To Search    40
Chapter 6:  How Did They Get Here Anyway?    43
How To Begin Your Search    44
How Did They Get Here?    47
Then Where Did They Go?    49
Chapter 7:  Genealogical Information And Tools To Use    50
Types Of Genealogical Information    50
Reliability    56
Chapter 8:  Getting Help    57
Hiring A Professional    57
Family Tree Software    59
Conclusion    60
PLR Ebook Sample Content Preview
Introduction
Your family's history is part of your history too.  Perhaps learning more about your family will inspire you to be a different person today.  Or, perhaps your quest will help open the door to questions that you may have.  For others, a quest into their family ancestry is one that will provide them with the tools to pass down information to their own children and then their grandchildren as well.  Genealogy is something to strive for.
The quest to learn more about your family is something that people have wanted to know and learn for hundreds of years.  The need to know about who, what, where, and when is powerful and virtually any person can relate to wanting more information about their past, whether it's their own or their ancestors.
Our quest to learning your genealogy is a long one and it will take some work.  There's nothing simple or easy about the process of unearthing years of history.  Yet, the reward that will come from it is a reward that will fulfill your history craving for knowledge.  Use this book to help you to begin your quest.
Chapter 1:  Why You Need To Explore Your Past
It seems simple to understand why history is important.  There are countless times that history repeats itself.  We are face with the same choices that we were just a handful of years ago.  Did we learn from our mistakes or will we make the same ones over and over again?
Whether you believe in a Higher Power or not, there is still the question of what could have happened to those that are in your past.  After all, don't you want to know who was in your family tree?
Could you be the descendant of one of the Kings or Queens of England?  Perhaps you have an ancestor that was a war hero in the Revolutionary War.  Perhaps the past isn't as pretty with ancestors that died in famines, illnesses or strife, only to save their children that you would eventually come from.
The "what if" type questions are out there and people in general are curious about what it means for them.  If you want to know what your chances of learning more about …
Other Details
* 60+ Page PLR Ebook
* Professionally Written Salesletter
* 50 PLR Articles
* 5 Part Autoresponder Email Course
* 1 Complete Adsense Website
* 5 Part Press Release
* Professionally Designed Graphics Set
* Highly Targeted Keyword List
* Pre Written PPC Ads
* PDF and MS Word Source File For eBook
* PSD Files For Graphics