Salespage Snapshot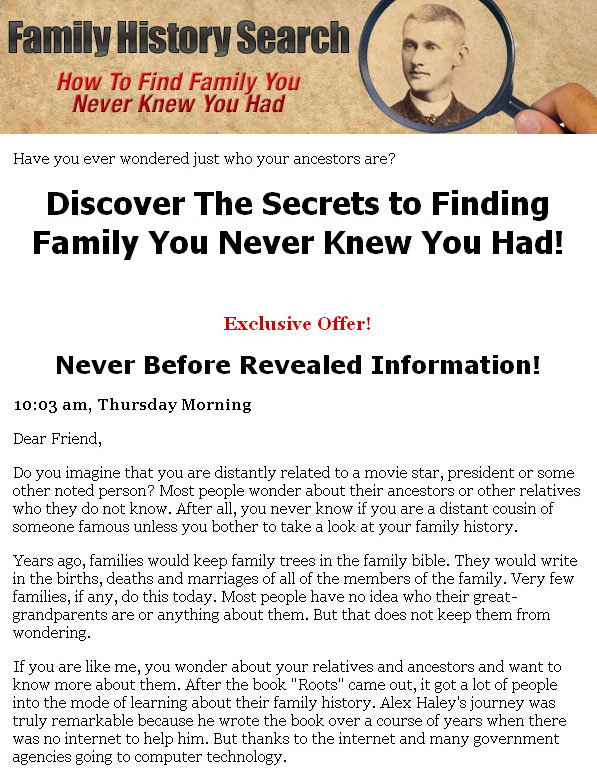 >> Click Here To View Sales Page...
Ebook Table Of Contents
Chapter 1 – Why Find Family?    3
Chapter 2 – Getting Started    5
Chapter 3 – Using Online Websites    7
Chapter 6 – Birth Certificates    14
Chapter 7 – Marriage and Divorce Certificates    16
Chapter 8 – Military Information    18
Chapter 9 – Immigration Information    19
Chapter 10 – Family From Other Countries    21
Chapter 11 – Getting Others In On The Act    23
Chapter 12 – Build Your Own Family History    24
PLR Ebook Sample Content Preview
Chapter 1 – Why Find Family?
By now, you have probably seen commercials on TV about people who have found long lost family members using a popular website, Ancestry.Com.  This site has been around for a while and has helped people find grandparents and even great grandparents that they wondered about.  Most of the advertisements include those who found out about their fathers or grandfathers who they never knew and may have been told misleading information concerning the person.  While this is a good place to start to look for long lost relatives, it is not the only site that offers you a quick peek into records that are public information.  There are others and, if you dig far enough, you can get the information for free.
Information about long lost relatives takes two forms.  It can be relatives that you have not seen in a while or never knew existed, or it can be your ancestors.  To find your ancestors you have to go back a few generations.  Finding out that your grandfather served in WWI is not finding an ancestor that you never thought you had.  You knew you had a grandfather, might not have know much about him, but he is not an ancestor – he is a antecedent.  Ancestors go many generations back and are people that you could not possible know because they died before you could have been born.
There are many reasons to find family members.  Most of us have a desire to find out where we spring from.  We may hope that we have famous relatives on our side.  When I did my searches to find relatives I never knew I had, I found that one of the original "Untouchables" who worked with Eliot Ness was my second cousin, three times removed.
But there is much more than just finding out glory relatives when you are trying to find them online.  It is about finding a connection with people who had the same blood as you, from whom you descended.  And without whom, you would never be.
Another reason why people may look for relatives that they never knew that they had is because they want to connect with people who are still alive but who share the same bloodlines.  I have found many cousins online that I never knew existed because of the internet.  We have shared pictures of family members.  One of my greatest feats was finding a family picture of my great grandparents and grandfather, along with his siblings, when he was a little boy.
Living relatives may have pictures of family members that can help you or they may have stories to tell about those you never got to know.  One of the best things to come along for this is the internet and the number of public records that are now accessible online.  Prior to the internet, you had to write to local counties and obtain information from their sources.  It could take you many years to track down records about relatives through these government sources.
Other Details* Sales Page:
Included, HTML
* File Format:
MS Word Doc, PDF
* Number of Pages:
25
* Included Graphics:
Ecovers
* Download File Size:
601 KB