Salespage Snapshot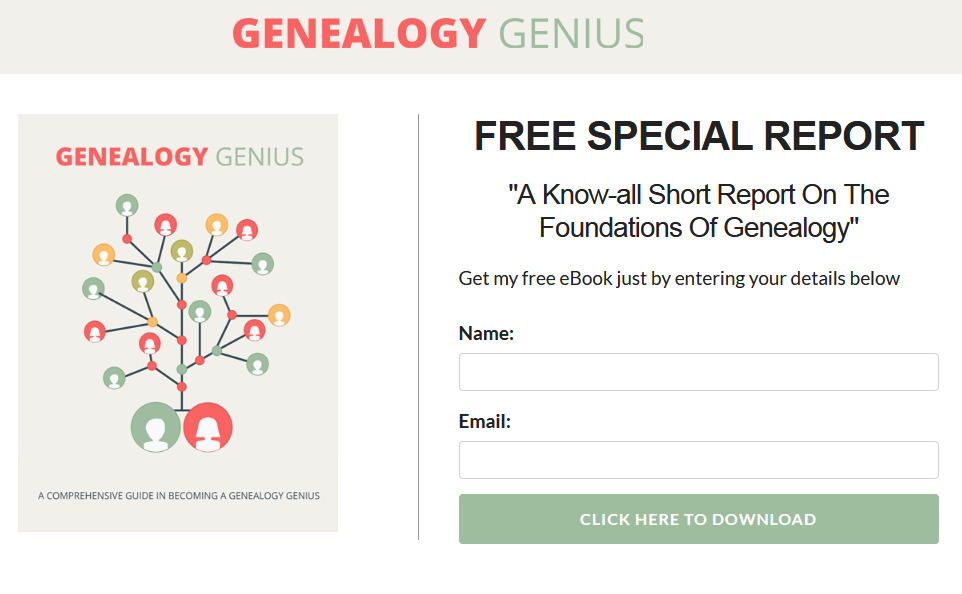 >> Click Here To View Sales Page...
Table of Contents
Introductory …….. 4
Chapter 1: Genealogy Made Free – Start Yours Now! .. 6
Chapter 2: It's Time to Know Where You Came From . 8
Chapter 3: Use Family Genealogy Sources In Your Search … 11
Chapter 4: Tracing Your Family Name History ………. 14
Chapter 5: Family History Search ……. 17
Chapter 6: The A-B-C's Of Family History Genealogy Search ………. 19
Chapter 7: Establishing Your Family History through a Genealogy Search …. 22
Sample Content Preview
Chapter 1: Genealogy Made Free – Start Yours Now!
Genealogy, to most people, is just the simple term 'family tree'. One would be foolish to not have any interest on his origin.
To start with one's genealogy is like starting a long hike. There are things one needs to know and prepare for. In addition to that, it would consume some of your time. Just have patience and it will all be worth it!
There are many sites offering free information on genealogy. As the saying goes, it is now just a click of a mouse away. As mentioned, one must prepare some information before starting to look for additional ones. What are these 'information'?
Begin with the basic ones like dates (of birth, marriages and death), family names and first names (use of paternal last name, name after marriage, Chinese last names, middle names and nicknames, etc.), occupations and places. After gathering all these, read on for the free stuff offered on genealogical sites:
Genealogical forms for downloading like charts as basis for the family tree, calendar (used for research), forms for note taking, deed indexes (grantors and grantees), checklist for libraries or archives the researcher visited), journals and worksheets for research, table of contents, index for marriages (statewide), and vital records.
Other forms are outline for biography, log for correspondence, family group sheet (chart filled out by family groups), time capsules, checklist of military records, tradition records, census records checklist (which includes 1790-1930 censuses). One could also have a checklist of books and articles that the researcher finds to be relevant to the genealogical work.
Some software could also be downloaded for free. Examples are the Brother's Keeper Genealogy software, Family Tree Legends (claiming to be a powerful software in genealogical search), Gedmark (used in securing any information on an author on GEDCOM files), GeneWeb (genealogy program that has Web interface), and GenFinder Freeware, TimeLine Maker (maker of charts that show histories, also, colored printouts
There are also free tools for translation. The need for them? There are many ancient documents not written in English. Such tools that are for free are: Babel Fish Translation Program, Foreign Language Translation on the Internet, free genealogical translation, Google Language tools, Systran Translation (up to 150 words can be translated), and Xanadu.
The free databases are the following: AccessGenealogy, Digital Archives (Norway), Genealogy service provided by Family Search, and Free Family Surname Search.
For other tools, these are downloadable: Timelines (personalized for your own use), dictionary for genealogy, Letter Generator (Italian Form), Relationship calculator and Converter from surname to soundex.
Tools, databases, software and charts are not the only ones that are offered for free on the net. More good news… useful tips and classes on genealogical search are also offered free of charge! Some online classes include guide to genealogical research for beginners, advice for more effective searches, preparation of genealogical history to be published, and guide in searching indexes on family trees.
Now, if you are the type that would go for a more fun and relaxed way of keeping records of your 'finds' of kindred dead or long-lost relatives, then scrap booking is also being offered for free.
With all these, one might be tempted to ask, are these really for free? Well, let's just say that most of these free stuffs are without charge for a number of days. Beyond that, it would be up to the researcher if he would like to continue using the 'free stuff'. Again, such a tedious task as genealogical work could be made easier (or even fun) nowadays. So, would you like to disagree with Charles Darwin's theory that you came from an ape? Then start searching…
Chapter 2: It's Time to Know Where You Came From
Charles Darwin explained (or at least tried to) where humankind began. In his study, the modern Homo sapiens originated from apes.
Most people would not like to embrace such a theory even with the most extensive scientific explanation. This writer would most certainly not want to!
Genealogy, by definition, is studying or tracing the roots of people. Remember our 'family trees'? Well, that is genealogy in its simplest form. One must begin by establishing the closest living relatives that he has then listing down the deceased ones. A basic family tree should look like the following:
You >
Your Father > Your Father's Father & Your Father's Mother
Your Mother > Your Mother's Father & Your Mother's Mother
Before one should delve into the long process of tracing generations that are way back, a person should begin by asking his living relatives. After which, documents or journals (also known as diaries) should be gathered as they are a necessary part of proving their kinship.
As people begin to gather information about past generations, they do not only unearth the names of their ancestors but also such information as the way they have lived their lives and what motivated them. In the process, other relevant information such as political setting, conditions in the society, and how their ancestors have immigrated could also be established.
There are 5 types of genealogical information:
Name of the ancestor's place – this tops the list because the search begins in an ancestor's place. But one should be knowledgeable in different spellings for certain places. An example of which is the place called Brocton. This village name can be found in both Staffordshire and Shropshire borders, both English counties. Documents pertaining to a person's place of origin are tax and census records, also civil registration.
Occupation – this could be relevant in cases where two people have the exact names. One way to distinguish one from the other is through their jobs. This could also give a hint on their status on the society. One needs to understand the Old English language before he can conclude what his ancestor's occupation really is.
A common example is the words ostler and hostler. Ostlers tend to horses while a hostler is keeper of an inn. Another example is a shoemaker who can also be called a 'cordwainer'. Occupational documents include directories, census records, and again, civil registration.
Last Names or Surnames – extra care should be practiced when dealing with this piece of information. There are several ways a surname could be presented. Cultures all over the globe (well, at least most of them) put the surname after the first names. That is why it is sometimes called the last name. But this is not true for the Chinese culture. They, on the other hand, place their last names first and their first names last (get that?).
There are several ways of getting a surname. The last names of women could be altered when they undergo marriage. The so-called patronymics, on the other hand, allow people to be identified through their paternal parent's surname. Still some undergo modifications such as what happened to the surname Mordecai that was modified into Mort.
Other Details
- 1 Ebook (PDF), 24 Pages
- 1 Salespage (HTML)
- 3 Ecovers (JPG, PNG)
- Year Released/Circulated: 2017
- File Size: 1,369 KB
License Details:
[YES] Can be sold
[YES] Can be used for personal use
[YES] Can be packaged with other products
[YES] Can modify/change the sales letter
[YES] Can be added into paid membership websites
[YES] Can put your name on the sales letter
[YES] Can be offered as a bonus
[YES] Can be used to build a list
[YES] Can print/publish offline
[YES] Can convey and sell Personal Use Rights
[YES] Can convey and sell Resale Rights
[YES] Can convey and sell Master Resale Rights
[NO] Can modify/change the main product
[NO] Can modify/change the graphics and ecover
[NO] Can be given away for free
[NO] Can be added to free membership websites
[NO] Can convey and sell Private Label Rights