Salespage Snapshot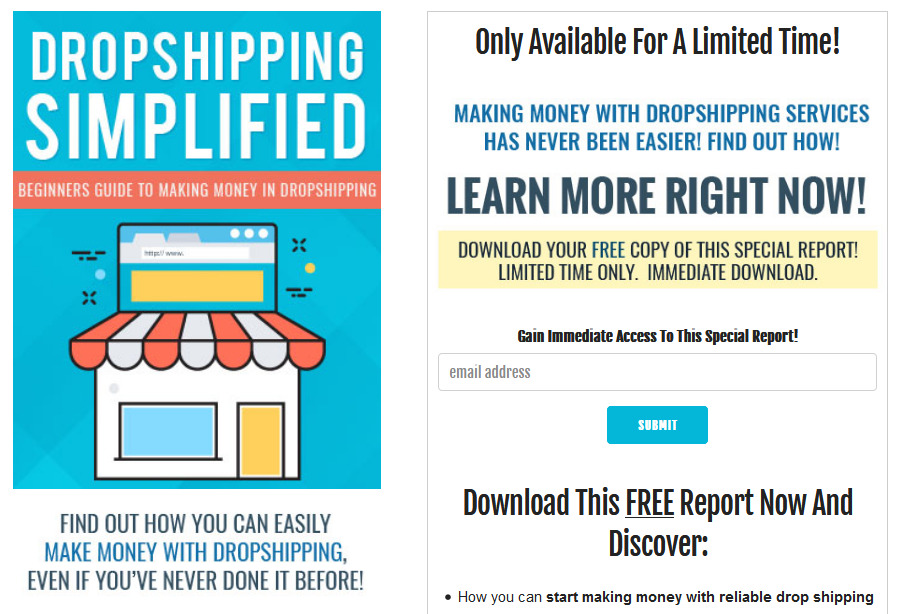 >> Click Here To View Sales Page...
Table of Contents
Introduction 4
How Drop Shipping Works 6
Drop Shipping Benefits 9
Avoiding Potential Pitfalls 12
Ecommerce Platforms 16
BigCommerce 16
WooCommerce 17
Shopify 18
Themes 19
Extensions 20
Choosing a Niche 21
Getting Traffic 23
Facebook 23
Pinterest 24
Instagram 25
Finding A Drop Shipper 27
Conclusion 30
Resources 32
Sample Content Preview
Avoiding Potential Pitfalls
Let's take a look at a few of the most common problems that might come along, and how you can minimize the potential of experiencing them.
Products Out Of Stock
One of the most common complaints you'll get is when certain products are out of stock, especially if they are particularly popular and hard to find. This can happen to any store, even monolithic stores like Amazon. And it definitely upsets customers when it happens.
However, it's important to keep track of stock to minimize the potential of upsetting customers, because they will be a lot unhappier if they think you have the product in stock and place an order only to find out the product was out of stock than they would be just being notified before they purchase that the product isn't available.
For this reason, it's a very good idea to use some sort of plugin that will automatically update your site whenever products are out of stock.
We'll take a look later at a nifty extension you can use to keep track of stock, and it will help make your job of finding and adding stock much easier, too!
Product Returns
Every single company on the planet must deal with returns. Even if you have a strict no-returns policy, you will still have to deal with unhappy customers that attempt to get a refund. And telling them no will just result in very angry customers.
I know someone who purchased a lot of items from one very popular discount shopping app, found that the quality was terrible and the sizing was way off, and could not return them because the company had a no-returns policy. The customer was very upset, and left bad reviews for the company all over the place. And this person was far from the only person complaining about not being able to return items.
For this reason, it's not a good idea to have a no-refunds policy on physical products. This will just lead to chargebacks, which could get your account with PayPal or any other billing company canceled. It's not worth the chance.
Plus, people who are unhappy with their purchase and cannot return it will spread bad reviews, which can have a negative impact on sales over the long run.
Always make sure your product descriptions are as accurate as possible, and make sure to have sizing charts and pictures to minimize returns.
If a product is under $20, you might just ship another item to the customer without requiring them to return the original. If the product is over that price, have the customer ship the return to you, and when it arrives, send them a new one as quickly as possible. If it is returned because it's damaged or defective, return it to the supplier.
Otherwise, you might just send it out to the next customer that orders it, assuming it's still in new condition.
Slow Shipping
Depending on the supplier, you may have unhappy customers because the shipping is a lot slower than they are used to. With the prevalence of free 2-day shipping with Amazon Prime and sites like Walmart, customers are used to getting their purchases very quickly.
Since drop shippers don't have deals with shipping companies, and because some even ship directly from China, shipping can often take days, weeks, or even a month or two. Many customers won't be happy waiting that long.
If you use drop shippers based in your home country, you will probably get faster shipping, however the prices you get will probably be higher, resulting in lower profit margins.
Ecommerce Platforms
There are many different e-commerce platforms that have become popular in recent years. Shopify is perhaps the most well-known these days, but there are also platforms like Big Commerce and WooCommerce.
So which one is best?
Choosing a platform is purely subjective, of course. It doesn't really matter too much which one you choose, because any of them can help you achieve your goals, but there's always one that will meet your specific needs better than the others.
They all have their strengths and weaknesses, so let's take a look at some of the most popular e-commerce platforms, and why you might choose one over another.
BigCommerce
BigCommerce is a very popular choice. They have more features out of the box than other platforms, but at a price. The basic plan starts at $29.95 per month and scales based on the features you want and how much you make in sales per year.
They have fewer apps available than other platforms, but they offer a lot more functionality built in, so you may not need many extensions since a lot of what you want may already be included.
Other Details
- 2 Ebooks (PDF, DOC), 32 Pages
- 7 Part Autoresponder Email Messages (TXT)
- 1 Squeeze Page (HTML)
- Year Released/Circulated: 2018
- File Size: 2,065 KB
License Details:
[YES] Can be sold
[YES] Can be used for personal use
[YES] Can be packaged with other products
[YES] Can modify/change the sales letter
[YES] Can modify/change the main product
[YES] Can modify/change the graphics and ecover
[YES] Can be added into paid membership websites
[YES] Can put your name on the sales letter
[YES] Can be offered as a bonus
[YES] Can be used to build a list
[YES] Can print/publish offline
[YES] Can convey and sell Personal Use Rights
[YES] Can convey and sell Resale Rights
[YES] Can convey and sell Master Resale Rights
[NO] Can be given away for free
[NO] Can be added to free membership websites
[NO] Can convey and sell Private Label Rights