Squeeze Page Preview: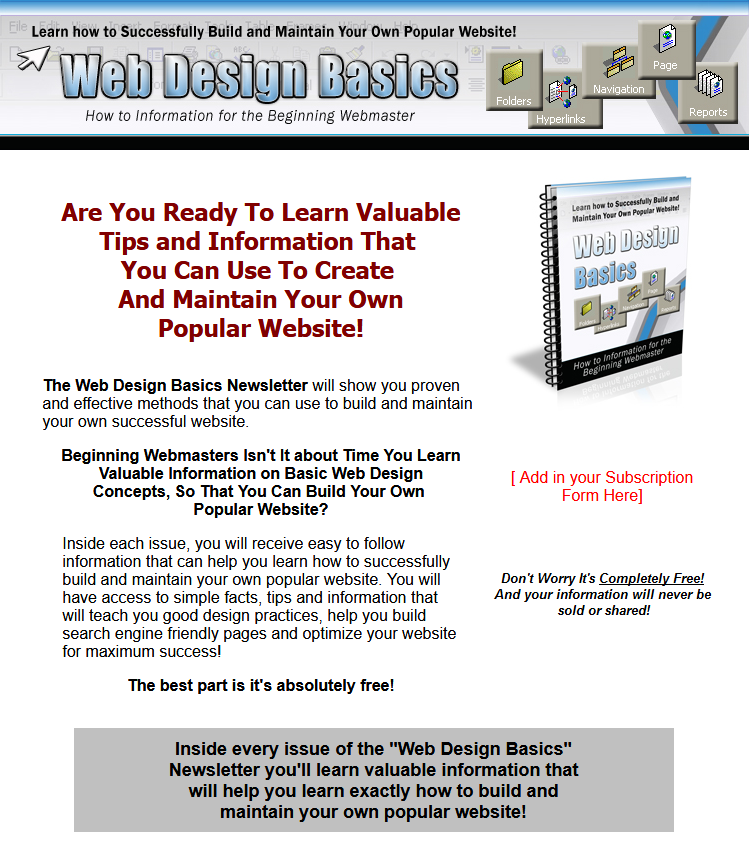 >>> Click Here To View Full Squeeze Page…
Features:
* 12 Issues Full Of Great Content
– Just add in your contact info and plug it in to your favorite auto responder. Each issue contains 500 words or more!
* One Ready To Go Squeeze Page
– Just add in your opt in form, upload to your server and your done!
* One Ready To Go Thank You Page
All ready to remind your subscribers to check their email and confirm their subscription. It even has built in revenue!
* 4 Researched Click Bank Products
These are top selling products on Click Bank that I've personally researched and chosen for each series.
* Extra Copy And Paste Article Content
You will get:
– Extra titles
– Extra opening paragraphs
– Extra closing paragraphs
– Extra fill in paragraphs
(these would make great tips that you add in to your follow ups system for more frequent contact with your readers)
Sample Content Preview
Hello "autoresponder code here",
In the last issue we talked about how to get a professionally
designed website at rock-bottom prices. In this issue we are
going to go over some simple ways that you can keep your visitors
coming back for more.
Normally we talk about the basic design elements of your website,
but in this issue we are going to veer topic just a little bit and talk
about how you can get more repeat visitors to your website.
After all, what's the point of having a perfectly designed website if
your visitors don't come back.
A lot of website owners know that the secret to do a successful
website is having repeat visitors. These repeat visitors account for
a major part of their traffic flow.
Why?
Because repeat visitors are easier to convert into paying
customers because the more often they return to a site, the more
trust they have in that site. The credibility issue just melts away.
In this issue were going to briefly go over some things you can do
that one sure your visitors return to your site often
Add a forum or a chat room to your website.
When you start a forum or a chatroom to your site, you are
providing your visitors a place to voice their opinions and interact
with their peers. As conversations build up, a sense of community
will follow and your visitors will come back to your site almost
religiously to see what's new.
Start a blog.
By starting a blog you will easily be able to keep your visitors
updated with latest news about yourself and your business.
By nature, people are curious and they will keep their eyes
glued to the monitor if you post fresh news frequently. You will also
build up your credibility as you are proving to them that there is
also a real life person behind the website.
Add interactivity with polls and surveys.
Polls and surveys are other forms of interaction that you should
definitely consider adding to your site. They provide a quick way
for visitors to voice their opinions and to get involved in your
website. Be sure to publish polls or surveys that are strongly
relevant to the target market of your website to keep them
interested to find out about the results.
Consider adding puzzles, quizzes and games.
This won't work for every website, but if it fits in with your theme it's
a great way to attract repeat visitors. Just imagine how many
office workers procrastinate at work every day, and you will be
able to gauge how many people will keep visiting your site if you
provide a very interesting or addicting way of entertainment. You
can also hold competitions to award the high score winner to keep
people trying continuously to earn the prize.
Update your site frequently with fresh content
Update your site frequently with fresh content so that every time
your visitors come back, they will have something to read on your
site. This is the most widely known and most effective method of
attracting returning visitors, but this is also the least carried out
one because of the laziness of webmasters. No one will want to
browse a site that looks the same over ten years, so keep your
site updated with fresh bites!
Make sure you look for your next issue soon. We will be talking
about how to improve the usability of your website.
See you soon,
"your name here"
"your email address"
"your URL here"
Sample Extra Titles
Optimize Your Web Design for Speed and Efficiency
Web Design Customization: What can we do?
Learn All About Web Design The Easy Way
Step by Step Roadmap For Web Design
The New Angle On Web Design
Deadly Web Design Mistakes And How to Avoid Them
The 5-Second Trick For Fabulous Web Design
The 2-Minute Rule for Great Web Design
The Biggest Myth About Web Design Exposed
The Do's and Don'ts Of Web Design
A Review Of Basic Web Design
The Little-Known Secrets To Successful Web Design
What You Don't Know About Web Design May Shock You
The Dirty Truth About Web Design
Basic Web Design Tips
Basic Web Design Exposed
Basic Web Design Revealed
The Truth about Designing Your Own Website
What The Pros Do When It Comes To Web Design
And More…
Sample Extra Paragraphs
Generally, all the text on your website will be loaded in a very short
time even on a dial up connection. The culprit of slow-loading sites
is mainly large images on your website, and it is very important to
strike a delicate balance between using just enough images to
attract your users and not to bog down the overall loading time of
your site.
————————————
However, slapping together a simple download and putting a link
on your website won't be enough to attract qualified prospects.
You will have to do some homework in order for your lead-
generating mechanism to work well for you.
————————————
On the other hand, the designers you hire a professionals so they
are good at what they do. By outsourcing your web design jobs to
them, you won't have to worry when problems surface because
you can always get them to fix it for you. Again, they will be able to
pin point the problem and fix it faster than you probably will be able
to.
————————————
On the opposite, if you have a totally professional looking website
layout, you are giving your visitors the perception that you have
given meticulous attention to every detail and you care about
professionalism. You are organized, focused and you really mean
business.
————————————
You should also go to a greater length and optimize every image
on your site to make sure it loads in the least time possible. What I
really mean is to use image editing software to remove
unnecessary information on your images, and thereby effectively
reducing the file size of your image without affecting its
appearance.
————————————
The crucial point of planning your site is optimizing it for revenue if
you want to gain any income from the site. Divide your site into
major blocks, ordered by themes, and start building new pages
and subsections in those blocks. For example, you might have a
"food" section, an "accommodation" section and an
"entertainment"
section for a tourism site. You can then write and publish relevant
articles in the respective sections to attract a stream of traffic that
comes looking for further information.
And More…
Other Details
- 12 Part Autoresponder Email Messages (TXT, DOC)
- Squeeze Page (HTML, PSD)
- Ecover (PSD, JPG)
- Affiliate Programs List
- File Size: 1,170 KB