Squeeze Page Preview: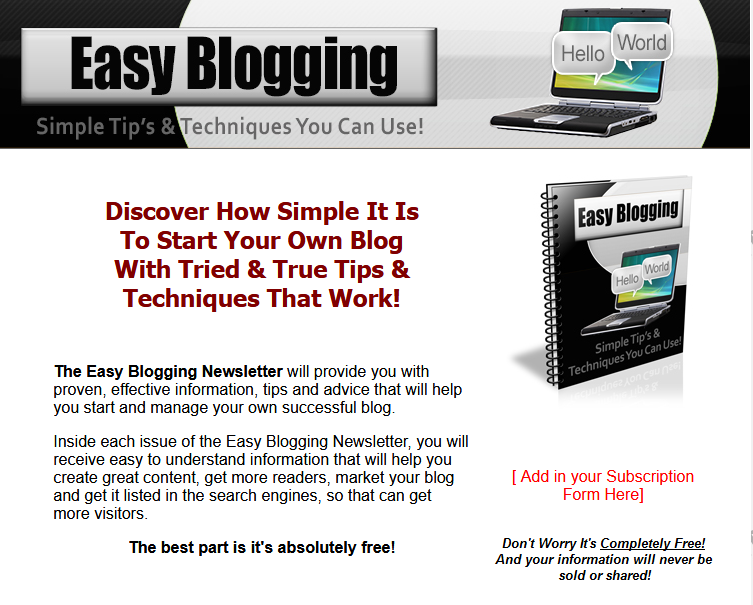 >>> Click Here To View Full Squeeze Page…
Features:
* 12 Issues Full Of Great Content
– Just add in your contact info and plug it in to your favorite auto responder. Each issue contains 500 words or more!
* One Ready To Go Squeeze Page
– Just add in your opt in form, upload to your server and your done!
* One Ready To Go Thank You Page
All ready to remind your subscribers to check their email and confirm their subscription. It even has built in revenue!
* 4 Researched Click Bank Products
These are top selling products on Click Bank that I've personally researched and chosen for each series.
* Extra Copy And Paste Article Content
You will get:
– Extra titles
– Extra opening paragraphs
– Extra closing paragraphs
– Extra fill in paragraphs
(these would make great tips that you add in to your follow ups system for more frequent contact with your readers)
Sample Content Preview
Hello "autoresponder code here",
In the last issue, we talked about the importance of keeping your blog fresh and exciting. In this issue, we are going to go over some simple tips for creating great blog content.
Since blogs are meant to be an open dialog, you should avoid writing your content in a formal tone. As we have discussed before creating your content in a conversational tone is very important. Mostly because it makes it easier for the reader to relate to you on a personal level. Which keeps your readers coming back for more.
You should be adding new content to your blog regularly. Not only will this keep your reader engaged, it will help get your blog listed prominently in the search engines. Search engines are a great source of free traffic and they like fresh and frequent. So, create a schedule for writing and post new.
We all know that having active commentary on your blog is an effective way to attract traffic. This is because comments are content just like blog post. Readers will revisit your blog not only to read new articles, but also to see if anyone has left new comments. You can encourage commenting by asking questions and inquiring about your readers' perspectives in your blog articles. Responding to comments also encourages commenting.
Try participating in some online group projects. Attempt to do some collaborative writing challenges online. You can do things like guest blogging, or even writing some e-books. It can be a very productive learning experience. It's also great for promotion and it can help you experiment with various writing styles.
Be sure to use a dictionary when writing content. There are many online, or even desktop-based dictionaries out there that you can use. This can be very useful when searching for synonyms or other words. Brushing up on proper English can be beneficial to both native speakers and non-native speakers alike.
Link building is a great way to traffic to your blog. In order to generate enough quality links you need to submit your blog to web directories like DMOZ, Aviva and other blog directories. Doing this creates incoming links, which help your site get spidered, indexed and ranked higher by search engines, all of which drives more traffic to your blog.
Make sure you look for your next issue soon. We will be talking about the importance of finding the right layout, design and posting schedule for your blog.
Until then,
"your name here"
"your email address"
"your URL here"
Sample Extra Titles
Maximizing Affiliate Marketing Opportunities on my blog At
How Do I Keep My Blog Interesting?
How Do I Keep Readers Coming Back to My Blog?
Is Blogging For Everyone?
Should I Start My Own Blog?
How Do I Start My Own Blog?
The Benefits of Blogging For Profit
Blogging For Business Owners
Blogging to Promote My Small Business
The Most Important Aspects of Blogging
Simple Steps to Marketing Your Blog
Five Simple Ways To Get Readers to Your Blog
Super Simple Technics for Getting Traffic to Your Blog
Three Simple Steps to Successful Blogging
Successful Blogging May Be Easier Than You Think
Effective Methods for Promoting Your Blog
Getting Your Blog Visitors to Come Back
And More…
Sample Extra Paragraphs
Participation in message boards which relate to the blog topic
is actually one very simple way for blog owners to drive traffic to
their blog. However, one caveat to using this type of promotion
for the blog is to avoid violating the rules of the message board.
This is important because some message boards have strict
regulations regarding the inclusion of links to other websites on
the message board. Failure to follow these guidelines may
result in the blogger being banned from the message board and
may also cause other message board users to not think highly of
the blog owner.
————————————
Blog owners can also help to maximize the profit from their
affiliate marketing opportunities by doing self promotion to
drive additional website to the blog. This will likely be
beneficial because higher website traffic will generally translate
to greater profit from affiliate marketing. Additionally, the blog
owner may want to occasionally mention companies for which
they are an affiliate to generate interest in the advertisements
on the website.
————————————
Another careful consideration for the blog owner is to avoid
posting the web address to his blog in a way which will be
considered spam by other message board users. This is
important because other message board users are likely to
not visit the blog if they believe the blog owner is simply
spamming the message board. This can be avoided by
including the link to the blog in the signature and ensuring the
posts made on the message board are informative and of
interest to the other message board users. Building a reputation
as a useful contributor to the message board will be beneficial
to enticing other users of the message board to visit the blog.
————————————
Once blog owners have selected affiliate marketing opportunities
it is time to consider how they can maximize the profit generated
by these links. There are a couple of critical factors which blog
owners should carefully consider to help maximize their profit
from affiliate marketing. This includes regularly evaluating the
effectiveness of the affiliate links and promoting the blog to
maximize traffic.
And More…
Other Details
- 12 Part Autoresponder Email Messages (TXT, DOC)
- Squeeze Page (HTML, PSD)
- Ecover (PSD, JPG)
- Affiliate Programs List
- File Size: 12,500 KB