Squeeze Page Preview: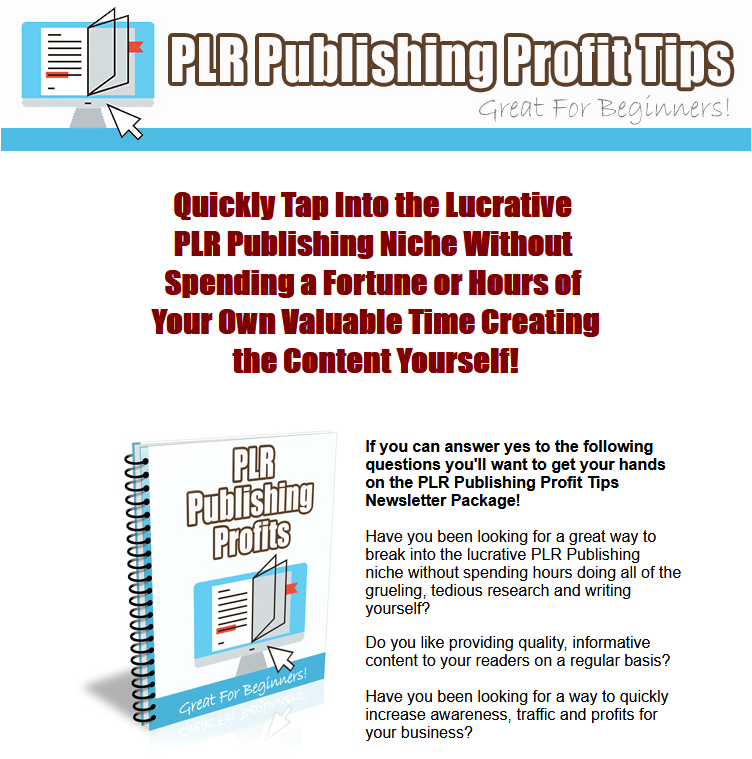 >>> Click Here To View Full Squeeze Page…
Features:
* 12 Issues Full Of Great Content
– Just add in your contact info and plug it in to your favorite auto responder. Each issue contains 500 words or more!
* One Ready To Go Squeeze Page
– Just add in your opt in form, upload to your server and your done!
* One Ready To Go Thank You Page
All ready to remind your subscribers to check their email and confirm their subscription. It even has built in revenue!
* 4 Researched Click Bank Products
These are top selling products on Click Bank that I've personally researched and chosen for each series.
* Extra Copy And Paste Article Content
You will get:
– Extra titles
– Extra opening paragraphs
– Extra closing paragraphs
– Extra fill in paragraphs
(these would make great tips that you add in to your follow ups system for more frequent contact with your readers)
Sample Content Preview
Hello "autoresponder code here",
In the last issue we talked about whether or not branding PLR is worth your time.
In this issue we are going to talk about buying and selling PLR ebooks.
Just like other type of PLR content, ebooks vary in size and topic. Regardless, a freelance writer usually composes them. As for the private label part, these ebooks aren't like traditional ebook sales where someone buys the book to read. Instead, they are bought and then resold for a profit!
The first step in making money with private label ebooks is to find good ones for sale. The good news is that there are many places where you can purchase standalone or bundled ebooks. If you are new to this process you may want to start out small and test the waters by buying one ebook at a time. This way you can limit your investment and when you start seeing a profit you can buy more to add to your inventory.
With that said, know that branding and selling PLR products, including ebooks, can be a goldmine. Many resellers earn hundreds, even thousands of dollars a month simply buying and reselling. The more books you buy, brand, and resell, the more money you make. To lower your operating costs, buy in bulk. You can do this with a membership website. Every month or two, you will receive new PLR ebooks. Pick and choose the ones you want.
Now that you know what your two best buying options are, what should you consider when choosing these ebooks?
– The topic.
You want a topic that sells. Hot topics are a good choice. Right now, anything related to the economy is a good choice. Americans are losing their jobs and their homes. They want to make money and need to save it. Affordable ebooks that show them how are in hot demand. However, so are subjects that never go out of style? There will always be parents looking for bedtime tips for their kids, pet owners looking for affordable pet care tips, and so on.
– The length.
In all honesty, someone can transform a three-page Microsoft Word document and classify it as an ebook, although this isn't a good idea. Ebook lengths are tricky. Readers want to know they are getting a good value for their money. This often means a long ebook. On the other hand, people don't want to read a hundred pages before getting to the main point. Short ebooks are okay, as long as the point is made.
– The number of copies sold.
PLR ebooks and other products are often sold at reasonable prices. This is because multiple packages are sold. This can impact your profits. Look for ideal limits. You don't want to be one of a thousand selling the same ebook online, but for varying prices.
– License to edit.
You can buy a private label ebook, create a sales page, and list the ebook for sale without making any changes. However, others purchased the same ebook as you. They are also trying to make a profit and doing so the same way with the same product.
To reduce the competition and increase sales, rewrite the content of the book, but first make sure you can. Some sellers and authors put restrictions on rewrites. Not only do you want to be able to rewrite an ebook, but it should be easy to. Always look for packages that include source code which provides a version of your document in Microsoft Word or at the very least editable text.
With a little ingenuity, you could end up offering a book to customers that they won't find somewhere else. Which means you won't have to compete with other resellers who have the same product.
Make sure you look for your next issue soon. We will be talking about some marketing options for selling more of your branded PLR products.
Until then,
"your name here"
"your email address"
"your URL here"
Sample Extra Titles
A Simple Trick for PLR Publishing Revealed
5 Simple Tactics for PLR Publishing Uncovered
What You Can Do About PLR Publishing Starting In the Next 10 Minutes
What the Experts Aren't Saying About PLR Publishing And How It Affects You
5 Tips on PLR Publishing You Can Use Today
Why Everyone Is Dead Wrong About PLR Publishing and Why You Must Read This Report
The Ultimate Strategy for PLR Publishing
3 Tips for PLR Publishing You Can Use Today
How to Find Out Everything There Is To Know About PLR Publishing In 5 Simple Steps
Shocking Information About PLR Publishing Exposed
What Everyone Is Saying About PLR Publishing and What You Should Do
The Single Best Strategy to Use For PLR Publishing Revealed
The Unadvertised Details Into PLR Publishing That Most People Don't Know About
The Leaked Secret to PLR Publishing Discovered
Warning Signs on PLR Publishing You Should Know
The Most Overlooked Solution for PLR Publishing
Unknown Facts About PLR Publishing Made Known
Unanswered Questions Into PLR Publishing Revealed
Rumored Buzz on PLR Publishing Exposed
And More…
Sample Extra Paragraphs
Whether you have a content driven website with PLR articles that generates income through Google AdSense and Amazon Affiliates or if you create a sales page to sell a PLR e-book, marketing is vital to your success. There are thousands of ebooks for sale online and even more websites. Without a solid marketing campaign, yours is likely to get lost in the mess. Do you know what this means? Not only does it mean you miss the potential to make thousands, but you also wasted money. You bought a PLR product that isn't doing a thing for you.
————————————
The first step in making money is to buy a private label rights product. They are easy to find online. With that said, proceed with caution. PLR products are sold at affordable prices because they are sold to a number of individuals. You don't want to sell an ebook that 2,000 other people just bought and are trying to sell too. Do not just look for a good private label ebook with an affordable selling price. Also, look for an offer where sales are restricted to a limited number of buyers.
————————————
Digital products have rapidly increased in popularity. If given the choice, many computer users would rather read a how-to guide in digital ebook format than in print. However, there are still those that prefer an actual product. Many third-party websites enable self-publishing. Lulu.com is an example. Most allow for printing on demand, reducing your startup costs and preventing waste. You can also do something as simple as printing your own ebook and placing the pages inside a three ring binder.
————————————
Not buying your PLR articles in bulk. For sale articles are available all over the internet. As previously stated, these articles are not exclusively sold to you. They are sold to others. As with wholesale food shopping, you get a discount when buying in bulk. You could expect to pay around $25 for a pack of 25 PLR articles on working from home.
————————————
To make the most money with private label articles, you should make changes. Luckily, this is very easy. You do not need to rewrite the entire e-book, but make regular changes. Reword sentences, rearrange paragraphs, and so forth. This gives you an advantage. You can now market your rewritten and re-branded ebook as a new one. It is no longer the same as the ten other for sale copies floating around the internet.
And More…
Other Details
- 12 Part Autoresponder Email Messages (TXT, DOC)
- Squeeze Page (HTML, PSD)
- Ecover (PSD, JPG)
- Affiliate Programs List
- File Size: 5,710 KB