Squeeze Page Preview: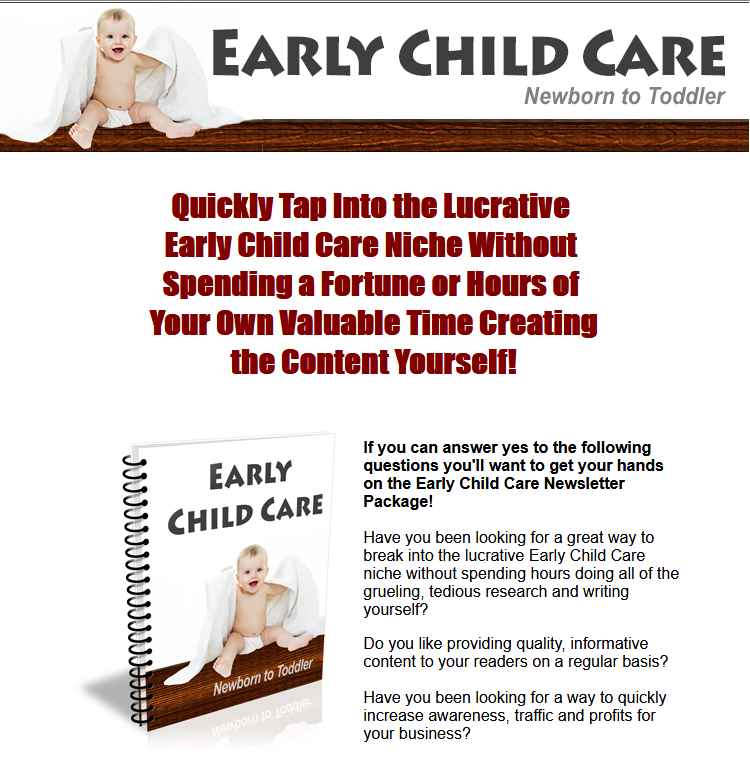 >>> Click Here To View Full Squeeze Page…
Features:
* 12 Issues Full Of Great Content
– Just add in your contact info and plug it in to your favorite auto responder. Each issue contains 500 words or more!
* One Ready To Go Squeeze Page
– Just add in your opt in form, upload to your server and your done!
* One Ready To Go Thank You Page
All ready to remind your subscribers to check their email and confirm their subscription. It even has built in revenue!
* 4 Researched Click Bank Products
These are top selling products on Click Bank that I've personally researched and chosen for each series.
* Extra Copy And Paste Article Content
You will get:
– Extra titles
– Extra opening paragraphs
– Extra closing paragraphs
– Extra fill in paragraphs
(these would make great tips that you add in to your follow ups system for more frequent contact with your readers)
Sample Content Preview
Hello "autoresponder code here",
In the last issue we talked about how to detect early signs of illness in your child. In this issue we are going to talk about how to know when it's the right time to start potty training your baby.
It's important for parents to realize that potty training is a big step in the development of their child and delaying the process too long can hamper the baby's development. Generally your child will be ready for potty training by the age of 18 months. This means that they are physically able to pull their pants up and down, they can communicate well, follow simple instructions and are already having regular soft formed bowel movements.
Apart from these crucial signs, there are other signs that will give you an idea of how ready they are to be potty trained. If these fundamental are present it means your job will probably be a little bit easier.
Here are a few more signs you can look for:
– Do the easily imitate the actions of others?
– Are they showing signs of wanting some independence?
– Do they show any signs of understanding when they needs the potty?
– Do they show signs of discomfort or embarrassment after an accident?
If you answered yes to any of these questions then it's a very good sign that your child is ready to start potty training.
The amount of time it takes to potty train varies greatly and can range from a few days to several of months depending on the child and their willingness to participate as well as your dedication to the time necessary to complete the process.
There is hardly any difference between boys and girls when it comes to potty training although studies have shown that girls are generally slightly more receptive to potty training. However, girls are also at more of a risk to infection so make sure you look out for painful frequent urination or abdominal pain. If you see any of those signals then take her straight to the doctor for a professional medical opinion.
When you've established that your child is ready for potty training the first thing you should do is buy the necessary equipment. You have the option of using a child sized potty chair or a child-sized seat for the toilet. Some find that a combination of both work well. You can also use training aids like picture books, videos and toys like potty Elmo to help capture your child's interest in the process.
Next it's all about developing a routine. This can start by taking them to the potty at regular intervals, so they know what it is. Carefully explain the purpose of the toilet and what people use it for. By making regular trips to the bathroom until the baby is comfortable with the surroundings it will ensure that they aren't afraid or intimidated.
The next step is to ditch the nappy and explain how and why adults undress before going to the potty. Physically show the baby where the excrement should go by taking the nappy over to the potty and putting it in. Next you'd explain that the baby is responsible for going to the toilet and make sure that the baby understands that he / she can go to the toilet whenever is required. This is the first time the baby has ever had independence and responsibility and is a defining moment a child's development.
Finally, when all else is sorted, you can resort to night training. Be warned that it can take another couple of years for the babies to master the art of understanding when they need to go to the toilet whilst asleep. Accidents will happen but handle them gracefully and definitely don't punish the child.
We will be talking about how to survive the teething process as painlessly as possible.
Until then,
"your name here"
"your email address"
"your URL here"
Sample Extra Titles
The Secret of Early Child Care That No One is Talking About
The Unexposed Secret of Early Child Care
The Early Child Care Diaries
Early Child Care – An Overview
The Ugly Side of Early Child Care
An Unbiased View of Early Child Care
The Ultimate Guide To Early Child Care
5 Simple Facts About Early Child Care Explained
What To Do About Early Child Care Before It's Too Late
The Secret For Early Child Care Revealed in 5 Simple Steps
The Ultimate Solution For Early Child Care That You Can Learn About Today
Be The First To Read What The Experts Are Saying About Early Child Care
The Truth About Early Child Care
Find Out Who's Talking About Early Child Care And Why You Should Be Concerned
5 Odd-Ball Tips on Early Child Care
The Early Child Care Chronicles
Kids, Work and Early Child Care
7 Shocking Facts About Early Child Care Told By An Expert
The Insider Secret on Early Child Care Uncovered
What Everyone is Saying About Early Child Care Is Dead Wrong And Why
And More…
Sample Extra Paragraphs
When your baby's awake, there are lots of nursery rhymes or music from kids' movies that can stimulate his senses. We've known kids who respond to minimalist Phillip Glass's music; it's simple and rhythmic and when they get older, they'll dance with it. Spirituals and soft gospel music are also good choices to help the baby get to sleep.
————————————
Take extra care at this time to make sure the nursery is conducive to sleeping. Make sure his diaper is clean and his sheets are clean and soft. If he's teething, use a topical pain treatment that's safe for the baby. You can also invest in some homeopathic tablets that ease teething naturally. Make sure his nose is clear and not stuffy. If you use a foam wedge to keep the baby from sleeping on his stomach, sleep with a spare one night and then put that in his bed so that your scent is close to him at night.
————————————
And this leads me to observe, that it is a common mistake to suppose that, because a woman is nursing, she ought therefore to live very fully, and to add an allowance of wine, porter, or other fermented liquor, to her usual diet. The only result of this plan is, to cause an unnatural degree of fullness in the system, which places the nurse on the brink of disease, and which of itself frequently puts a stop to the secretion of the milk, instead of increasing it.
————————————
The right plan of proceeding is plain enough; only let attention be paid to the ordinary laws of health, and the mother, if she have a sound constitution, will make a better nurse than by any foolish deviation founded on ignorance and caprice.
————————————
First of all, put the baby's room in a good location. A new baby should have a bedroom that is not over a garage or has an empty space below. The bedroom also shouldn't be located where there is excessive noise that might keep the baby from sleeping, such as close to a living room where the TV is on, or close to a noisy street or neighbor.
————————————
White noise, in the form of a fan (not directed right at the baby), or from sound machines that simulate the sound of an ocean or rain can be restful as well, and can block out noise from the home. You don't need to create an artificially silent environment for the baby, however, since that can make it harder for them to get to sleep when the home's rhythms and noises get back to normal.
And More…
Other Details
- 12 Part Autoresponder Email Messages (TXT, DOC)
- Squeeze Page (HTML, PSD)
- Ecover (PSD, JPG)
- Affiliate Programs List
- File Size: 50,700 KB