Squeeze Page Preview: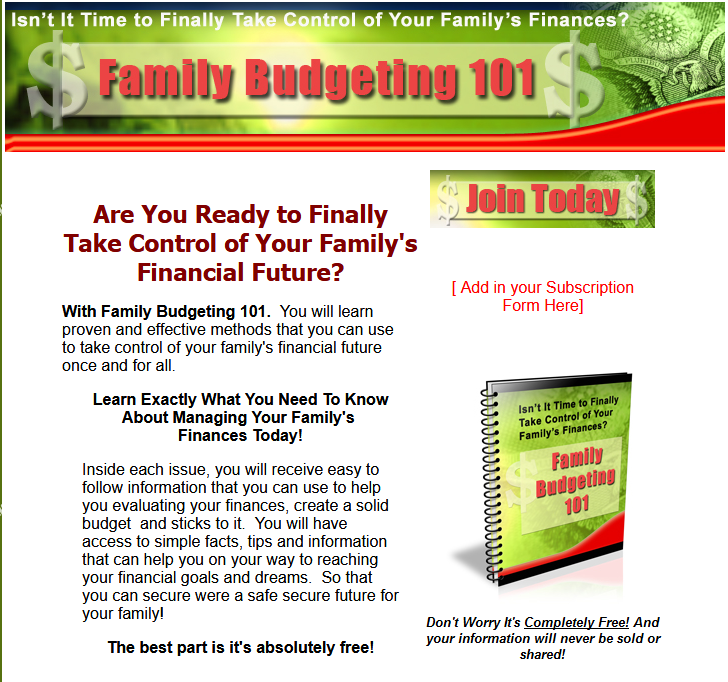 >>> Click Here To View Full Squeeze Page…
Features:
* 12 Issues Full Of Great Content
– Just add in your contact info and plug it in to your favorite auto responder. Each issue contains 500 words or more!
* One Ready To Go Squeeze Page
– Just add in your opt in form, upload to your server and your done!
* One Ready To Go Thank You Page
All ready to remind your subscribers to check their email and confirm their subscription. It even has built in revenue!
* 4 Researched Click Bank Products
These are top selling products on Click Bank that I've personally researched and chosen for each series.
* Extra Copy And Paste Article Content
You will get:
– Extra titles
– Extra opening paragraphs
– Extra closing paragraphs
– Extra fill in paragraphs
(these would make great tips that you add in to your follow ups system for more frequent contact with your readers)
Sample Content Preview
Hello "autoresponder code here",
In the last issue we talked about taking charge of your finances.
In this issue we are going to go over some of the how to create
a no fret family budget.
For some, the idea of a creating budget is often a confusing blur.
Once you decide to create a budget it can be frustrating to see
how hard it is to create and stick to a budget. For some the
realization that with one wrong purchase, you can ruin the
entire thing keeps them from making a budget at all.
Isn't it about time to overhaul the way you think about budgeting.
It can actually be a great way to keep track of your family's
expenditures and help you evaluate the things that you spend
the major part of your family's earnings on.
I know we have discussed this before but have you ever asked
yourself the question, exactly what is a budget?
Let's do a quick recap:
A budget is a tool for handling your finances by controlling the
family's expenditures in a way that there is enough money for
paying up bills, and still ensuring that savings are set aside for
future expenses like vacations, children's education, or even
for your retirement.
I want you to try these simple steps the next time you are preparing
your family budget, and see if these no fret tips will help make the
job easier.
1. Gather three months of your pay stubs and calculate your average
monthly earnings.
2. Get out three months of your monthly bills. Do this for the fixed
expenses like the rent, phone bill, car payments and other loans
that come Every month. Add them up and get the average. Do
the same for other expenses like groceries, credit card bills and
essentials.
3. Evaluate the results of your calculations. Take a good look at
your average monthly earnings against your monthly fixed expenses
and other monthly expenses, think of some ways to economize.
Cut back on some items that are somehow unnecessary.
4. Once you know the facts of your income and expenses you can.
develop a family budget and do your best to stick to it every month.
5. Now that you have a monthly budget, set up a savings account.
Save up by making regular deposits to this account. Even if you can
only save a few dollars from each paycheck, it is very important to
start developing good saving habits.
6. Keep track of your monthly family budget just to see if it is working
for you. Don't get upset, if at first, you are unable to adhere to your
new budget. You will find that you will have to fine-tune the "rough edges"
of your budget as you go along. Remember practice makes perfect!
7. If possible use personal budgeting software or a spreadsheet
application to keep record of your budget. Once you get the hang of
Keeping your budget this way, you will find that it makes organizing
your expenses very easy.
These are the basic steps in developing and implementing a no fret,
easy to stick to monthly family budget. Of course each family has
diverse needs and wants. Just keep in mind that you have the
freedom to develop your own monthly family budget, depending on
your family's financial background and needs. No matter how you
do it, just focus on the end result, which is building a savings that
leads to a bright and financially stable future for you and your family.
Make sure you look for your next issue soon. We will be talking
more about using budgeting software to manage your finances.
"your name here"
"your email address"
"your URL here"
Sample Extra Titles
Budgeting For a Better Future
How To Budget without the Hassle
Budgeting for Emergencies
How to Save Money and Avoid Temptations
How Not to Blow Your Budget
Budgeting Tools to Save Your Money
Budgeting Smart for Your Family's Future
Wise Budgeting for Your Family
10 Tips That Will Save You Money and Help You Stick to Your Budget
Self-Control and Saving Money
How To Write a Budget and Stick to It
A Little Goes a Long Way: Smart Secrets to Budgeting
Keep Them Handy: Budgeting Tools that Work
Keep Your Budget by Listing Your Expenses
Budget Keeping The Right Way To Save Money
Shop, Save and Budget
Budgeting Made Easy
And More…
Sample Extra Paragraphs
A filing system is perhaps one of the best budgeting tools you
can have in your home. With simple, labeled file folders, you can
put together your bills, your receipts, and whatever bank documents
are issued to you when you save or pay. By putting together your
bills, your credit card receipts, and the like, you are able to keep
track of how much you owe and when your payments are due.
This is a very simple, cost-effective and easy way to keep track
of your family finances.
————————————
Here are a few things to think about. First realize that the
most convenient method of building one's wealth is through
budgeting saving money. You should focus your expenditures
on the things that you need and try to live day-by-day knowing
that you have enough. Most of all avoid buying on impulse.
Take your time when buying, especially the expensive items.
If you really need it, it will not slip your mind quickly.
Otherwise, if you go along forgetting all about it, then it isn't
really worth the money you have to spend on it at all.
————————————
When you're on the pursuit of saving money is very important
to use, organized and effective budgeting techniques.
Budgeting helps you stay in control of your finances by
eliminating excessive buying temptations and encouraging
effective saving techniques. You will notice that once you create
a budget and follow it carefully your savings account will begin
to grow at a steady rate.
————————————
Try hard to avoid those things that keep you from saving. If
you are fond of buying shoes, clothes or sports equipment even
if you don't really need them, then it is important to try very hard
to stay away from places where you will be tempted to purchase
them. Keep yourself away from specialty stores, catalogs or
shopping websites, so that you will not be tempted to buy what
you don't really need. when you go shopping, be sure to create
a list and stick to it. When you are in the store go directly to the
departments where you can find the items that are on your list.
Try not to wander around aimlessly. This can get you into big
trouble and before you know what you've totally blown your budget.
And More…
Other Details
- 12 Part Autoresponder Email Messages (TXT, DOC)
- Squeeze Page (HTML, PSD)
- Ecover (PSD, JPG)
- Affiliate Programs List
- File Size: 2,650 KB