Squeeze Page Preview: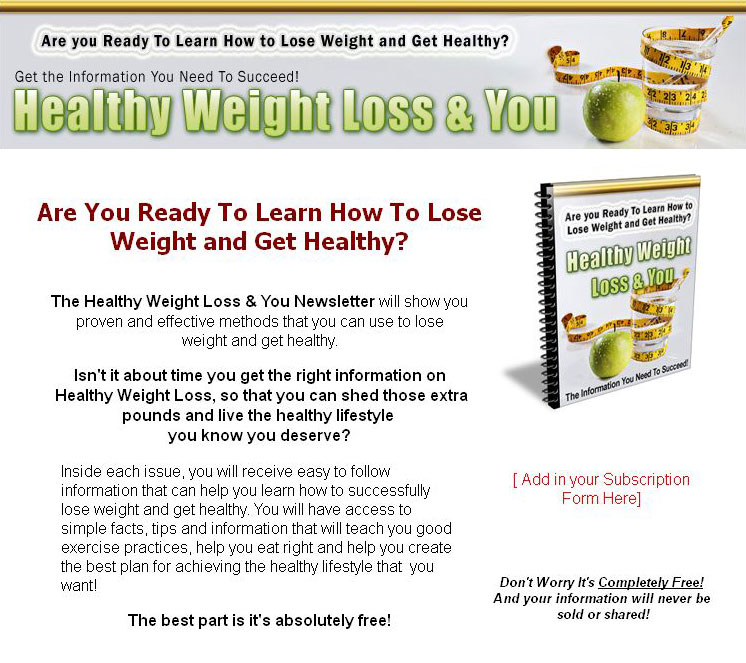 >>> Click Here To View Full Squeeze Page…
Features:
* 12 Issues Full Of Great Content
– Just add in your contact info and plug it in to your favorite auto responder. Each issue contains 500 words or more!
* One Ready To Go Squeeze Page
– Just add in your opt in form, upload to your server and your done!
* One Ready To Go Thank You Page
All ready to remind your subscribers to check their email and confirm their subscription. It even has built in revenue!
* 4 Researched Click Bank Products
These are top selling products on Click Bank that I've personally researched and chosen for each series.
* Extra Copy And Paste Article Content
You will get:
– Extra titles
– Extra opening paragraphs
– Extra closing paragraphs
– Extra fill in paragraphs
(these would make great tips that you add in to your follow ups system for more frequent contact with your readers)
Sample Content Preview
Message # 1
Subject line: Your First Healthy Weight Loss Issue
Hello "autoresponder code here",
Welcome to your first issue of Healthy Weight Loss & You
In each issue of Healthy Weight Loss & You, you will learn valuable
information on how you can successfully lose weight and maintain
a healthier, more energetic lifestyle.
Being overweight can cause a lot of health related issues. Studies
have shown that being overweight leads to hypertension, cardiac
troubles, sleep apnea, diabetes and more.
Further, being obese could hamper your freedom to move, run, or
sit comfortably in a standard chair. The only way out of this mess
is to shed those extra pounds, embrace a healthy weight loss
plan and follow it religiously. In every issue of healthy weight loss,
you'll find important information and tips that can help you
effectively reduce your weight to healthier proportions.
Every healthy weight loss plan proposed by dieticians and
nutritionists starts with a simple suggestion – reduce your food
intake to the optimum amount. But, unfortunately it is the most
difficult thing to do and it will takes a lot of mental effort on your
part to say NO to those extra treat and portions that are so
extremely tempting.
One important thing to remember is to be careful not to reduce
your food intake to quickly, or it could adversely effect your health
and your overall results. The reduction in food intake also means
adopting a healthier and balanced eating schedule. As a rule of
thumb a healthy weight loss diet plan includes fresh fruits and
vegetables, low-fat dairy products and whole grains, along with
drinking a lot of water, at least 8-10 glasses a day.
To achieve your goals you will also want to include a suitable
fitness regime to burn extra calories, build muscle tone and gain
energy. Make it a practice to spend 30 minutes a day doing some
type of physical activity, whether it be a short stroll around your
neighborhood, an at home workout or a trip to your local fitness
center.
Whichever healthy weight loss diet plan you choose, it will require
some hard work, both physically and mentally to shed those extra
pounds that you have gained over the years. But I guarantee the
end result is worth all the efforts that you'll put in.
Make sure you look for your next issue soon. We will be talking
about dieting for your health and well being.
Thank you again for joining,
"your name here"
"your email address"
"your URL here"
Other Details
- 12 Part Autoresponder Email Messages (TXT, DOC)
- Squeeze Page (HTML, PSD)
- Ecover (PSD, JPG)
- Affiliate Programs List
- File Size: 2,978 KB