Squeeze Page Preview: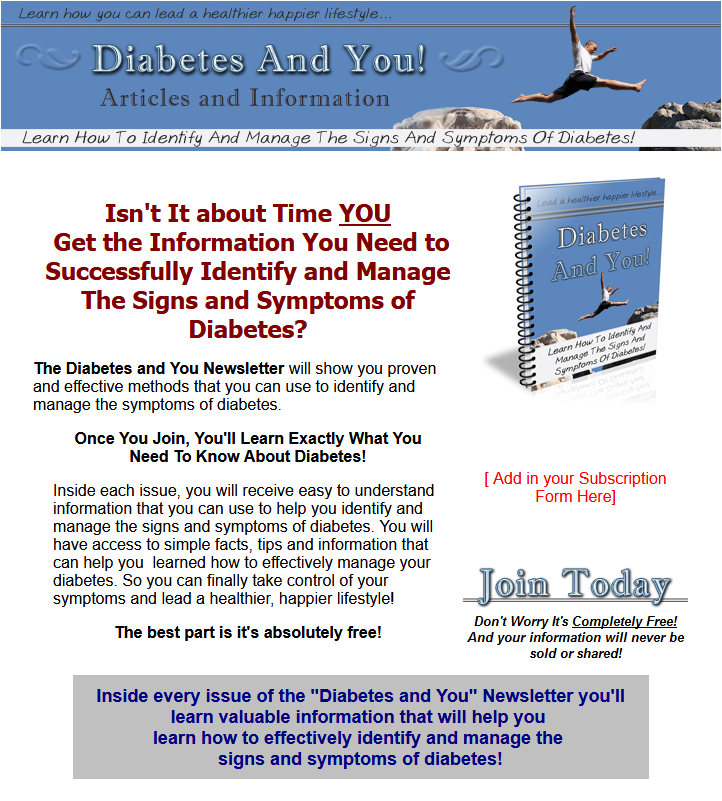 >>> Click Here To View Full Squeeze Page…
Features:
* 12 Issues Full Of Great Content
– Just add in your contact info and plug it in to your favorite auto responder. Each issue contains 500 words or more!
* One Ready To Go Squeeze Page
– Just add in your opt in form, upload to your server and your done!
* One Ready To Go Thank You Page
All ready to remind your subscribers to check their email and confirm their subscription. It even has built in revenue!
* 4 Researched Click Bank Products
These are top selling products on Click Bank that I've personally researched and chosen for each series.
* Extra Copy And Paste Article Content
You will get:
– Extra titles
– Extra opening paragraphs
– Extra closing paragraphs
– Extra fill in paragraphs
(these would make great tips that you add in to your follow ups system for more frequent contact with your readers)
Sample Content Preview
Hello "autoresponder code here",
In the last issue we talked about how diabetes can be
prevented. In this issue we will be asking the question,
are you at risk for diabetes?
Diabetes is a disease that is almost out of control today. It
is a lot different than other diseases, though, in that it is not
contagious, you cannot get it from a cold or any other
disease. It is a disease that simply starts on the inside of
our bodies and is possible to have diabetes, and have no
visible symptoms at all.
Diabetes is often called the silent disease, however,
because it often has few – if any – symptoms. Here are
some ways to tell if you might be at risk for diabetes.
As we have discussed before, being overweight can
definitely put you at risk for diabetes. Being heavier than
is considered healthy for your height is definitely a strong
reason to believe that you could be at risk for developing
diabetes. Those extra pounds, especially if they are around
your waist, could actually help to create a condition that
makes cells resist the normal function of insulin. They then
become insulin resistant. This condition is called metabolic
syndrome.
There are many risk factors to be considered that may make
you more susceptible to developing type 2 diabetes.
Those most at risk are:
– People with a family history of diabetes.
– Women with a prior history of gestational diabetes.
– People with impaired glucose tolerance.
– People with a sedentary lifestyle.
– People between 40 and 75 – it's estimated that of
all people affected by diabetes, approximately 75
percent have Type II diabetes. Risk increases with age.
– People of Asian or Caribbean descent and Native
Americans/First Nations people are 3 to 5 times more
likely to develop diabetes than Caucasians.
– People who are very over weight – over 80 percent of
people with Type II diabetes are overweight. The more
overweight you are and especially if you carry your
weight around your waist rather than around your hips
and buttocks the higher your risk.
– Women who have given birth to a large baby (over 9
pounds) pregnant women may develop a temporary
type of diabetes known as gestational diabetes.
For more detailed information take a look at the recent
statistics from the National Institute of Diabetes:
http://www.nyp.org/health/diabetes-stats.html
You may also be surprised to find out that age makes you a
candidate for developing diabetes. It used to be primarily
seen in those that are 45 and older. It still is considered to
be adult diabetes. Now, however, due primarily to being
overweight and the amount of sugars in our diets, children
are now getting diabetes at an alarming rate.
Age is still a primary factor, however, due to changes in
lifestyle and activity. If you suspect that you might have it
and are over 45, it would be a very good idea to see a
doctor for a checkup.
Living a sedate or inactive lifestyle will not help you keep
diabetes away no matter what age you are. This factor is
a powerful one when it comes to diabetes.
If you live a sedentary life and are overweight, then you
are a prime candidate for it. The good news, however, is
that by simply losing a few extra pounds and becoming
more active with a regular exercise program, you may be
able to keep diabetes at bay. Even if you have already
been diagnosed with diabetes, this is part of the program
that will help keep you healthy, and possibly even help you
defeat diabetes.
Make sure you look for your next issue soon. We will be
talking about why exercise is so important to controlling
diabetes.
"your name here"
"your email address"
"your URL here"
Sample Extra Titles
Diabetes the Silent Killer.
Unanswered Questions about Diabetes.
Hidden Answers to Diabetes or Revealed
Is There a Diabetes Epidemic?
Diabetes Symptoms
Diabetes Management
Diabetes In Children
The History of Diabetes
Diabetes Basics.
Why Everyone Is Talking about Diabetes
Your Questions About Diabetes Answered
Diagnosed With Diabetes
Can Proper Diet Help Control Diabetes Without Drugs?
The Ups and Downs of Living with Diabetes.
Why Almost Everything You've Learned about Diabetes Is Wrong
Control Diabetes Without Drugs
Can Proper Diet Help Control Diabetes?
And More…
Sample Extra Paragraphs
Symptoms of type 1 diabetes often come on suddenly and are
severely dramatic. The extra stress of diabetes can lead to
something called diabetic ketoacidosis. Symptoms of
ketoacidosis may include nausea and vomiting, which may
also lead to dehydration and serious problems with the blood
levels of potassium. This could lead to a diabetic coma and
ultimately death.
————————————
Since you had to be diagnosed by a doctor for your diabetes,
you should talk to that same doctor and get advice on your best
course of action. Since your situation and medical needs are
specific to you, it is important to get advice based on what the
doctor has discovered. Special diabetes medication may be
needed immediately.
————————————
Diabetes is a disease of the metabolism. Our metabolism is
what the way our bodies use digested food for energy and
growth.
————————————
A piece of good news, however, is that if an overweight
individual is diagnosed with pre-diabetes, then he or she
could reduce that risk simply by losing the excess weight.
This also shows that there is a direct correlation between
the two. Diabetes can often be pushed back a number of
years simply by doing this. In some cases, it may even be
able to be completely avoided. It usually only takes losing
about 7% of your body weight, on average, to have this
effect. Some may require more, but any weight loss for an
overweight person is a move toward better health in the
long run.
————————————
With obesity levels being at an all time high, the epidemic
of type 2 diabetes is growing at an alarming rate, and will
only get worse.
————————————
There are certain symptoms that shouldn't be ignored if
they develop. These symptoms could lead to blindness,
amputation of limbs, coma or even death.
————————————
Another reason to contact your medical professional would be
to find out if he or she is able to provide you with other valuable
information in the form of classes, books, brochures, and other
up to date literature. He or she may also be able to direct you
to a support group in your area.
And More…
Other Details
- 12 Part Autoresponder Email Messages (TXT, DOC)
- Squeeze Page (HTML, PSD)
- Ecover (PSD, JPG)
- Affiliate Programs List
- File Size: 1,630 KB