Squeeze Page Preview: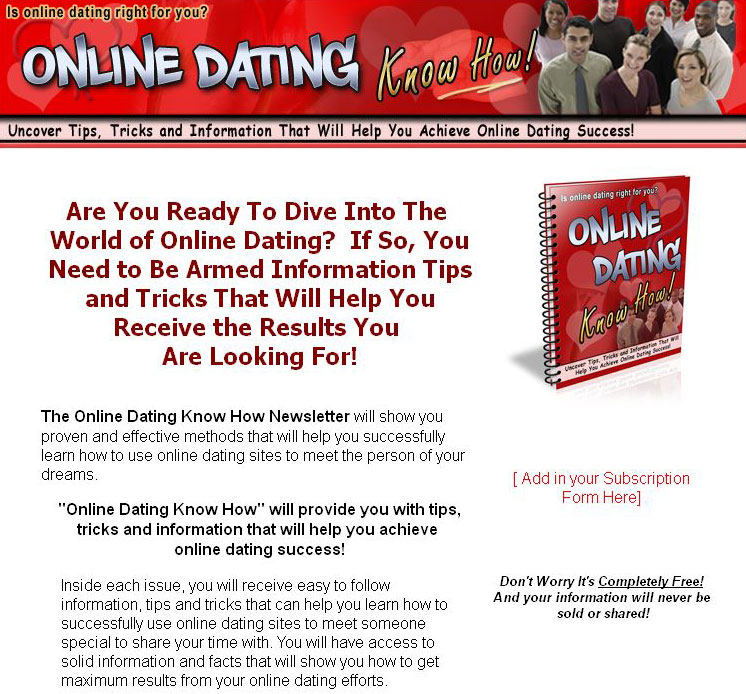 >>> Click Here To View Full Squeeze Page…
Features:
* 12 Issues Full Of Great Content
– Just add in your contact info and plug it in to your favorite auto responder. Each issue contains 500 words or more!
* One Ready To Go Squeeze Page
– Just add in your opt in form, upload to your server and your done!
* One Ready To Go Thank You Page
All ready to remind your subscribers to check their email and confirm their subscription. It even has built in revenue!
* 4 Researched Click Bank Products
These are top selling products on Click Bank that I've personally researched and chosen for each series.
* Extra Copy And Paste Article Content
You will get:
– Extra titles
– Extra opening paragraphs
– Extra closing paragraphs
– Extra fill in paragraphs
(these would make great tips that you add in to your follow ups system for more frequent contact with your readers)
Sample Content Preview
Message # 1
Subject line: Your First Online Dating Know How Issue
Hello "autoresponder code here",
Welcome to your first issue of Online Dating Know How.
In each issue of Online Dating Know How you will learn valuable
information on how you can use online dating to successfully meet
the person of your dreams.
Online dating can be fun. But that doesn't necessarily mean that
it's right for you. It's definitely something that anyone can do, but
the simple fact is that not everyone is successful at finding that
special someone simply by joining an online dating site and
hoping for the best.
In this first issue of Online Dating Know How we are going to
briefly go over some important things including some pros and
cons that you should know before you dive into the online
dating world.
One way to be successful at online dating is to think of it allot like a
business. If you want to be successful at your business, you have
to work at it and finding the perfect mate through online dating is
virtually the same. You have to be willing to put in the time and
effort necessary to achieve your goals and fulfill your dreams.
One of the most important things that you must remember is not to
neglect your safety and common sense when you're trying to find
your perfect mate. I can't stress this enough, as I said before,
online dating can be fun, but it can be just as dangerous if you do
not use your better judgment.
In every issue of this newsletter you will learn some of the best
information, tips and techniques that I can find to help you
ensure your chance of success. But, before you begin your online
dating adventure it's important that you take some time and map
out where we are going and exactly what you want to achieve.
Think about your goals by asking yourself these questions.
– What am I looking to achieve during my online dating
experience?
– What am I hoping will be the method that I do that?
– Who am I looking for specifically?
– What am I willing to do to make it happen?
– Can I dedicate enough time to successful relationship?
When you ask yourself these questions, jot down your answers, so
that you can refer to them later. Developing personal goals for
online dating is essential if you want your experience to be
rewarding.
After you have determined what your goals are, next it's time to
determine what you will do to meet that special someone. Here
are the first things you need to commit to in order to be successful
with online dating.
– Spending enough time developing a great profile.
– Spending at least a few hours a week looking for people that you
would like to meet.
– Spend a few hours a week sending emails to people that you are
interested in.
When you do these things, you are going to be steadily working
towards finding that perfect person to share your life with.
Before we close this issue, I want to quickly go over few of the
pros and cons associated with online dating.
First let's discuss the pros:
– You get to meet others from around the world when it is
convenient to you.
– You get to find that right person for you without having to deal with
the bar scene or with blind dates.
– The pressure is lower as emails are easier than phone calls.
– You can find people online that are just like you, that already
possess the qualities that you are after. No more dealing with
situations where you meet people that are no where near
someone you are interested in.
– You get to handle online dating the way that you want to.
Those are just a few of the benefits that are out there when it
comes to online dating. Yet, there are some things that are not
necessarily good things.
Now let's discuss the cons:
– You are not seeing these individuals in person for the first time.
– You may not be able to meet them locally for a while if they don't
live near you.
– You have to count on what they tell you or the information that they
provide in their profile is actually true.
– Generally you have to pay for a dating membership before you
can begin communicating with people that interest you.
Those are just a few of the different cons that you may be facing.
Another important thing that you need to remember when you
are dating online is that it's important to be yourself. If you change
who you are, because you think it will improve your chances then
you're sure to fail.
There are many benefits to online dating and plenty of
opportunities for you to find the right person out there. But if you
want to be successful you have to be willing to commit plenty of
time and effort.
Make sure you look for your next issue soon. We will be going
over some great online dating tips that you can use to increase
your success.
Thank you again for joining,
"your name here"
"your email address"
"your URL here"
Other Details
- 12 Part Autoresponder Email Messages (TXT, DOC)
- Squeeze Page (HTML, PSD)
- Ecover (PSD, JPG)
- Affiliate Programs List
- File Size: 20,273 KB