Debt and Personal Finance PLR Autoresponder Email Series Features:
* 52 Weeks Pre-written Newsletters
This isn't just ANY private label content. These newsletters are written to effectively promote best-selling affiliate products for an entire year. All the work is done for you.
* List of Top Affiliate Programs
Comes with high-paying, high conversion affiliate programs from Clickbank, Commission Junction, Shareasale, and others – just sign up! Once you've got your affliiate links, you put them into the content and bam – your newsletters are branded and ready to make you money!
* Opt-In Template For Each Niche
Pop in YOUR autoresponder information, and you're ready to upload this page to any domain and start collecting leads!
Opt-In Template Preview: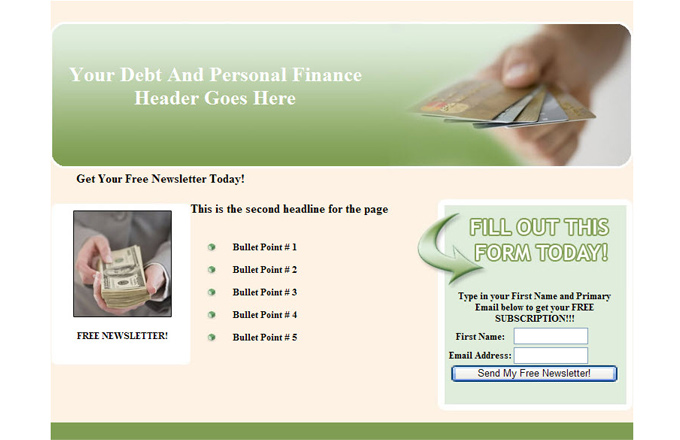 Autoresponder Message Titles:
– Personal Loans
– Emergency Debt Relief
– Wealth Building
– Filing Taxes
– Financial Planning
– Extended Care Insurance
– VA Loans
– Payday Loans
– Debt Management Companies
– Student Loans
– Declaring Bankruptcy
– Credit Repair Tips
– Types Of Loans
– Stock Market Investing
– The Financial Reality Of Divorce
– Preparing For Recession
– FHA Loans
– Home Equity Loans
– Tax Tools
– Tax Relief
– Managing Credit Card Debt
– 401K Plans
– Credit Scores
– Interest Rates
– Credit Card Bankruptcy
– Mutual Funds
– Bankruptcy Lawyers
– Home Improvement Loans
– Online Banking
– Currency Trading
– Unsecured Loans
– Income Tax Mistakes
– Structured Settlement Company
– Auto Loans
– The Mortgage Jungle
– Building Credit History
– Life Insurance
– Personal Bankruptcy
– The Family Budget
– Estate Planning
– Mortgage Insurance
– Medical Bankruptcy
– Retirement Planning
– Buy Or Lease A Vehicle?
– Household Economy Tips
– College Funds
– Property Taxes
– Credit Reporting Agencies
– Credit Counseling
– Debt Consolidation
– Health Insurance
Sample Affiliate Program Preview:
Strativa – Financial Software
"By promoting our financial software packages on your website or in your newsletter, you can receive once of the highest commissions in the financial software -related industry." Commission structure based on sales – pays 25% to start, refer 10 or more sales in a given month and commission goes up to 30% for that month. Two-Tier program pays an additional 10 percent on sub-affiliate sales.
BudgetMap
"The inexpensive BudgetMap system solves the most common problems related to household budgeting." The BudgetMap affiliate program pays a commission equal to 25% of the sales price excluding shipping/handling and sales tax.
Switchwise
Stitchwise's focus is on saving money on Gas & Electricity, Loans, Phone, etc. Smaller web sites can sign up through Commission Junction – "For larger websites, we offer a bespoke affiliate program including the development of white label versions of our switchng engine."
Atlantic Publishing Company
Provides a variety of Personal Finance books including Real Estate Investing, & Retirement Planning. Program pays 20% commission with the potential to earn even more.
Nolo
"Nolo is the nation's leading provider of do-it-yourself legal and business solutions for those of us without law degrees or MBAs." Commission percentage is based upon the sales generated each month (with a minimum payout of $25.00).
Personal Finance 101
Offers Personal Finance classes. Commission is on a pay-per-lead basis. "If you refer a friend and they purchase a class package or services, you can earn: $5 in cash for every class package purchased, or – $10 in services for every class package purchased; $2.50 in cash for every work session or individual class purchased – or – $5 in services for every work session or individual class purchased.
Other Details* No Of Messages
: 52
* File Format
: TXT
* Included Graphics
: eCover [PSD, JPG]
* Extras:
Squeeze Page
* Extras:
Affiliate Programs [PDF]
* Download File Size:
1,202 KB