Salespage Snapshot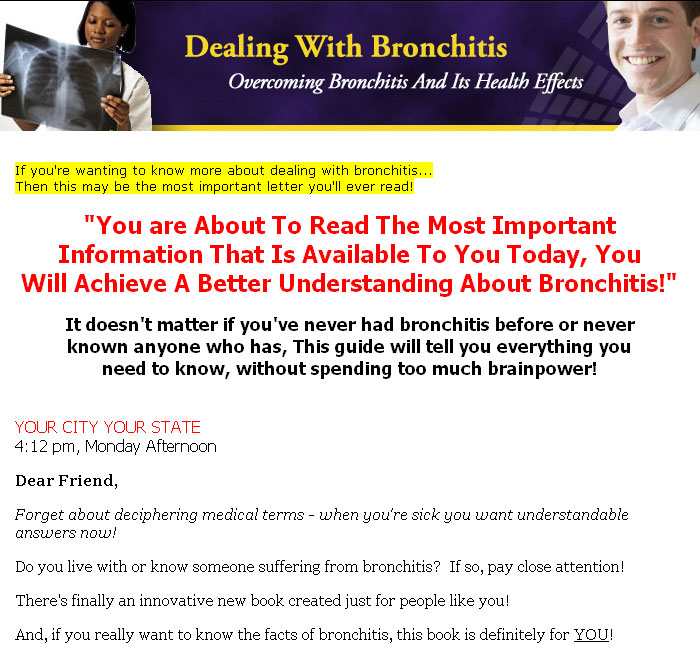 >> Click Here To View Sales Page...
Table Of Contents
Dealing With Bronchitis:    1
Table Of Contents    3
Introduction    5
Chapter 1:  Bronchitis, Cough, Cough    6
Symptoms To Look For    7
Is It Chronic Sinusitis?    9
Is It Chronic Bronchitis?    10
Chapter 2: The Causes Of Bronchitis    12
Causes Of Chronic Bronchitis    13
Are You At Risk, Then?    14
Do You Need A Doctor?    16
Chapter 3:  Seeking A Doctor's Help For Bronchitis    19
How Diagnosis Happens    19
Treatment Options From Your Doctor    21
Chapter 4:  What Can Happen If You Don't Get Treatment    24
When It Happens Often    25
Chapter 5:  Chronic Bronchitis And Emphysema    27
What Happens In Chronic Bronchitis?    28
It Doesn't Happen Fast    30
What's Emphysema's Story?    31
Emphysema Doesn't Happen Fast, Either    33
Chapter 6:  Surviving COPD And Its Effects On Your Life    34
Quality Of Life    34
The Job OF Medications    35
Symptom Medication    36
Antibiotics    36
Glucocorticosteroids    37
Vaccines    37
Transplantation    38
Chapter 7:  Pulmonary Rehabilitation    39
What's Included In Therapy?    40
What Can Pulmonary Rehabilitation Do?    43
Chapter 8:  The Lifestyle Changes That Are Necessary    46
Stop Smoking    47
What To Do    48
Improve Air Quality    49
What To Do    50
To Alleviate Symptoms    50
Oxygen Therapy    51
Chapter 9: Diet, Nutrition And Alternative Medication    53
Nutrition    53
Supplements    55
Herbal Help    57
What To Do    59
Additional Tools For Relief    60
Conclusion    61
Ebook Sample Content Preview
Introduction
Bronchitis is something you are likely to have in your lifetime at least once.  Since it usually follows a cold or other respiratory condition, most people will develop it in the course of their lifetime.
Your chest is throbbing in pain.  You are coughing and it hurts to do so.  These are the first symptoms of bronchitis.  Although it is a common condition that many face, for some it is even worse.  That's because for some people bronchitis is disabling and more frequent.  If you fall in this category, then you are looking for a way to gain back your strength and to get your life back on track.
The good news is that you can do just that.  Bronchitis doesn't have to be a condition that you can't shake.  What it can be is a time for you to prove your self worth by pushing yourself to improve.
In this e-book, we'll discuss what bronchitis is, what it can do to your health and how to keep it out of your life as much as possible.  By learning this now you can protect yourself in the long term from what bronchitis can do to you.
Chapter 1:  Bronchitis, Cough, Cough
Before you can actually deal with bronchitis, you need to know what it is and how it affects your body.  Having an education in this information puts you at the forefront of spotting symptoms and taking action before you become ill further or even lessening the effect that bronchitis can have on your daily life.
Bronchitis happens in your lungs.  In fact, it is a condition that affects the inner walls in your air passage ways of your lungs.  There, bronchitis causes the lining to become infected and inflamed, causing you the symptoms of fevers, chills, coughing and a pain in your chest.
These are the symptoms of acute bronchitis, something that many people will get after they have had a respiratory infection.  If that is what you have, then you may have symptoms that last a few days and perhaps a cough that lasts sometimes as long as three weeks.  In general, though, this type of bronchitis does not last long as is not something that is severe…
Other Details
* 60+ Page PLR Ebook
* Professionally Written Salesletter
* 50 PLR Articles
* 5 Part Autoresponder Email Course
* 1 Complete Adsense Website
* 5 Part Press Release
* Professionally Designed Graphics Set
* Highly Targeted Keyword List
* Pre Written PPC Ads
* PDF and MS Word Source File For eBook
* PSD Files For Graphics