Salespage Snapshot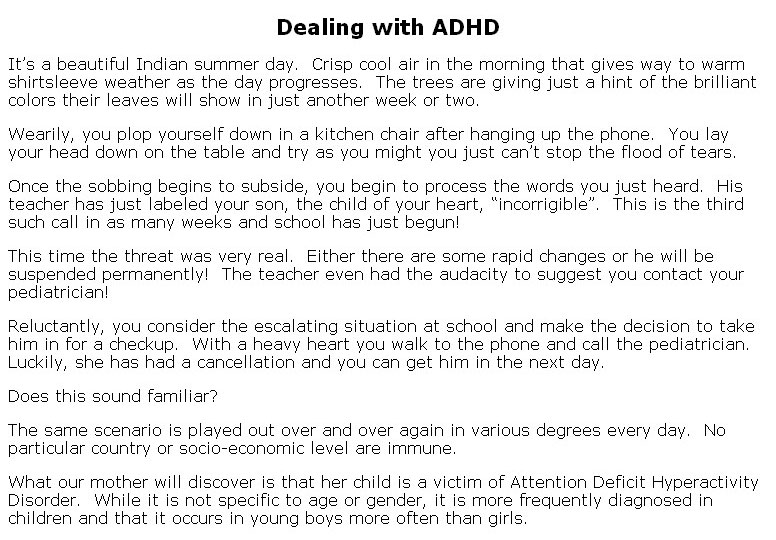 >> Click Here To View Sales Page...
Ebook Table Of Contents
What Is ADHD Disorder?
What are the symptoms of ADHD?
Are There Similar Disorders?
What Causes ADHD?
Diagnosing ADHD In Children
Diagnosing ADHD In Adults
Education and ADHD Children in Public Schools
Education for ADHD Children in the Private Sector
A Good IDEA
Pharmaceutical Treatments for ADHD
Controversy in the Medical Community
Natural Remedies for ADHD
Alternative Treatments for ADHD
Coping Skills for Patient and Family
Researching ADHD
PLR Ebook Sample Content Preview
What Is ADHD Disorder?
Basic Facts about ADHD
ADHD is an acronym that stands for Attention Deficit Hyperactivity Disorder. This condition was formerly known as the Attention Deficit Disorder, though the name was modified when it was noted that the affected people were also prone to severe hyperactivity.
ADHD commonly manifests in young children, though most of them carry the traits over into adulthood as well.  ADHD is also referred to by some people as the "single-synapse" or the "short attention span" problem.
The reasons for this is because ADHD's main characteristics are a marked inability to concentrate on any one thing for very long, accompanied by extremely impulsive behavior where the person doesn't stop to think at all when they get an idea or react to a situation.
Other Details* Sales Page:
Included, HTML, MS Word Doc
* File Format:
MS Word Doc, PDF
* Number of Pages:
63
* Included Graphics:
Ecovers, PSD
* Download File Size:
1,415 KB