Salespage Snapshot: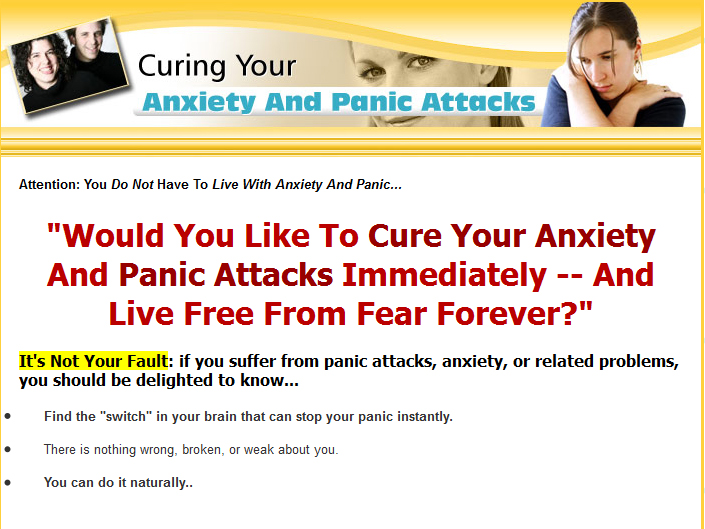 >>> Click Here To View Full Sales Page…
Table of Contents
INTRODUCTION 6
OVERVIEW 7
THE DIFFERENCE BETWEEN ANXIETY AND PANIC .8
YOU, ANXIETY AND PANIC 9
Put It All In Perspective .9
WHAT IS ANXIETY AND PANIC DISORDER? 11
WHAT CAN YOU DO ABOUT IT? .13
How to cope with an attack .13
Breathing Properly 14
Relaxation 16
Phone a Friend 16
REASONS FOR ANXIETY AND PANIC ATTACKS 17
Traumatic Event 17
Older Traumatic Event .17
Recent Traumatic Events 18
Is it Hereditary? .19
WHICH CATEGORY DO YOU FALL INTO? .21
Panic Attack .21
Symptoms 22
Panic Disorder .23
Symptoms 24
Agoraphobia 25
Symptoms 25
Generalized Anxiety Disorder 26
Symptoms 27
Specific Phobia 28
Symptoms 29
Social Anxiety .29
Symptoms 30
Obsessive Compulsive Disorder 30
Symptoms 32
Children and Anxiety .32
Separation Anxiety Disorder .34
Selective Mutism .35
Symptoms of Anxiety in Children .36
Post Traumatic Stress Disorder 37
Symptoms 38
SIDE-EFFECTS OF ANXIETY DISORDERS .40
Depression 40
Substance Abuse .41
CURING YOUR ANXIETY AND PANIC DISORDERS .43
MEDICINAL TREATMENTS .44
Start with an Accurate Diagnosis .44
Treatments 45
Benzodiazepines 45
SSRI – Selective Serotonin Reuptake Inhibitors 46
Buspirone .47
Azaspirones .47
Beta Blockers 47
Tricyclics 48
Monoamine Oxidase Inhibitors –MAOI's .48
If you can't afford medication .48
Vitamins and Minerals in Supplemental form .49
NATURAL TREATMENTS 51
Herbal Remedies 51
Chamomile 52
Valerian 53
Lavender 54
St John's Wort .54
Kava Kava 55
Passion Flower 55
Motherwort .55
Lemon Balm 56
Linden 57
Oat Straw 57
Skullcap (Scullcap) .58
Herbal Teas .58
Green Tea 59
Ginger Tea 60
Chamomile Tea 60
Lavender Tea 60
Lemon Balm Tea 61
Linden Tea 61
Oatstraw Tea .61
Skullcap (Scullcap) Tea 61
Motherwort Tea 61
Kava Kava Espresso 62
Mellow Mood Tea .62
St John's Wort .63
An Uplifting Tea Recipe 63
Traditional Indian Spiced Tea (Chai) 63
Ayurvedic Tea 63
Nutrition and Your Diet 64
What Not to Eat 64
What to Eat 66
Vitamins Naturally 67
Ayurveda .68
Aromatherapy .70
Acupuncture .73
Tai Chi – Qi Gong 74
Meditation 75
Yoga .77
Gemstone Therapy 79
Reiki 82
Relaxation Tapes .83
Hobbies .84
Gardening 85
Exercise .85
Art .86
Music 86
Dance 86
Handicrafts 87
Bach Flower Remedies 87
Emotional Freedom Techniques (EFT) 89
PSYCHOTHERAPY .91
Choosing a Therapist – What you need to know 93
Behavioral Therapy .94
Cognitive Therapy 95
Cognitive Behavioral Therapy .95
Psychoanalytic Therapy 96
Hypnosis .97
HELP AND SUPPORT 99
Help lines and Forums 100
Sample Content Preview
The Difference between Anxiety and Panic
Before I start in earnest I'd first like to outline exactly what is meant when you say that you're having an anxiety attack as opposed to what you mean when you say you're having a panic attack.
Unfortunately the line isn't as clear cut as it could be and many people use both terms interchangeably signifying one to mean the other.To hopefully clarify things a little better for you I've tried to mention exactly what could be meant when a person is talking about a "panic attack"' or an "anxiety attack" in a normal context outside of this book.
From my experience, in a normal situation when someone refers or uses the term "anxiety attack" they're probably trying to convey one of the following meanings:
The simplest being anxiety attack = panic attack. So essentially one and the same
They could also be referring to a period of intense anxiety where you suffer from heightened emotions without the accompanying feelings of panic
Or if they don't suffer from intense and chronic anxiety this could relate to a time when they have feelings of slightly heightened anxiety
They could even be referring to a lessened panic attack that isn't as intense as your usual ones
Panic disorder on the other hand (this is where you suffer recurrently from panic attacks1), comes under the vast umbrella that is known as Anxiety Disorders as classified by the National Institute of Mental Health, or NIMH. I've discussed these disorders and their symptoms in detail in the section "Which Category Do you Fall into?"
For the sake of this book I've used the two – anxiety and panic – interchangeably so as to save on confusion. So when I refer to "anxiety" within this book you can take it to encompass both anxiety attacks and panic attacks.
Other Details
- 30 Articles (TXT)
- 2 Ebook (PDF, RTF), 100 Pages
- 7 Part Autoresponder Email Messages (TXT)
- 1 Salespage (HTML, RTF)
- 3 Ecovers (JPG)
- File Size: 1,968 KB