Salespage Snapshot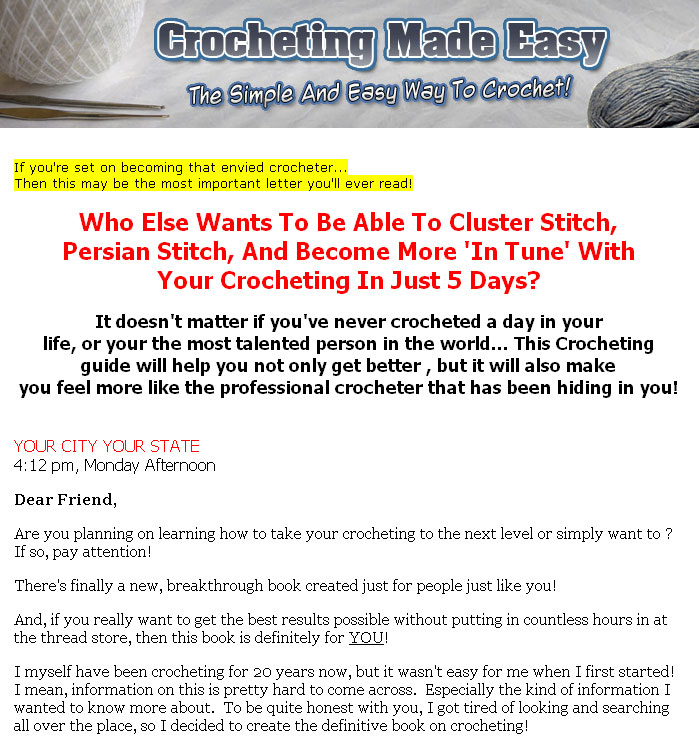 >> Click Here To View Sales Page...
Ebook Table Of Contents
Introduction    5
Chapter 1: About Crochet    7
History of Crochet    8
Language of Crochet    11
Basic Stitches    12
Crochet Hooks    13
Crochet Yarns    15
Chapter 2: Tools and Materials    17
Hooks    18
Afghan Hook    19
More About Yarns!    20
Markers    22
Tapestry Needles    23
Pins    23
Tape Measure    24
Row Counter    24
Plastic Rings    24
Metal Hook Gauge    25
Bobbins    25
Chapter 3: Basic Techniques    25
Practice, Practice, Practice!    27
Catching the Yarn Technique    27
Chain Stitch Technique (cs)    28
Single Crochet (sc):    28
Half Double  (hdc) Technique    29
Double Crochet Technique  (dc)    29
Treble Crochet Technique (tr)    30
Turning Chains    30
The Button Stitch    31
Cluster Stitch    32
Persian Stitch    33
Chapter 4: Some Great Crocheting Tips!    35
Bobbins    36
Bouclé    41
Fastening Off    41
Randomly Crochet    44
Crocheters Busy as Ever!    47
Some Crochet Innovations    50
Spread the Word; Share Your Love    52
Resources A-Bounty!    59
Conclusion    61
Sample Content Preview

Introduction
Hook, loop and shape!
No, this isn't some sort of an abbreviated strategy to bait your fiancé into marriage.  First you hook the poor, unsuspecting fellow, loop him into the marriage cord and then shape him to suit your taste.  The male species are a lot smarter these days and it will take them lock, stock and barrel before they would even consider crawling towards the bait.
But hook, loop and shape you certainly can do when you engage in one of the most endearing hobbies of all times – crochet.  It's one of the few art forms left that you can do at your own leisurely pace, one writer calling it the perfect accompaniment to daydreaming.
It is probably while crocheting that strategies concerning your significant other will come most naturally.  Because if you angle that hook properly and turn and twist it cleverly, then you might end up with the most effective bait there is.
If you're looking for versatility, crochet has it all.  Shapes, colors, textures and weight all combine to produce potentially hundreds of objects that will make you smile and elicit oohs, ahhs and "I've got to have this" reactions from family and friends.  Because once that yarn is defined into its final shape, a true labor of love manifests itself.
And crochet is not just an ordinary craft, certainly not a mere part of the bigger universe of sewing.  If you have to ponder size and weight and yarn texture, crochet turns magically into a science.  It has its own set of symbols and abbreviations, its own blueprints.  Without knowing what they signify, we could not crochet, forcing us to lead a "threadbare" existence.
A crocheted object can keep us warm in the winter, cradle our boiling pots and pans, suspend our plants from the ceiling, protect our paper money and coins, cover the stains and scratches in our furniture, dress up the baby's cradle and make a fashion statement…
Other Details
* Professionally Written Salesletter
* 50 PLR Articles
* 5 Part Autoresponder Email Course
* 1 Complete Adsense Website
* 5 Part Press Release
* Professionally Designed Graphics Set
* Highly Targeted Keyword List
* Pre Written PPC Ads
* PDF and MS Word Source File For eBook
* PSD Files For Graphics