Salespage Snapshot: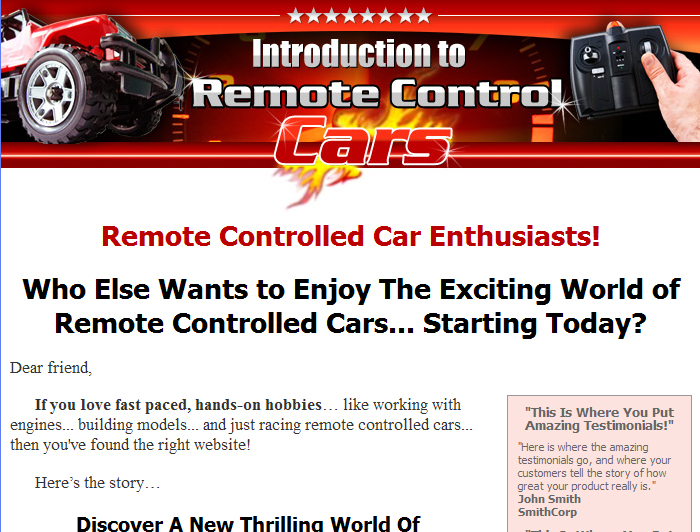 >>> Click Here To View Full Sales Page…
Table of Contents
Introduction
Chapter 1
Getting Started
The History of Remote Control Cars
Types of Remote Control Cars
How Remote Control Cars Work
The Transmitter
Options for Powering RC Cars
Battery Pack RC Cars
Gas Powered RC Cars
Nitro Gas Powered RC Cars
Chapter 2
Getting Started
Which Car is Right for You?
An In-depth Look at Electric RC Cars
Benefits of Electric RC Cars
The Electric RC Motor
An In-Depth Look at Nitro RC Cars
2-Stroke or 4-Stroke
Understanding the Nitro Fuel
Maintenance Tips for Nitro RC Car
Chapter 3
Ready to Run or Build your Own?
Ready to Run
Build your Own Car
Tips for Getting Started
Necessary Tools
Chapter 4
What Type of RC Car is Right for You?
On-Road vs Off-Road
On-Road
Off-Road
Which Type of Model?
Cars
Trucks
Dune Buggies
Flyers
Watercraft
Sizes of RC Cars
1/10 Scale Touring Cars
1/10 Scale Stadium Trucks
1/8 Scale Monster Trucks
1/8 Scale Buggies
Micro and Mini Cars
Your Budget
Chapter 5
Operating and Racing your RC Car
Good Sportsmanship
Racing your RC Car
Truck and Tractor Pulls
Understanding RC Racing
The Race is On
Turn Marshalling
Racing on a New Track
Tips for Passing
Chapter 6
Competition Rules
ROAR COMPETITION RULES
5.1 GENERAL COMPETITION RULES
5.2 GENERAL VEHICLE RULES
5.3 CLASSES
5.4 TECHNICAL INSPECTION
NORRCA Competition Rules
QUALIFYING
GENERAL TECHNICAL RULES: ALL CLASSES
GENERAL RULES
Conclusion
Sample Content Preview
Chapter 1
Getting Started
The History of Remote Control Cars
Although remote control cars are thought of as being completely modern toys, the first remote control cars actually date back to the 1960s. Even before then, the technology that would ultimately drive remote control cars was already in the works. In the 1940s the first small engines powered by nitromethane came onto the market. At the time, the technology was simply not advanced enough to allow for a model car to be powered by a control with some time of tether. As a result, tether car, also known as 'spin dizzies' emerged onto the market. These first cars were capable of achieving speeds up to 70 mph, but unfortunately, all they were able to do was spin around in circles.
Finally, in the late 1960s the first mini radio control systems were introduced. They would completely revolutionize the market and play a huge role in the development of the remote control cars that we enjoy and love today. The technology of these first cars made allowances for a remote as well as a servo-controlled steering system and even a throttle/brake. These cars were considered to be far more advanced than their predecessors because they were able to actually make their way around a racetrack rather than just spinning around in circles.
It was in 1976 that a firm in Japan recognized the incredible potential for marketing these toys as a completely new hobby. The company was Tamiya and they had already developed a reputation for their plastic model kits, which were highly detailed. That year they decided to release a series of 1/10 as well as 1/12 scale model cars which were suitable for radio control. At the time the cars were fairly expensive, but nevertheless they practically flew right off the shelves.
Eventually, the demand for these cars became so strong that Tamiya made the decision to move away from their scale detail cars and instead began to concentrate on remote control models that were built more toward purpose. These new cars included a host of features such as motors that were powerful, working suspensions and even realistic off-road rubber tires.
Typically featuring bodies that resembled dune buggies, these new cars were rugged but were also easy to assemble as well as easy to repair and were also more affordable to purchase and modify. These cars would come to serve as a base for the remote controlled hobby that would quickly sweep the nation.
While Tamiya certainly revolutionized the market, it would be companies in both the United States as well as Europe that would actually develop the taste for remote control racing competition.
Although remote control cars have continually developed and evolved over the years, they remain at the top of wish lists among kids as well as adults each year because of the continuing fascination with them. From the most basic remote control cars that are played with in backyards around the world to the more advanced cars that make their way to adult remote control competitions every year, there is a remote control car for everyone.
Other Details
- 30 Articles (TXT)
- 2 Ebook (PDF, RTF), 44 Pages
- 7 Part Autoresponder Email Messages (TXT)
- 1 Salespage (HTML, RTF)
- 3 Ecovers (JPG)
- File Size: 1,230 KB