Features:
* 52 Weeks Pre-written Newsletters
This isn't just ANY private label content. These newsletters are written to effectively promote best-selling affiliate products for an entire year. All the work is done for you.
* List of Top Affiliate Programs
Comes with high-paying, high conversion affiliate programs from Clickbank, Commission Junction, Shareasale, and others – just sign up! Once you've got your affliiate links, you put them into the content and bam – your newsletters are branded and ready to make you money!
* Opt-In Template For Each Niche
Pop in YOUR autoresponder information, and you're ready to upload this page to any domain and start collecting leads!
Opt-In Template Preview: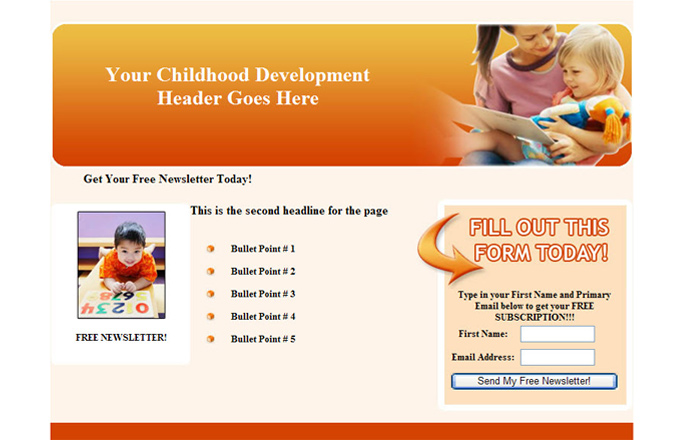 Autoresponder Message Titles:
– Inspiring High Self-Esteem
– Warm Weather Safety Tips For Children
– Quotes About Childhood Development
– Childhood Sleep Issues
– Infancy From Six Months To One Year
– Dealing With Separation And Loss
– The Holiday Meltdown
– Helping A Child Deal With Anger
– The Frustrating Fours And The Fantastic Fives
– Reading To Your Child
– Loving A Child Wisely
– Sibling Rivalry
– Play Is Childhood Work
– The Terrific Threes And The Frustrating Fours
– Dealing With Bad Behavior In Toddlers
– Cold Weather Safety Tips For Children
– The Preschooler
– Teething
– Raising A Moral Child
– Childhood Abuse And Neglect
– The Gifted Child
– Encouraging Childhood Creativity
– Developing Coordination
– The Angry Child
– Child Development Before Birth
– The Newborn From Birth To Six Months
– New Parent Syndrome
– To Spank Or Not To Spank
– Children Are Not Small Versions Of The Parents
– Choosing A Pediatrician
– Is Make-Believe Healthy?
– Soothing Worries Of Preschool Children
– Choosing A Baby Sitter
– Does Birth Order Really Matter?
– Child Safety First
– The Adolescent
– Calming A Fussy Baby
– ADHD
– Autism
– Infancy
– The Wonderful Ones And The Terrible Twos
– Traveling With Children
– Choosing Safe Toys
– Extended Family Relationships
– Soothing Worries Of Toddlers
– Teaching Good Manners
– Childhood Nutrition
– Preadolescence
– The Development Of Motor Skills
– The Terrible Twos And The Terrific Threes
– Choosing A Preschool
– Raising A Responsible Child
Sample Affiliate Program Preview:
Super Baby Guide
"Complete & Acclaimed Guide To Early Childhood Parenting & Baby Care With Great Advice For How To Best Love & Nurture Your Young Children & Family. 75% Commission! ($16.74) Converts Amazingly To Sales. Easy Ppc. Plenty Of Targeted & Cheap Traffic."
Lovely Baby CDs
"Created by award-winning composer and international baby music expert, Raimond Lap, Lovely Baby is the only original music series in the world specifically created for babies, ages prenatal to 36 months." 16% commission on all sales originating from your site; earn the same commission on your own orders. Monthly payments – Low $20 minimum threshold.
Sitter City
"Sittercity is America's first and largest online babysitter network. With hundreds of thousands of care providers across the US, we make it easy to find the perfect babysitter, nannies, house sitters, etc." Earn $40 for each paying parent you refer!
My Out of Control Teen
Audio/Video EBook(R) Plus Online Parent-Coaching For Parents With Out-of-Control Teens. Earn 75% per sale ($19.31).
Leaps and Bounds
"Onestepahead is the Internet arm of One Step Ahead, the leading cataloger of unique and innovative products carefully selected for baby and mom (0-3 years old). We also provide education and developmental products for kids 3-8 through our Leaps & Bounds catalog and within the Leaps & Bounds section of our website." Pays 7.5% commission.
Identity Direct
"Over 500 personalized products for the whole family. We have a great range of children's books, wall clocks, poems, place mats and lunch bags in Disney and Sesame Street designs. We have vinyl, address and iron-on labels to ensure nothing gets lost." 10%-14% sale on all goods.
Other Details* No Of Messages
: 52
* File Format
: TXT
* Included Graphics
: eCover [PSD, JPG]
* Extras:
Squeeze Page
* Extras:
Affiliate Programs [PDF]
* Download File Size:
1,874 KB