Squeeze Page Preview: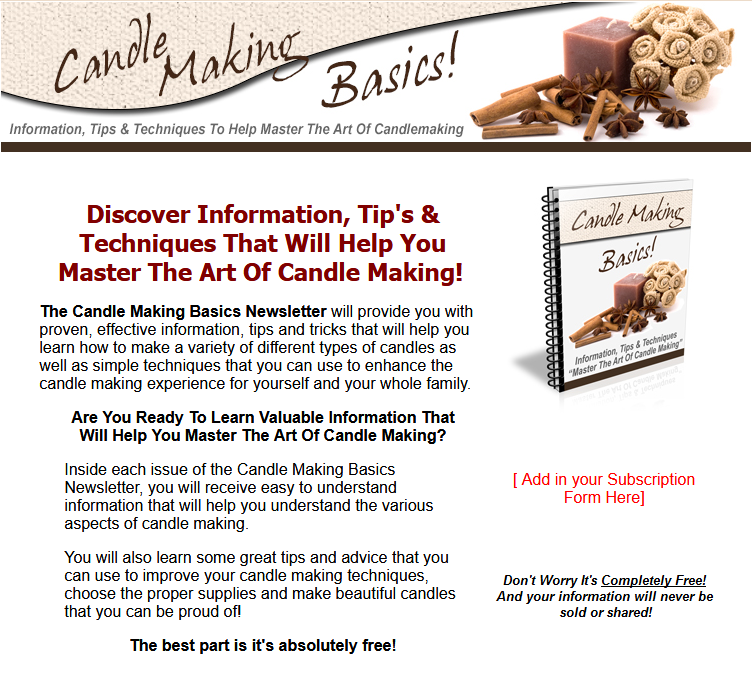 >>> Click Here To View Full Squeeze Page…
Features:
* 12 Issues Full Of Great Content
– Just add in your contact info and plug it in to your favorite auto responder. Each issue contains 500 words or more!
* One Ready To Go Squeeze Page
– Just add in your opt in form, upload to your server and your done!
* One Ready To Go Thank You Page
All ready to remind your subscribers to check their email and confirm their subscription. It even has built in revenue!
* 4 Researched Click Bank Products
These are top selling products on Click Bank that I've personally researched and chosen for each series.
* Extra Copy And Paste Article Content
You will get:
– Extra titles
– Extra opening paragraphs
– Extra closing paragraphs
– Extra fill in paragraphs
(these would make great tips that you add in to your follow ups system for more frequent contact with your readers)
Sample Content Preview
Hello "autoresponder code here",
In the last issue we talked about saving money on candle making
supplies. In this issue we are going to talk about making your own votive
candles.
Votive candles are simple and beautiful. They are also very cost effective
because they burn for about fifteen hours. It's important to keep in mind
that votives must have a holder, they are not safe to use as a free
standing candle.
They are also one of the easiest types of candles to make especially for
beginners. They are a great way to learn the basic candle making
process.
To get started, you will need to gather your candle making supplies. This
includes wax, molds, a double boiler, and a thermometer. You will need to
have wick and wick tabs for votive candles. The wick tabs serve as a
base for the candle. You can also purchase dye and fragrance to add to
your votive candles.
TIP: To ensure that your candles will form and release properly from the
molds, consider investing in a good mold spray to keep them clean and
lubricated.
Once you have melted the wax add in any color or fragrance you have
decided to use then immediately pour the melted wax into the molds,
filling them to the lip of the mold. For easy clean up, place old newspaper
under the wax molds before you pour the wax. You should save about
twenty percent of the melted wax for the next step of the pouring process.
While the wax is cooling in the molds, prepare your wicks. Attach a wick
several inches longer than the mold to a wick tab. Dip the wicks into the
hot wax. Keep a close eye on the votive molds; they won't take as long to
cool as other types of candles.
Once you can tell the wax is starting to harden, insert a wick with the tab
into each mold through the bottom. As the wax continues to cool, it will
meld to the metal tab, ensuring it stays in place at the base of the candle.
As the candles cool, make sure your wick is staying in the center of the
votive.
Once the wax has completely cooled, you will notice a sink hole in it due
to shrinkage. You will want to pour melted wax into the molds again to
remedy this.
Hint: Make the wax about fifteen degrees hotter than the original
wax you used to fill the votives.
After the candles have completely cooled again, they should slide out of
the molds easily. Trim the wick to about ½ an inch from the top of the
candle. Remember, for safety purposes you will want to use a votive
holder that is an inch or two taller than the candle itself.
Votive candles add class and charm to any home or special occasion
and as I mentioned above they burn for a long time, making them
practical to use as well.
Make sure you look for your next issue soon. We will be talking about
making luxurious column candles.
Until then,
"your name here"
"your email address"
"your URL here"
Sample Extra Titles
The Unexposed Secret of Candle Making
The Candle Making Diaries
Candle Making – An Overview
The Ugly Side of Candle Making
An Unbiased View of Candle Making
What's Really Happening With Candle Making
The Ultimate Guide To Candle Making
5 Simple Facts About Candle Making Explained
What To Do About Candle Making Before It's Too Late
The Secret For Candle Making Revealed in 5 Simple Steps
The Ultimate Solution For Candle Making That You Can Learn About Today
Be The First To Read What The Experts Are Saying About Candle Making
The Truth About Candle Making
Find Out Who's Talking About Candle Making And Why You Should Be Concerned
5 Odd-Ball Tips on Candle Making
The Candle Making Chronicles
Kids, Work and Candle Making
And More…
Sample Extra Paragraphs
You will need quality wick to make pillar candles. The wider the candle
you will be making, the wider wick you want. To make this easier, simply
purchase a standard type of wick. You can braid three pieces together to
make a thicker wick for wider candles. Many of the pillar candle molds
have a wick holder built. In simply slide a wick the diameter of the whole
into it and eliminate the guess work. Make sure you dip the wick into the
melted wax before attaching it to the candle mold. Keeping the wick in
place can be tricky. A good trip is to cut the wick several inches longer
than you need. Then tie it to a pencil or skewer sitting across the top of
the candle mold. This will ensure the wick is centered as the candle
begins the cooling process.
————————————
The Ajello Candle Company continued to grow and sells were well
beyond anticipated both in Italy and the United States. In 1953 the
company was asked to create 2,200 candles for the coronation of Queen
Elizabeth. The company was honored to meet the request, and had all the
candles ready in six months. The Ajello Candle Company was
approached to be bought out, but refused. The family wanted their candle
business to remain just that, not a major corporation.
————————————
Candles are a very common home decorating item. They are used to
accent any room in your house. They are a common centerpiece for
dinner parties and formal occasions. The unity candles that are presided
over at many weddings hold a deep sense of tradition in the American
culture.
————————————
For those of you who enjoy making candles for special occasions and
holidays, the book "Creative Candles: Over 40 Inspiring Projects for
Making and Decorating Candles for Every Occasion" by Sue Spear is a
great book to consider for your collection. This book features candle
making ideas for Halloween, Easter, and Christmas. There are also
ideas for creating candles to use as center pieces and for wedding
decorations.
————————————
Canning jar candles are great for all Holidays as well. Add pumpkin cut
outs for Halloween, little bunnies for Easter, and Christmas trees or small
ornaments for Christmas. Canning candle jars make excellent fundraisers
or items to sell at the next craft show. The internet offers many great
canning jar candle décor ideas, especially for the holidays. Your local
craft stores and the internet are great places to get canning jar candle
ideas. Those of you who are more creative will have no trouble designing
your own.
And More…
Other Details
- 12 Part Autoresponder Email Messages (TXT, DOC)
- Squeeze Page (HTML, PSD)
- Ecover (PSD, JPG)
- Affiliate Programs List
- File Size: 16,700 KB