Squeeze Page Preview: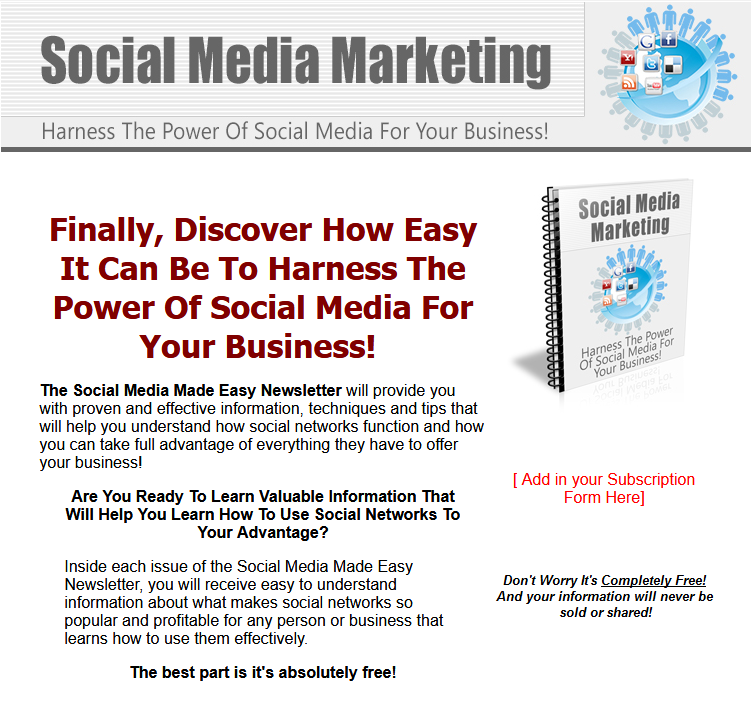 >>> Click Here To View Full Squeeze Page…
Features:
* 12 Issues Full Of Great Content
– Just add in your contact info and plug it in to your favorite auto responder. Each issue contains 500 words or more!
* One Ready To Go Squeeze Page
– Just add in your opt in form, upload to your server and your done!
* One Ready To Go Thank You Page
All ready to remind your subscribers to check their email and confirm their subscription. It even has built in revenue!
* 4 Researched Click Bank Products
These are top selling products on Click Bank that I've personally researched and chosen for each series.
Sample Content Preview
Hello "autoresponder code here",
In the last issue we talked about what social network marketing can do
for your business. In this issue, we are going to talk about social
networking sites with a particular focus.
A social networking website that focuses on one thing in particular is
often referred to as a specialty or niche specific social network. You
may recall we touched base on this in a previous issue. These topic
specific site often have far fewer members than larger social networks.
Although they provide fewer community members to socialize with, you
will find that more have the same interests as you do. In that, a small
number of internet users, with the same interests as yourself, is better
than millions of members that you don't have anything in common with.
If you are interested in finding a topic specific social network all you
have to do is search for it online using the term "social network" and
include a keyword related to chosen topic. For instance; if you want to
meet people who like dogs do a search for "dog social network" and
you will be presented with a list of social networking sites where people
talk about their favorite canine companions.
Whether you are searching for social networking websites that focus on
a popular hobby, religion, or politics, you are sure to find that you are
looking for by including the right keyword in your search term.
In your search for specialty social networking websites, it is likely that
you will come across Facebook or Classmates. Facebook and
Classmates are both considered specialty social networking sites
because they tend to focus on high school and college students,
including those that are attending and those that have already
graduated.
Both of these websites work to connect you with individuals that you are
currently going to school with or those that went to school with, in the
past. If you have already graduated, Facebook and Classmates are
great when looking to reconnect with old friends or even make new
ones.
These topic specific websites not only allow you to meet other internet
users, but they allow you to meet those who share the same beliefs and
views as you do. Here is another example by using a religious social
networking website, such as HolyPal and JesusCrowd, you will not
have to spend time on larger social networks searching for people who
are the same religion as you, you will automatically be entering a
community where the members share the same beliefs.
As I mentioned above, there are a fairly large number of specialty
social networks that you can find online. These communities are not just
limited to pet lovers, religious followers, or those looking to reconnect
with old classmates, as mentioned above. With the way that social
networking websites have increased in popularity, it is safe to say that
you should be able to find an online networking community, no matter
what your interests are.
Make sure you look for your next issue soon. We will be talking about
what LinkedIn can do for you personally and professionally.
Until then,
"your name here"
"your email address"
"your URL here"
Other Details
- 12 Part Autoresponder Email Messages (TXT, DOC)
- Squeeze Page (HTML, PSD)
- Ecover (PSD, JPG)
- Affiliate Programs List
- File Size:14,200 KB