Salespage Snapshot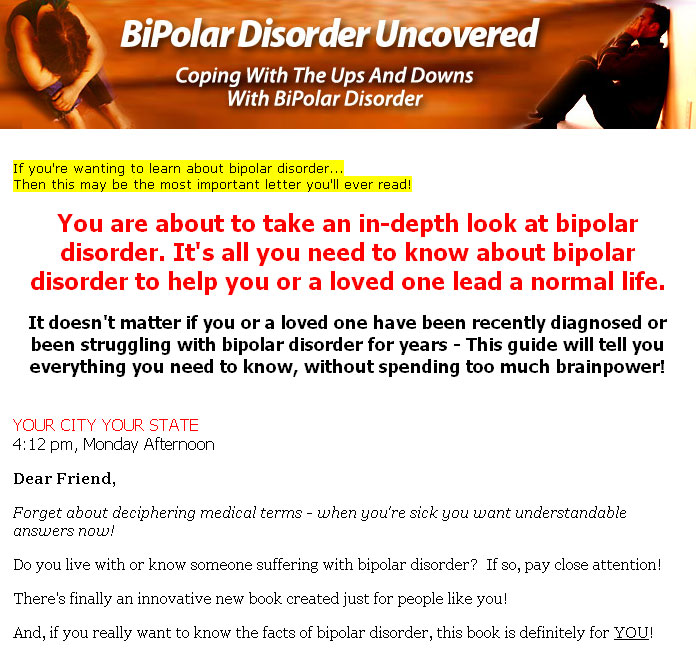 >> Click Here To View Sales Page...
PLR Ebook Table Of Contents
Table Of Contents    3
Introduction    5
Chapter 1:  Understanding Bipolar To Get Help    6
Bipolar: The Medical Side    7
Do You Have Bipolar?    8
What's The Cause?    11
Are You At Risk?    13
Should You Go To The Doctor?    14
Who Should I See?    15
Chapter 2:  Why Should I Get Help Anyway?    18
The Stress Goes Farther    20
Chapter 3:  Your Doctor's Bipolar Treatment    22
Medications    23
Psychotherapy    27
Electroconvulsive Therapy    29
What's Right For You?    31
Chapter 4:  Why So Many Struggle With Treatment    32
Noncompliance And Nonadherence    33
You Don't Understand Your Illness    34
Dependency    35
They Don't Like The Doctor    36
The Awful Side Effects    36
What Else Can It Be?    38
Chapter 5:  Learning To Cope With Bipolar Disorder    39
The Way You Sleep    40
Monitor Your Medications    41
Maintain Your Level Of Activity    42
Don't Use Drugs Or Alcohol    43
Support    45
Reduction Of Stress    47
Watch For Signs    49
Keep Your Doctor Informed    53
Chapter 6:  Why You Should Consider Support Groups    55
Who Is Your Support Group?    56
Outside Support    57
Chapter 7:  Coping By Monitoring Symptoms:  The Mood Chart    59
What Is It?    60
Conclusion    62
Ebook Sample Content Preview
Introduction
Bipolar is a condition which wreaks havoc on those that it affects.  If you suffer from Bipolar, chances are good that your family suffers with you.  No matter if you are that family member trying to learn to cope or you are the person that has been diagnosised, there is hope out there.
Although there is no cure for Bipolar, just yet, there are many ways in which you can improve your chances of living a long and happy life.  The good news is that the process doesn't have to be difficult either.
The ups and downs are what make the most problems for individuals.  Being happy and go lucky one minute is wonderful but when it is followed by serious lows and depressed moods the next, there's even more to worry about.
In this e-book, you will find a number of different scenarios that will help you to ultimately learn to cope with bipolar and all of these ups and downs.  Through an understanding of your condition as well as help in dealing with the beneficial tools we will teach you, you will be able to improve the quality of life that you and your loved ones share.
Chapter 1:  Understanding Bipolar To Get Help
Most individuals that suffer from bipolar have one goal. That goal is to live a life that is as normal as can be.  To get through today without having any emotional problems, to make it through the big meeting at work without having people wonder what is wrong with you and to simply be able to enjoy your daughter's graduation are all additional goals that you may have.
Before you can fully learn to cope with bipolar, you need to fully understand your condition.  You need to know what things happen, as best that you can, so that you can then trigger your coping mechanisms to work for you.
There is no 100 percent sure way of stopping these things from happening to you.  But, there are countless things you can learn to do to help you to improve your outlook.
To get to that point, we will start by giving you all of the information you need about your condition so that you can better understand what is happening to you.  If you are a family member who just wants to help someone that has bipolar, then by all means, you too can learn all that you…
Other Details
* 60+ Page PLR Ebook
* Professionally Written Salesletter
* 50 PLR Articles
* 5 Part Autoresponder Email Course
* 1 Complete Adsense Website
* 5 Part Press Release
* Professionally Designed Graphics Set
* Highly Targeted Keyword List
* Pre Written PPC Ads
* PDF and MS Word Source File For eBook
* PSD Files For Graphics