Salespage Snapshot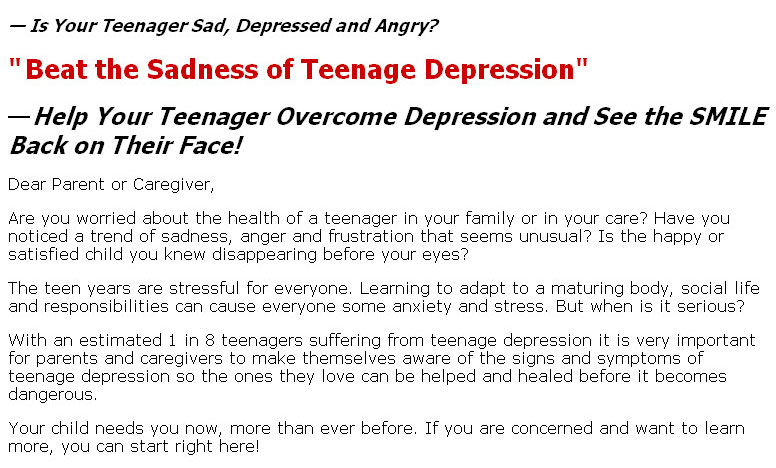 >> Click Here To View Sales Page...
Table Of Contents
What Is Teenage Depression?    1
Diagnosing Teenage Depression    5
Signs and Symptoms of Teenage Depression    9
How to Recognize Suicide Warning Signs in Teenagers    12
Treatment Options for Teenage Depression    16
How Friends and Family Can Support Sufferers of Teenage Depression    19
How Teenage Depression Differs from Adult Depression    22
Lifestyle and Diet Tips for Easing Depression in Teens    26
How to Aid You Child's Medical Treatment for Teenage Depression    29
Support Groups for Depression    32
Teenage Depression – When to Call a Professional for Help    36
Building Self-Esteem in Teenagers    39
How to Know When It's "Only a Phase" – Recognizing Teenage Depression    42
The Risk of Leaving Depression Untreated    45
The Risk of Antidepressant Use in Teenagers    49
PLR Ebook Sample Content Preview
What Is Teenage Depression?
The teen years are full of change. Changes can be good for you, but they are also quite stressful. It is perfectly natural for every teen to feel a little bit scared and confused while going through physical changes and self searching.
There are many factors contributing to the mood swings of teenagers. They are more sensitive and more easily influenced by outside factors. It is perfectly natural for an adolescent to be unhappy or angry at times. However, when the feeling of unhappiness is prolonged, the teenager might suffer from teenage depression.
In medical terms, adolescent or teenage depression is considered a disorder. It is characterized by continuous sadness, unhappiness and loss of interest in everyday activities. The feeling of worthlessness is another common sign of teenage depression. Hopelessness is also present.
Regrettably, teenage depression is not an uncommon condition. Statistical data reveals that 1 in every 8 adolescents is suffering from this disorder. Various studies have concluded that the individuals between 16 and 24 years of age form the population group which is most vulnerable to depression and suicide.
Other Details* Sales Page:
Included, HTML, MS Word Doc
* File Format:
MS Word Doc, PDF
* Number of Pages:
52
* Included Graphics:
Ecovers, PSD
* Download File Size:
2,176 KB